Mission Report: San Carlos Borromeo de Carmelo
Date: 5/15/95
Travel Statistics:
Miles Traveled: 55
Average Speed: 12 mph
Time: 4:33:37
Maximum Speed: 37
Total Trip Distance:
After a rainy but fun weekend with some friends who came to camp with us, we set out this morning for Mission San Carlos Borromeo. We were looking forward to spending the day on Carmel Valley Road, which winds gently downhill for most of its 43 miles. After about seven miles of climbing, we were rewarded with a long descent into a lush, green valley where we averaged speeds of up to 15 miles per hour! Our feet simply rested on the pedals as we took in the sights.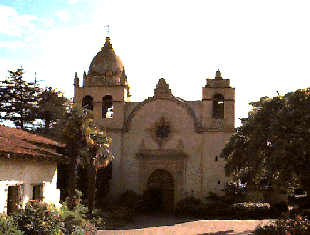 As many of you probably know, Mission San Carlos Borromeo served as the headquarters of all of the California Missions for many years. When we arrived in Carmel and took our first look at the mission right away we noticed some big differences from the other missions that we have visited. The church is much more impressive than the simple churches that we saw at La Purisima, San Miguel and San Antonio. Look at the picture that we are sending you. Don't you think that the star-shaped window and the arch above it make for an elegant looking church?
Junipero Serra ordered the stone cut for the construction of this church, but did not live to see the building finished. Before he died on August 28, 1784 Father Serra called Father Palou to his bed and told him: "When the stone church is built you may place me where you will." Since then there have been many rumors that Serra's body was moved from its tomb in the church. In order to find out if these stories were true, Father Serra's body has been dug up three times. The first two times were in 1856 and 1882. In 1943 officials of the Catholic church wanted Serra's body to be identified again for something called his "canonization."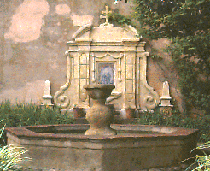 While we were visiting Mission San Carlos Borromeo, Matt discovered another interesting story: Nestled behind the mission is a small, ordinary looking fountain with an unordinary past. (Take a look at the picture that we are sending you.) When the mission fell into decay over a century ago, the fountain in the front courtyard disappeared. No one knew who took it, and it was assumed lost forever. When the mission was restored, a replacement was built which still stands in the front courtyard today. On August 28, 1984 all of the bishops in California gathered at the mission for the 200th anniversary of the death of Father Junipero Serra. We don't know how it was arranged, but on that day, the original mission fountain was returned to its rightful place. It had been in the hands of a local Carmel family for over a century.
Questions:
In the Catholic church the "canonization" process can sometimes take up to 100 years. Junipero Serra's canonization was begun in 1943 and is still going on now. Do you know what it means when someone is "canonized?" Why does it take so long?
More Soon from Santa Cruz!
--Brian and Matt

Return to the Report Index