Mission Report: Santa Clara de Asis
Date: 5/18/95
Travel Statistics:
Miles Traveled: 45.7
Average Speed: 10.9 mph
Time: 4:10:02
Maximum Speed: 38.5 mph
Total Trip Distance: 483
Today we woke up at 6:30 a.m. sharp so we would have time to eat a good breakfast before beginning our journey over the Santa Cruz Mountains to Mission Santa Clara. Eating a good meal is very important to us when we are biking. We imagine that the Franciscans also ate a hearty meal before beginning their walk to a neighboring mission. We read through our books and notes to see what a Franciscan might have eaten for breakfast back in the early 1800s. Here's what we found:
The Franciscans ate a lot of simple food made from corn. For breakfast they might have eaten either "atole" or "torrejas." "Atole" is a hot cereal made from crushed corn. "Torrejas" are corn cakes. To make torrejas, the Franciscans would first prepare a Native American recipe called "nixtamal." To make nixtamal they mixed whole dry corn kernels with water and lime. Later the mission cooks would use a hand stone to grind this mixture into a big mush called "masa." To make "Torrejas" the cooks would add cheese and salt to the masa and fry it as small pancakes. The Franciscans would often eat torrejas either with chili sauce or sweet syrup. (We tried to make torrejas at home. They came out kind of dry and we didn't really like how they tasted.)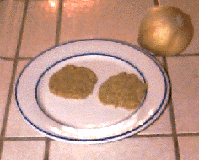 On our trip we ate breakfast at two of the missions that we stayed at. The Franciscans that we met ate cereal like "Cheerios" and "Blueberry Morning" as well as toast or sweet rolls for breakfast. We heard that some of the Mexican Franciscans at Mission San Miguel like to mix hot pepper powder into their buttermilk! We think that the food eaten at the Missions has changed a lot since the early 1800s.
We arrived at Mission Santa Clara at 4 p.m. The church that we saw was built very recently in 1929. This is the 6th church to be built here since the Mission was founded on January 12, 1777. (This was the eighth mission that Junipero Serra founded.) If you visit Mission Santa Clara, take a look at the cross in front of the church. This is a new cross that has been built around an old cross. The old cross inside dates back to the early Mission days. At the bottom of this new cross there is a little window that you can look through to see the original wood cross.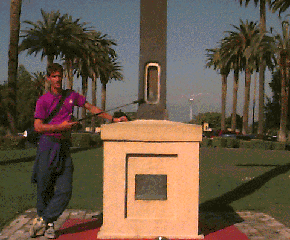 Questions:
We think that it is interesting that the Native American word "nixtamal" sounds much like the Mexican word "Tamale." Both "nixtamal" and "tamale" are words for food made of corn. Our guess is that the Spanish word "tamale" originally came from Native American languages. Do you know if we are right? What is the word for corn in different Native American languages?
(In Mexico a tamale is mashed corn often mixed with pork and spices and wrapped in a corn husk. Usually tamales are spicy, but sweet tamales are often sold during Christmas.)
--Brian and Matt

Return to the Report Index