Getting Ready for the Bicycle Tour
Hello to all the CMI Participating Schools!
This is the first report from the CMI cyclists! I 'm afraid that we have not yet visited Mission San Rafael as we'd hoped to. We decided to postpone this test run because it rained on Saturday and Brian has been sick. Instead we've been busy packing our "panniers" (the special bags that fit on our bikes) and buying food for the trip.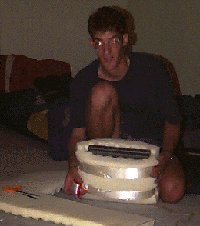 The picuture that I'm sending with this message shows Brian packing the PowerBook computer in a foam to protect it from damage during the bike journey. We decided that it's foam envelope makes the computer look like a taco, so that's why we call this picture the "PowerBook Taco."
We hope to visit San Rafael tomorrow afternoon if it is not raining too hard. (Brian is feeling a lot better now.)
More Soon!
--Brian and Matt

Return to the Report Index