Coat of Arms of Thomas Henshawe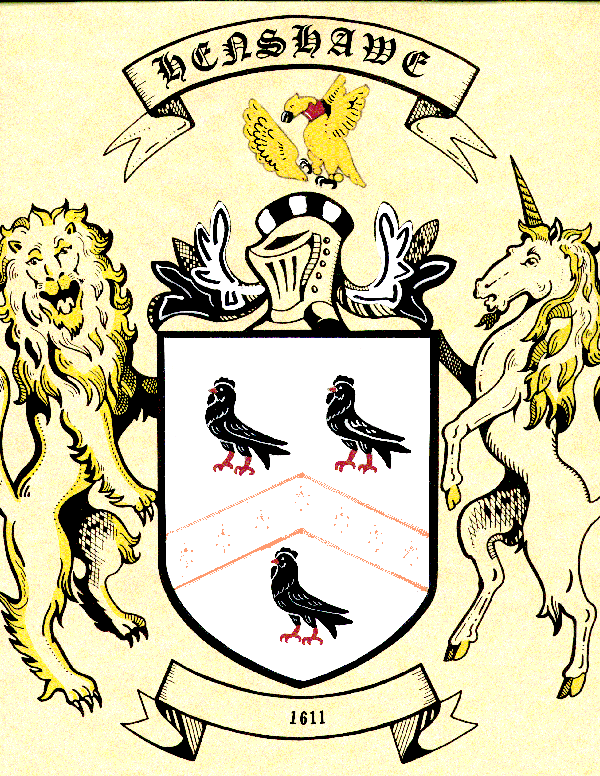 These are the arms described in Grants 2-657. This was a grant to Thomas Henshawe of London of the following Arms and Crest:
Arms: Argent a chevron Ermine between three Moore cocks Sable beaked and legged Gules.

Crest: A falcon seasing on a wing Gold with a crown about the neck Gules beak and legs Sable with bells of the first.
The above Armorial Bearings were granted on 26 June 1611 and were to be borne by Thomas Henshawe and his descendants.

The image above is from a drawing commissioned from a heraldic artist.
Interpretation
There is an entire, very unique language used to formally describe armorial bearings. The language is colored with relics of Middle English and French, and was designed to allow very precise descriptions of arms which could be reproduced faithfully by any good heraldic artist or craftsman. There are many good books on heraldry which describe this language in great detail - check your local library.

The following charts translate the heraldic language used to describe Thomas' arms into modern common English.

Arms:
| | |
| --- | --- |
| Argent | On a shield with a background of either white or silver color, |
| a chevron | draw an abstract graphic looking like an inverted 'V'; |
| Ermine | color the chevron to appear like the fur of an ermine (a small mink-like animal) - this is often drawn as white with brown spotting. |
| between three Moore cocks | Place the chevron between three Moore cocks, a grouse-like bird inhabiting the moores of northern England. |
| Sable | Make the Moore cocks black, |
| beaked and legged Gules. | with red beaks and legs. |
Crest:
| | |
| --- | --- |
| A falcon | Draw a falcon, |
| seasing on a wing | holding a bird's wing in its talons. |
| Gold | Color the falcon gold. |
| with a crown about the neck | Place a crown around the falcon's neck. |
| Gules | Color the crown red. |
| beak and legs Sable | Color the falcon's beaks and legs black. |
| with bells of the first. | Add gold bells around the legs. |
---

Return to Home Page