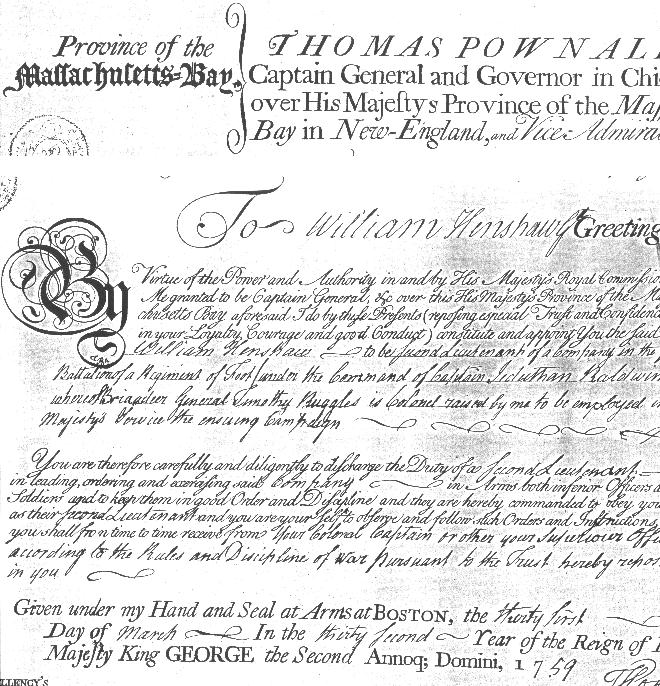 William Henshaw's commission to Second Lieutenant in the King's Army, 1759.

It reads:

Province of the Massachusetts-Bay

Thomas Pownall, Esq;

Captain General and Governor in Chief, in and over His Majestys Province of the Massachusetts-Bay in New-England, and Vice Admiral of the Same &c

To William Henshaw Greeting

By Virtue of the Power and Authority in and by His Majesty's Royal Commission to Me granted to be Captain General, &c over His Majesty's Province of the Massachusetts Bay aforesaid I do by these Presents (reposing especial Trust and Confidence in your Loyalty, Courage and good Conduct) constitute and appoint You the Said William Henshaw to be Second Lieutenant of a Company in the First Battalion of a Regiment of Foot Under the Command of Captain (unclear) Baldwin where of Brigadeer General Timothy Buggles is Colonel raised by me to be employed in his Majesty's Service the ensuing Campaign.

You are therefore carefully and diligently to discharge the Duty of a Second Lieutenant in leading, ordering and exercising said Company in Arms both inferior Officers and Soldiers and to keep them in good Order and Discipline and they are hereby commanded to obey you as their Second Lieutenant and you are yourself to observe and follow such Orders and Instructions as you shall from time to time receive from Your Colonel Captain or other (unclear) Superior Officer according to the Rules and Discipline of War Pursuant to the Trust hereby reposed in you.

Given under my Hand and Seal at Arms at Boston, the Thirty First Day of March In the Thirty Second Year of the Reign of His Majesty King GEORGE the Second Annoq; Domini, 1759
---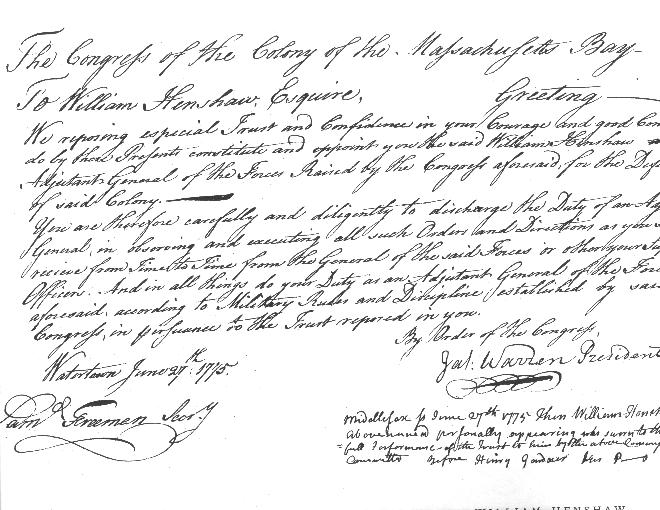 William Henshaw's commission to Adjutant General in the Colonial Army, 1775.

It reads:

The Congress of the Colony of the Massachusetts Bay
To William Henshaw, Esquire, Greeting -
We reposing especial Trust and Confidence in your Courage and good Conduct, do by these Presents constitute and appoint you the said William Henshaw Adjutant General of the Forces Raised by the Congress aforesaid, for the Defense of said Colony.
You are therefore carefully and diligently to discharge the Duty of an Adjutant General, in observing and executing all such Orders and Directions as you shall receive from Time to Time from the General of the said Forces or other your Superior Officer. And in all things do your Duty as an Adjutant General of the Forces aforesaid, according to Military Rules and Discipline established by said Congress, in (unclear) to the Trust reposed in you.

Watertown, June 27th, 1775
(signature unclear)

By Order of the Congress,
(unclear) Warren President
---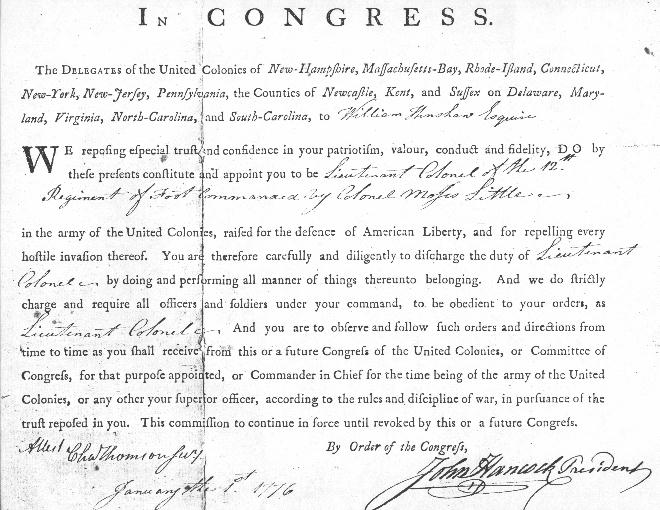 William Henshaw's commission to Lt. Colonel in the Continental Army, 1776.

It reads:
In CONGRESS
The Delegates of the United Colonies of New Hampshire, Massachusetts-Bay, Rhode-Island, Connecticut, New-York, New-Jersey, Pennsylvania, the Counties of Newcastle, Kent, and Sussex on Delaware, Mary-land, Virginia, North-Carolina, and South-Carolina, to William Henshaw Esquire
We reposing especial trust and confidence in your patriotism, valour, conduct and fidelity, DO by these presents constitute and appoint you to be Lieutenant Colonel of the 12th Regiment of Foot Commanded by Colonel Moses Little
in the army of the United Colonies, raised for the defense of American Liberty, and for repelling every hostile invasion thereof. You are therefore carefully and diligently to discharge the duty of Lieutenant Colonel by doing and performing all manner of things thereunto belonging. And we do strictly charge and require all officers and soldiers under your command, to be obedient to your orders, as Lieutenant Colonel. And you are to observe and follow such orders and directions from time to time as you shall receive from this or a future Congress of the United Colonies, or Committee of Congress, for that purpose appointed, or Commander in Chief for the time being of the army of the United Colonies, or any other superior officer, according to the rules and discipline of war, in pursuance of the trust reposed in you. This commission to continue in force until revoked by this or a future Congress.
(signature unclear)
January the 1st, 1776
By order of the Congress,
John Hancock President
---

Return to Home Page