What Regions of the World Produce the Most Successful Basketball Players?
By David Sauriol Twitter: @Saucy24
Email the author
15 February, 2018
(Editor's Note: David Sauriol is a student that I had in a class that I teach at SMWW. During that class, I generally advise not to create a player-valuation system because several exist and because improving upon them is very hard. David did something a little unique, creating an analytics-free but logical classification system. This is useful because it is easy and because a lot of people think this way. It can be used in concert with more analytically-based metrics to look for where analytics and public perception are different. It can be used in a lot of other ways, including one way that is in this article.)
Are there regions outside of the United States that produce successful NBA players at an unusually high rate? This is both a curiosity and a strategic question – suggesting hotbeds of player growth outside the US. This question is going to be tackled using the Sauriol Success Matrix (SSM).
Basics of the Sauriol Success Matrix 
The following graphic show the SSM tiers and a simplified version of their basic rules. Additionally, the first four tiers – Superstar, Star, Starter and Reserve/ Spot Starters – cumulatively make up another grouping "Core Rotation" which essential means players that play regularly.
<![if !vml]>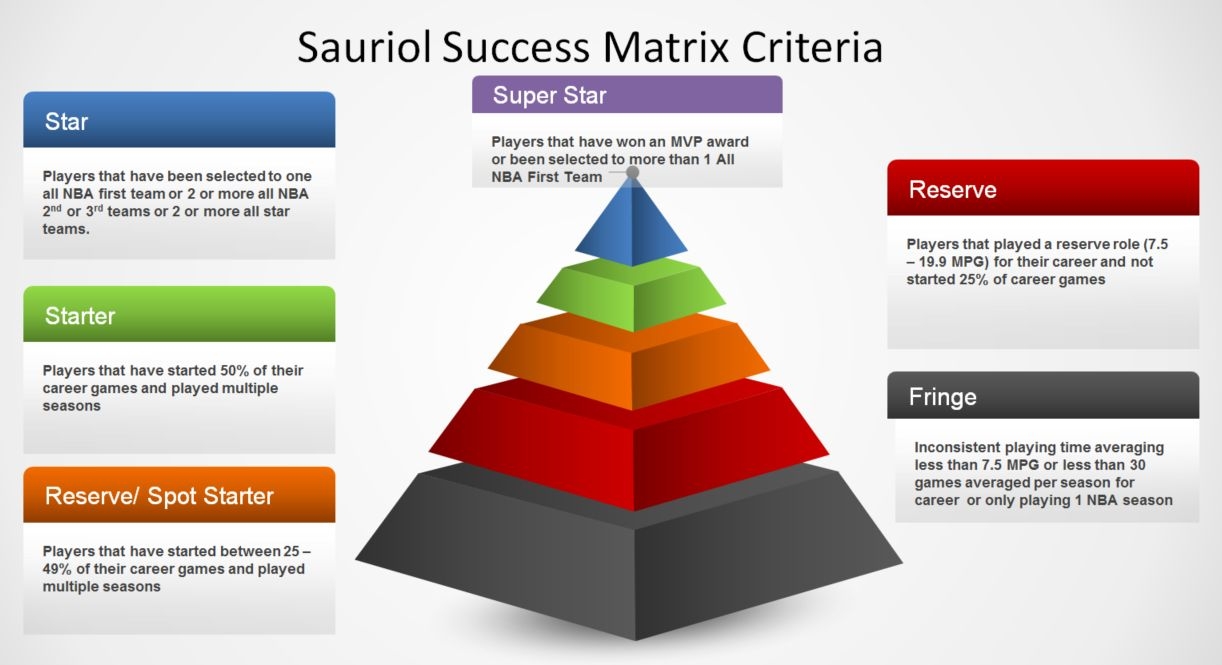 <![endif]>
How Do International Players Compare to American Born Players?
When international players first arrived in the NBA the reputation was that they were skilled but soft. This image was not helped when Vince Carter infamously jumped over Frenchman Frederic Weis when he delivered "le dunk de la mort" (the dunk of death) during the 2000 Olympics.
 https://www.youtube.com/watch?v=XMrPjl-927Q  
Or during the 1992 Olympics when Scottie Pippen and Michael Jordan hounded their soon to be Croatian Chicago Bulls teammate Toni Kukoc all over the court to the tune of a 2/11 performance with 7 turnovers.   
https://www.youtube.com/watch?v=j86xZvW5zJw
With these examples in mind, the image appeared certain… internationals were not one step behind America in basketball, they were five! The question lingered though, was this true?
A consistent element of international players since 1981 is that they have a lower ceiling than American born players (fewer stars), but a higher floor (fewer busts). Whereas, the US produces significantly more SSM Superstar and Star level players, with 5.5% of their players being one or the other, there are far fewer international players doing the same at only 3.7%. Conversely, international players are more likely at 17.1% to become SSM Starters than their American peers (15.9%). Summing it up, international regions only produced a few Superstars like Dirk Nowitzki out of Western Europe or Hakeem Olajuwon from Africa. Instead what they produced more often is starters like Goran Dragic, Hedo Turkoglu or Rik Smits. Team play being promoted over individual stardom outside the US may be a factor in this. International players also embraced ball movement and the drive and kick game over isolation heavy basketball long before it became popular in the NBA.
| | | | |
| --- | --- | --- | --- |
| SSM Category | American Born Players | Internationally Born Players | NBA Player Overall |
| Super Star | 1.3% | 0.8% | 1.2% |
| Star | 4.2% | 2.9% | 4.0% |
| Starter | 15.9% | 17.1% | 16.1% |
| Reserve/ Spot Starter | 12.3% | 10.0% | 12.0% |
| Reserve | 28.4% | 31.0% | 28.8% |
| Fringe | 38.0% | 38.1% | 38.0% |
| Core Rotation Players | 33.6% | 31.0% | 33.2% |
| Total # of Players | 2105 | 380 | 2485 |
There is one caveat to these numbers; attending a US High School increases the probability of an international player being a Star from 2.9% to 4.8%. In total five of the 11 (45.4%) international players that became SSM Stars had US High School experience. The likes of Detlef Schrempf, Marc Gasol, and Luol Deng all attended high school in the states and later saw their games flourish in the NBA.  These players were given the opportunity to be scouted and recruited and eventually play NCAA division 1 basketball, which appears to have a positive impact in that regard.
| | | | |
| --- | --- | --- | --- |
| SSM Category | American Born Players | International Players W/ US HS | NBA Player Overall |
| Super Star | 1.3% | 0% | 1.2% |
| Star | 4.2% | 4.8% | 4.0% |
| Starter | 15.9% | 16.4% | 16.1% |
| Reserve/ Spot Starter | 12.3% | 8.7% | 12.0% |
| Reserve | 28.4% | 34.6% | 28.8% |
| Fringe | 38.0% | 35.6% | 38.0% |
| Core Rotation Players | 33.6% | 29.88% | 33.2% |
| Total # of Players | 2105 | 104 | 2485 |
A multiplicity of factors has led to a decade by decade increase in the number of international players in the NBA. The growth of basketball internationally, improvements in international scouting and alterations to the NBA playing style and rules have all worked in concert to effect this change. Beginning in 1981, the first year the SSM could be applied, the following table shows the increase decade by decade while also showing the varying percentage of internationals that were Core Rotation Players. Both the 90's and 2000's had Core Rotation rates above the overall league average of 33.2%. Note that the lower percentage of Core Rotation Players from 2010 – 17 also has to do with players having less time to move up through the career SSM tiers.
| | | |
| --- | --- | --- |
| Time period | Total International Players | Percentage of Core Rotation Players |
| 1981 – 1989 | 40 | 25% |
| 1990 – 1999 | 70 | 35.7% |
| 2000 – 2009 | 156 | 34.6% |
| 2010 - 2017 | 114 | 23.7% |
The graphic below provides a snap shot of the SSM tiers and examples of the international players that inhabit them.
<![if !vml]>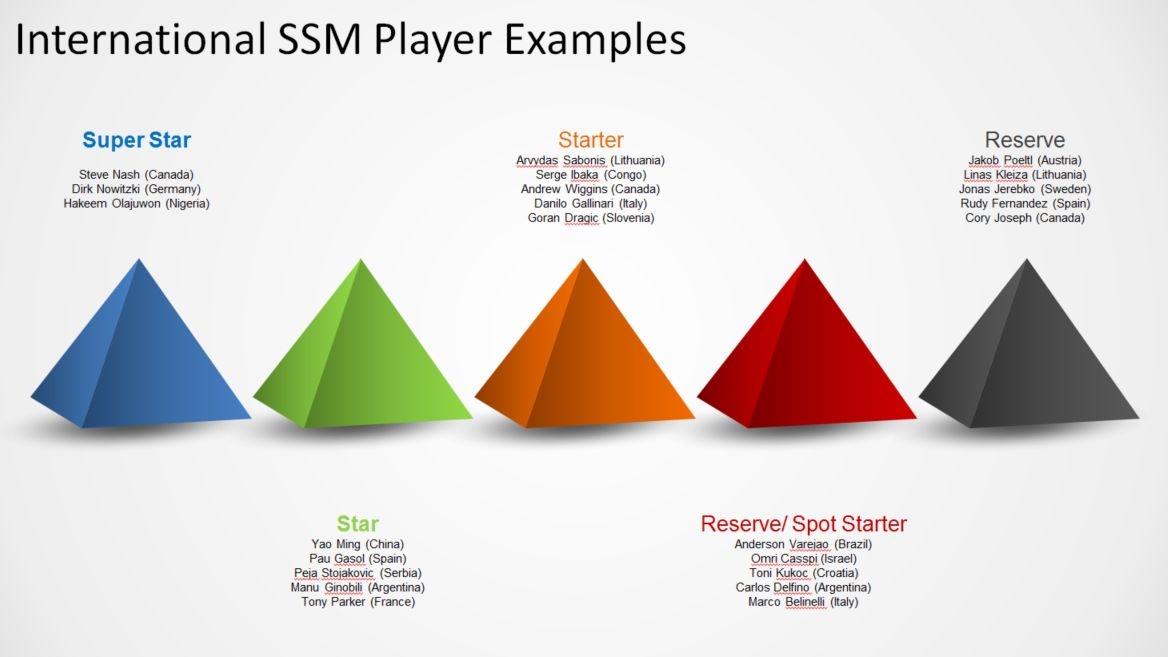 <![endif]>
Success of Players by World Regions
Just saying "international player" does not take into account that all world regions are not created equal when it comes to basketball. Through SSM analysis, as presented on the table below, individual countries have been broken down into regions and the success of these regions determined so they can be compared to one another. A few of the general observations were:
<![if !supportLists]>· <![endif]>International countries produce less Superstars and Stars but more Starters. All 5 regions listed are above the overall league frequency of 16.1% of players being Starters. 
<![if !supportLists]>· <![endif]>After taking regional differences into account the overall number of Core Rotation players is still pretty consistent to the overall NBA average.
<![if !supportLists]>· <![endif]>Except for players from Africa, all of the regions listed produced less fringe players than the overall average of 38.0%.
Western Europe has produced some quality players. The three countries most responsible for this are Germany, Spain and France. The only superstar from this region comes from Germany in the smooth shooting Dirk Nowitzki. Spain brought us the Gasol Brothers Marc and Pau (SSM Stars) and a lot of quality starters such as the sure ball handling Jose Calderon and creative passing Ricky Rubio. France did not have as much top end talent as Germany or Spain, but Tony Parker (Star) and a trio of good starters - Evan Fournier, Nicholas Batum and Rudy Gobert - and all hailed from there.  
| | | | | | | |
| --- | --- | --- | --- | --- | --- | --- |
| SSM Category | Western Europe | Eastern Europe | Baltic | Balkans | Africa | NBA Player Overall |
| Super Star | 1.1% | 0.00% | 0% | 0% | 2.7% | 1.2% |
| Star | 5.4% | 0.00% | 0% | 1.5% | 5.4% | 4.0% |
| Starter | 19.4% | 22.2% | 31.3% | 17.9% | 21.6% | 16.1% |
| Reserve/ Spot Starter | 7.5% | 11.1% | 6.3% | 13.4% | 2.7% | 12.0% |
| Reserve | 32.3% | 30.6% | 43.8% | 31.3% | 18.9% | 28.8% |
| Fringe | 34.4% | 36.1% | 18.8% | 35.8% | 48.7% | 38.0% |
| Core Rotation Players | 33.3% | 33.3% | 38.0% | 32.8% | 32.4% | 33.2% |
| Total # of Players | 93 | 36 | 16 | 67 | 37 | 2485 |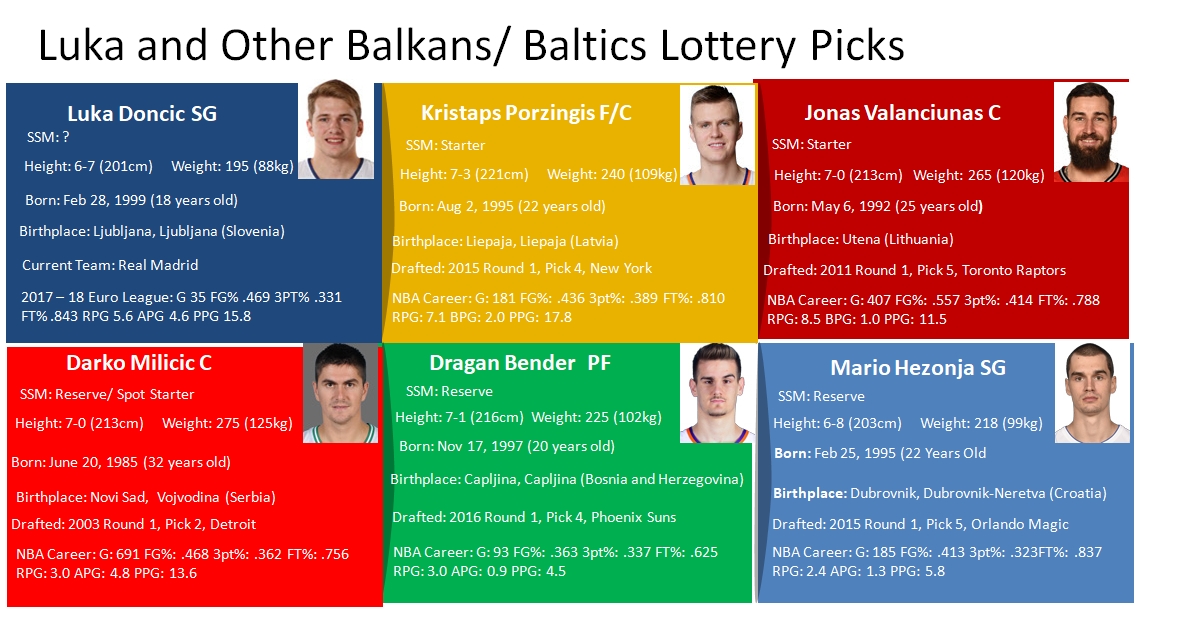 Two regions that require additional discussion for the sheer amount of quality basketball players they produce are the Baltic States and the Balkans.
Baltic States
There are three small countries in the North East of Europe collectively known as the Baltic States that produce NBA players at a rate far above what their populations would suggest. Lithuania, Estonia, and Latvia with a combined population of 6,090,500 have sent 16 players to the NBA since 1981. This is one of the highest rates per capita matched only by the soon to be discussed Balkans region.
Additionally, these three countries produce Starter level players at nearly double the overall NBA player rate (31.3% compared to 16.1%) and only have half as many Fringe players (18.8% compared to 38.0%). To date, there still has not been a Superstar or Star from the Baltic region, but still their historical success dictates that NBA teams need to be aware of it and make sure that scouts keep tabs on developing players in the region. Although Estonia and Latvia have produced some quality NBA players, including the emerging star (and potentially future SSM Star or Superstar level player) Kristaps Porzingis from Latvia, Lithuania deserves special recognition amongst the Baltic States.
In Lithuania basketball grew into a national passion just prior to World War 2. After the war the game took on a new dynamic as it existed as a form of passive resistance to Soviet control. Routinely, the best players on Soviet teams that performed well at the Olympic Games and World Championships were largely comprised of Lithuanian players. After the fall of the Soviet Union in 1989 and the rise of international players entering the NBA Lithuanians began to enter the league at a high rate. Since 1989 in a nation with less than 2 million people there have been 11 NBA players. Beyond simply making the NBA many of them became Core Rotation Players. Placed in their SSM tiers these players were.      
| | |
| --- | --- |
| SSM Tier | Player(s) / Draft Pick Used |
| Starter | Zydrunas Ilgauskas (20th), Jonas Valanciunas (5th), Arvydas Sabonis (24th) |
| Reserve/ Spot Starter | Donatas Motiejunas (20th) |
| Reserve | Sarunas Marciulionis (127th), Mindaugas Kuzminskas, Linas Kleiza (27th), Sarunas Jasikevicius,  Darius Songalia (50th) |
| Fringe | Arvydas Macijauskas, Martynas Andriuskevicius (44th)   |
Although Lithuania has not created any Superstar or Star level players – part of this is because Arvydas Sabonis came to the NBA very late in his career – they have been able to create a high proportion of SSM Starters. This level of success also came with the vast majority of these players, excluding only Jonas Valanciunas (5th pick), being selected over 20th in the draft. Additionally, Lithuania created a lot of quality big men. All three SSM Starters were centers and overall 6 of the 11 players played at least some power forward or center.
Balkans
Made up of Albania, Bosnia and Herzegovina, Bulgaria, Croatia, Kosovo, Macedonia, Montenegro, Romania, Serbia, and Slovenia, this European region of 51 million people is also passionately in love with the game of basketball. The story of this part of Europe has parallels to the Baltic States as both were under communist rule after the Second World War. The former Yugoslavia – which comprised a good portion of the Balkan region –had a lot of success on the international basketball scene. Multiple Yugoslavian players such as Vlade Divac, Dražen Petrović and Dino Radja later would become SSM Starters in the NBA.
The success of Balkan players (32.8%) was fairly close to the overall NBA average for Core Rotation Players (33.2%). The makeup of these Core Rotation Players differed however. Similar to the Baltic States, the Balkans did not produce many Superstar or Star level players. One exception to this was sharp shooter Peja Stojakovic. Another player who almost assuredly would have progressed beyond his SSM classification of a Starter was Drazen Petrorovic. This talented shooter and scorer tragically died in an automobile accident at the age of 28. Where the Balkans produced slightly above the NBA overall rate was for starters (17.9% versus 16.1%) and Reserve Spot Starters (13.4% to 12.0%).
The Balkan region is impressive in terms of the sheer number NBA players it has produced. This effect is even more pronounced if the populations of Romania (20 million) and Bulgaria (7 million), and there 2 combined NBA Players, are removed. The remaining 24 million citizens of the Balkans generated 65 NBA players. The following countries deserve special recognition in this regard:
<![if !supportLists]>· <![endif]>Croatia 4.2 million population 18 NBA players
<![if !supportLists]>· <![endif]>Montenegro 0.6 million population 5 NBA players
<![if !supportLists]>· <![endif]>Serbia 7.1 million population 21 NBA players  
<![if !supportLists]>· <![endif]>Slovenia 2.1 million population 9 NBA players
The last nation listed, Slovenia, develops a lot of quality players for such a small place. A young Slovenian player that people are watching now is Euro League star Luka Dončić. He is viewed by many talent evaluators as "a can't miss" NBA prospect in this upcoming draft. Dončić is projected as a top 3 NBA draft pick with a reputation for having a great feel for the game, elite passing and the ability to score from inside and out. Time will tell as to what SSM tier he will eventually slot into. Future SSM work will look at the NCAA or international performance of players like Luka to attempt to make predictions how past performance could translate to future NBA performance.
Final Thoughts on World Regions
An individual with the potential to be a Superstar NBA player could be born anywhere. This article is not suggesting NBA teams' sign players simply because they are from Vilnius or from Ljubljana alone. Rather, it is giving perspective on various regions vs the US and suggesting that the Baltic and Balkan regions are generating quality NBA players at a surprising rate. For that reason, having some idea of regions of the world that produce quality basketball players can help teams better strategize in terms of international scouting and branding their team abroad.  
An ultimate goal is to reduce further the number of undiscovered international players that have NBA level talent. Although this number has been trending down in recent years, there is still work to be done. Documenting the success NBA players have from specific regions can play a role in this.
Future angles to continue world region analysis include:
<![if !supportLists]>· <![endif]>Looking at individual NBA teams drafting outcomes when selecting international players
<![if !supportLists]>· <![endif]>Analyzing specific positions and skill sets that certain world regions produce and do not produce
<![if !supportLists]>· <![endif]>Analyzing why certain international players fail in the NBA
Next SSM Analysis
In the era of "one and done" what impact does the age a player enters the NBA have on their future success? In the last ten years precedence has been placed on having younger and younger players enter NBA teams systems, but does this trend project to better future success of these players? These questions will be addressed by looking at different historical periods and draft rounds while also giving consideration to previous season performance of drafting teams. Look for it coming soon.