You Don't Know Shaq
Dateline: 12/11/96

So you think Shaquille O'Neal is a bum? All he does is dunk. His defense is mediocre. He'd rather shoot a movie than a free throw.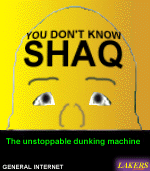 Little Penny makes more passes than Shaq, though most of those are aimed at Tyra Banks.
If Shaq has so many weaknesses, why was he named one of the Fifty Greatest Players in the NBA? You can play our uplifting little game below to give you some idea.
Question nUmBeR 1
In 1993 Shaq was the first rookie All-Star Game starter since what player?