Boating information:
Fish in this lake include:
Pink Salmon
Atlantic Salmon
Brook Trout
Rainbow Smelt
Other information: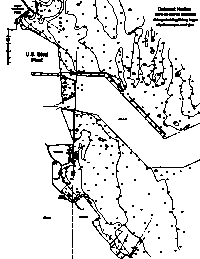 Get detailed map, (42k) (including depths).

Lake Michigan, Calumet Harbor is located on 95th Street, just east of the Chicago Skyway and Lake Shore Drive (Ewing Avenue), near the junction of U.S. Routes 12, 20, and 41.

The mouth of the Little Calumet River is at the north end of the harbor.

There is a Chicago Park District boat launch in Calumet Park a little south of the river mouth. There's also the Calumet Yacht Club marina just to the south of Calumet Park.

The Chart here is posted with permission from the NOAA. This chart is from NOAA-14926 (5th Ed, 20/90). This chart should be used for information only and not used for navigation.

Divers might find the wreck just north of the breakwater of interest. The Material Service Company Self Propelled/Self Unloader Barge is visited by many divers each year. Powerboaters, remember, if you see the diver down flag near the CAN buoy north of the breakwater lights use caution, the area is popular for divers.