Boating information:
Fish in this lake include:
Pink Salmon
Atlantic Salmon
Brook Trout
Rainbow Smelt
Other information: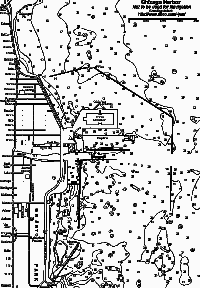 Get detailed map, (53k) (including depths).

Lake Michigan, Chicago Harbor is located around the mouth of the Chicago River in downtown Chicago. The "Chicago Harbor" chart encompasses areas from North Avenue Beach south through Navy Pier, North Pier Terminal/Ogden Slip, the Chicago River locks, and Monroe Street Harbor. See the Diversey Harbor chart for areas to the north, and the Burnham Harbor chart for areas to the south.

As always, don't try to use this chart for navigation -- a lot of detail has been removed for the sake of clarity, especially from around the locks south to Solidarity Drive (home of the Adler Planetarium and the Shedd Aquarium).

Also, don't try to use this as a road map. Things have changed quite a bit with the recent renovation of Lake Shore Drive. We think we've got Lake Shore Drive south of the river (the former S-curve, now honored with the name George Halas Drive) more or less correct. But we're not too sure about the area around the Shedd Aquarium and the Field Museum at the south end of the map. Just like a web page, this area seems permanently under construction.

But just for reference, we've included most of the east-west streets on the map, and Michigan Avenue, Columbus Drive, and Lake Shore Drive. And we've also included a few landmarks. We think everything shown is more or less correct, but many smaller streets and ramps aren't shown.

The Chart here is posted with permission from the NOAA. This chart is from NOAA-14926 (5th Ed, 20/90). This chart should be used for information only and not used for navigation.