Boating information:
Hand carried boats can be launched from the beaches
Fish in this lake include:
Pink Salmon
Atlantic Salmon
Brook Trout
Rainbow Smelt
Other information:
Hotel/Lodge Available
Camping Available
Sand Lake (Stocked with trout each spring)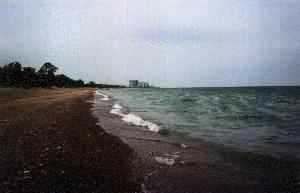 Illinois Beach State Park (Zion Nuclear Power Plant in the distance)
The Dead River is located in the southern section of Illinois Beach State Park. This river is the only river left in Illinois that still flows into Lake Michigan. Boating is not allowed on the river, however you can hike near it. You may bring carry-in boats to the beach to launch in Lake Michigan. Before eating fish from Lake Michigan, you should check the Illinois DNR web site regarding consumption of Class 1, 2 and 3 fish to be sure that what you catch can be safely eaten.
Sand Lake is stocked with Rainbow Trout fingerlings. This lake will reopen for trout fishing at sunrise on April 6th. You must posses an inland trout stamp in addition to your license.