Boating information:
Fish in this lake include:
Other Information:
Part of the Sag Valley Division of the Cook County Forest Preserve District.
Parking available
Public Transportation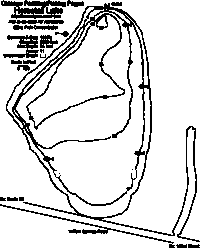 Get detailed map, (16k) (including depths).
Horsetail Lake is located on the east side of Willow Springs Road, between Route 83 and McCarthy Road (123rd Street).
---
'Horsetail lake also has Crappie and Perch. It has a limited supply of yellow bass, although I haven't caught any yet. Unfortunately, the Bluegill and Perch are stunted. I could probably catch 100 Bluegills in a couple of hours, none being over 4 inches. Perch not as many, but still stunted. Crappies are a fair size. A great place to teach kids how to fish. Use size 12 or 10 hooks only!'