Boating information:
Part of the Des Plaines River
Hand-launchable boats allowed
Fish in this lake include:
Other information: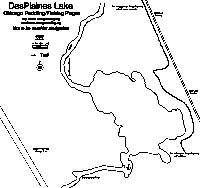 Get detailed map, (23k) (including depths).

Located just east of Illinois Route 41 and south of Wadsworth Road near Wadsworth.

While Lake Des Plaines is part of the Des Plaines River, the water here takes on lake-like characteristics (moving waves, standing water as opposed to moving water, standing waves).