Boating information:
Private sailboats, canoes, rowboats allowed.
$4 launch fee
7.5 HP max for Powerboats
1 ramp with gravel to water level.
Fish in this lake include:
Other information:
In 1993, this lake was treated with Rotenone and 84,000 pounds of fish were removed, mainly carp. The lake was then restocked.
For more information about Rotenone, try this Mississippi State University page on Rotenone and its uses in bringing sport fisheries and ponds back to life.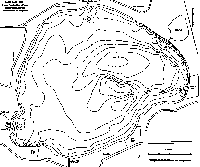 Get detailed map, (76k) (including depths).

Located just north of Illinois Route 120 in the town of McHenry. There is a public boat launch, and several lakefront beaches/parks for easy access.