Boating information:
Fish in this lake include:
Pink Salmon
Atlantic Salmon
Brook Trout
Rainbow Smelt
Other information: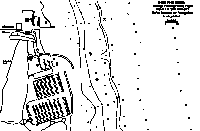 Get detailed map, (27k) (including depths).

Lake Michigan, North Point Marina is located on Spring Bluff Road, just south of the Illinois/Wisconsin border.

The Chart here is posted with permission from the NOAA. This chart is from NOAA-14904. This chart should be used for information only and not used for navigation.