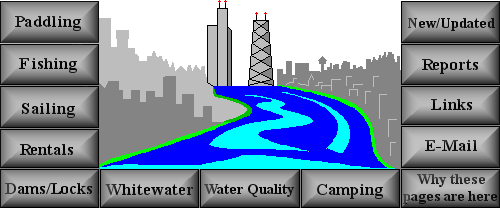 North Shore Sanitary Canal
(Cook, County, Illinois, U.S.A.)
We are not responsible for errors or omissions.
When boating, regardless of water depth, wear a PFD!
---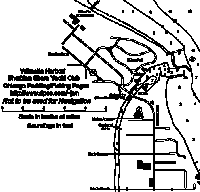 Get detailed harbor map (14k) (including depths).
The above chart is posted with permission from NOAA-14926 (5th Ed, 20/90)
U.S. Army Corps of Engineers River Navigation Maps
New 1998 navigation maps are available at the U.S. Army Corps of Engineers' Navigation Information Connection (NIC) web site.

Dug right through the center of the town of Wilmette, the above map shows the route taken when the channel was platted in 1906. The Channel was dredged and dug around 1910 as part of continued flood control on the Chicago River (In 1904 the lower sections of the Chicago River were straightened to help eliminate flooding in the city).
As the map shows, the above area was once the Ouilmette Reservation. Ouilmette was a half French, half Indian man who lived actually farther south for the early part of his life. He worked as a porter at the Chicago Portage, that is, he could be hired as a guide and a porter to help people carry their goods across the Chicago River to Des Plaines River portage.
Basically, this canal is 7 feet deep for most of its length. The canal becomes 8 feet deep from Jarvis to Albion, between Devon to Granville, and between Ardmore and Bryn Mawr. After Foster, the canal becomes 9 feet deep, then 10 feet deep where it merges with the Chicago River North Branch to form the Chicago River.
For more information on this area, check out Pioneer Press's Special report printed on Thursday, May 1st, 1997 regarding potential uses.
---