Boating information:
Fish in this lake include:
Other information:
Flush toilets and food items available at boat rental/bait shop.

Get detailed map (12k) (including depths).

Lake Opeka is located along Lee Street just north of Touhy Avenue in Des Plaines. Sailboat and pedalboat rentals are available at the concession stand near Howard Ave. (You should stop there for park passes before boating.) Rumor has it that there is a jeep underwater in the deepest part along with an old road.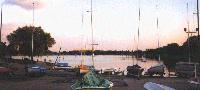 (Picture from behind the boat ramp area)