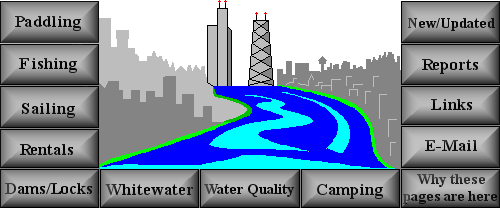 The Purpose of the
Chicago Area Paddling/Fishing Pages
We are not responsible for errors or omissions.
When boating, regardless of water depth, wear a PFD!
Why are these pages here?
When one thinks of boating or fishing in the Chicagoland area, Lake Michigan and the Chicago River come to mind. The purpose of these pages is to provide information not only on the big pond and our namesake river, but also on the smaller, forgotten ponds, lakes, rivers, canals and creeks that can be used for recreation. Most of the lakes covered on these pages don't allow power boats, some of the lakes are for fishing or relaxing only.
This is a non-commercial site. We have nothing to sell, no sponsors, and no paid ads.
---
| | | |
| --- | --- | --- |
| Legal Stuff | These maps are not to be used for navigation! | Be sure not to tresspass on private property! |
Not all access points are free. Be sure to check BEFORE you attempt to launch/fish if the property owner requires a fee.
Please read the front and back of the form. You may be able to gain access to areas you otherwise might not be able to access. The form spells out liability rules for access. The form begins "Attention Landowners: A landowner is NOT liable for injuries to anglers, hunters, trappers, campers, snowmobilers, motorcyclists or other recreational users who use this land IF a fee is NOT charged and IF the injuries were not caused by the gross negligence of willful misconduct of the landowner." (It quotes the law from the "Recreational Use of Land and Water Areas Act" 745 ILCS 65/1-7)
---

Maps on these web pages must not be sold individually or included with any other information/product that is sold or provided on a pay for use basis. They should not be posted on commercial web sites or web sites that sell advertising without our permission (We don't charge for permission, but we do have final approval of where they go). These maps are for your personal use at no charge! Photos on these pages are all originals and should not be reproduced without permission.

If you have a personal web site about a particular lake and would like to include one of our maps on your site, please email us (there are other sites already that have our free permission to include our maps).
---

We make reasonable attempts to ensure that the information on these pages is accurate. Remember that water levels can change (rain, drought, ...). Having a depth map in your possesion doesn't mean you'll catch a fish or not hit a sand bar! When boating, always wear a PFD! (and make sure that children are wearing Coast Guard Type I or II PFDs to keep faces up should you tip.)
---

Chicago Paddling/Fishing is not a commercial venture. We are a non-commercial site dedicated to providing you with information. We are not an association, there is no club to join, no membership requirements, send no money.... Hopefully you'll find some of the information here useful. There are vendors listed on some of these pages. All listings are provided free (please do not infer that because a company is listed here we are recommending them, the lists are just lists). If you would like your boating/fishing company listed, please send us an e-mail (be friendly, we didn't omit you on purpose) and we'll add you to the list (we reserve the right to not include off topic companies or companies that spam us). Companies are listed alphabetically and not in any order of preference. If one is listed out of order, it's just because we made a mistake, not a desire to list one company above any other. None of the people who maintain this web site are employed by companies listed on this site.
---

We are not here to sell you anything. Please don't email us asking us to buy anything from you (unless its a great deal)! Also, you won't get any annoying cookies or messages about setting cookies from this site! We don't track anything except total visits to the main page (and thats just out of curiosity).


We are not a company, we cannot hire you. Please do not send us your resume.
---



If you remember seeing a site like this in the early 90's on Netcom, it was exactly like ours... cause it was us... However, Netcom was slow in offering web access (we were an ftp site for maps and pictures) and in 1995 we moved to ripco (which has a higher disk limit and offered web access at a reasonable fee). In late 1995, Roger Taylor of the Illinois Fishing Page contacted us and became the first site that we linked to (and we became one of the early sites linked on his page). In keeping with our early tradition at netcom, this site navigates well in text mode and in graphics mode (We are 100% lynx compatible and routinely test using lynx). All image tags are set and maps are designed for easy download on lynx systems as well as Netscape or Internet Explorer.
---
Our Effort/Our Replies and Delays:

As you may imagine, this site takes some effort to keep up to date. While we try to reply to every email, sometimes we may miss one. We try to visit most of the areas each year to ensure that information is up to date. Some of the areas we've visited more recently also have toilet facility information on them (Flush/Pit). We just didn't think to gather that information on earlier visits until one of the children refused to use pit toilets. (If you have information on a particular place, please e-mail us.)


If you've been someplace nearby that you think others would enjoy, e-mail us with information about the location and we'll post it. Also, if you've been on the lakes/rivers listed on these pages and would like to share information or tips with others, e-mail us and we'll post it so that others can read it too.
---

The goal here isn't to provide an exhaustive list of links covering the world. We freely link to related sites (ideally non-commercial sites but some commercial) in our home state of Illinois, and our neighboring states of Iowa, Indiana, Missouri, Michigan (it's close enough to be a neighbor), Wisconsin, and Kentucky. We also link to some of the national outdoor related web sites. We do not link to any sites content without that sites permission to do so.
---

While we appreciate recognition, we do not display awards on our site. Our goal is to provide information. Thank you for understanding.
---
Images and maps on this site were created using some of the following:
Fishing Buddy II (portable depth/fish finder)
Boats used (you'll see bows occasionally in the photos) include:

American Fibersport (looks like a birch bark canoe)

Various Government maps as base (NOAA, IDNR or a County map)
Pictures are all originals (except noted below) and were scanned in from one of the following:

Snappy (Sony 8mm and a EWA-Marine scuba enclosure)
IBM Flatbed Scanner (Nikon 35mm) (Maps and photos)
IBM ADF Page Scanner (Nikon 35mm) (Maps and photos)
Wonder Lake Dam picture used with permission from dwonder@mc.net

Summagraphics MM1201 Digitizer Tablet (Mapping only)
Corel PhotoPaint Plus
Corel Draw
iPhoto
PC Paintbrush
Hot Spot (Web .map file generator) (Our HTML coding is done by hand which is probably noticeable)
All maps are test printed using lview v3.1 to ensure that they will print properly on one page.
Slick Graphics source = (Well, we have no slick graphics.. ;-)
---
DuPage County Forest Preserve Public Relations Department:
Not only did they provide camera ready maps for scanning, they also, after a board review process, decided to drop the $1 fee for their fishing booklet so that you can get free maps in person, or on the web!. We also agreed to include the Forest Preserves phone number and email address on every web page for lakes that are in the district.
Cook County Forest Preserves:
While the Cook County booklet was already free, they have provided much information.
Northeastern Illinois Planning Commission:
Information and maps Since they have been so helpful, we thought we'd help them out and volunteer to be Volunteer Lake Monitors in their VLMP program. It's only 2 days a month. If you'd like more info please email me and i'll send you a name and phone number of the coordinator in your area. assistance.
Chicago Park District Public Relations Department:
Provided maps of the districts lagoons.
Illinois Department of Natural Resources:
Especially to the Illinois Department of Natural Resources person who handles all my pesky e-mails requesting permission to publish various maps who always replies promptly!
NOAA:
Who after only a brief runaround, helped us understand what we needed to do to post NOAA charts (and also mentioned what we needed legally to do for many of the other charts we had online at the time). I thank you for taking the time to explain things to me.
Metropolitan Water Reclamation District:
Has been providing us with waste treatment information.
Illinois Environmental Protection Agency:
Sewage Treatment plant locations, 305b reports, fecal coliform information on our water quality pages.

---

Home | Fishing | Sailing | Canoeing | Rowing | Map Printing Suggestions

Please e-mail suggestion/comments to:

jwn@ripco.com