Boating information:
Fish in this lake include:
Other information:
Sag Quarry West is right across the road.
Part of the Palos Division of the Cook County Forest Preserve District. (Note: the map on the link above is not very accurate!)
IEPA Water Quality (Not Tested)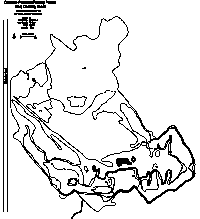 A more detailed map (38k) is on this link (including depths).u

Sag Quarry East is located east of Route 83 between the Cal-Sag and Main Street in the Lemont area. Sag Quarry West is located on the west side of Old Archer Road, Sag Quarry East is on the east side of the road.

These Quarries provided much Lemont Limestone for building construction during the beginning of this century.

(Stocking info '02)Trout season begins April 6th at sunrise. (Normally they stock with 1500 pounds of average size 1/2 pound trout, although we don't have the exact numbers this year) You must possess a valid fishing license and inland trout stamp.