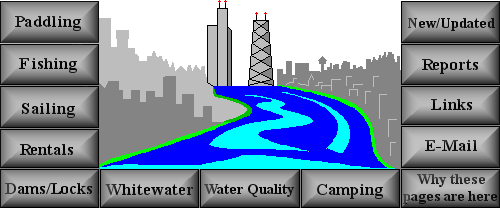 7 Day, 10 Year Low Flows Reports for the Chicagoland Area
We are not responsible for errors or omissions.
When boating, regardless of water depth, wear a PFD!
---
S.T.P. = Sewage Treatment Plant
S.T.P. discharge
(in Cubic Feet/Second)
Gauging Station flow
(Cubic Feet/Second)
Industrial Discharge
The numbers on this page represent water (or effluent) flows at various discharge points and gauging stations along each waterway. The entries are shown in upstream to downstream order. The flow values shown are the average over the lowest 7-day period in 10 years. In other words, these values are minimums. Normal flows may be much higher.
In general, the flow of given stream increases as you move downstream, but the numbers will not always add up between gauges. Surface evaporation alone can eliminate up to 2.1 cfs per square mile, also groundwater accretion and groundwater recharge will also consume water. For example, due to thin structure underneath, Salt Creek in the Western Springs area has a recharge loss of 6.4cfs.
This list does not include seasonal sites such as camping parks or schools with discharge permits.
For example: The North Shore Sanitary Canal draws a minimum of 0.14 cfs from Lake Michigan at the canals mouth in Wilmette (which is regulated by international treaty), then, the waterway flows southward to the MWRD S.T.P. which discharges a minimum 367.0 cfs of treated effluence into the waterway. The waterway continues to flow south, receives a flow of 17.2 cfs from the North Branch of the Chicago River and then gauges at 385.0 cfs just before meeting the main channel downtown. Questions on what it all means? Email jwn@ripco.com
One of the least expensive ways you can protect yourself is to purchase a small, unscented travel pack of diaper wipes, and after touching fish or the water, use the wipes to clean your hands.
---

Gauging station at freshwater inlet, Lake Michigan (12.0 CFS)


Grand Calumet River (Info is not available as to what enters this in Indiana)


Gauging station on Grand Calumet River at junction with Calumet River (20.0 CFS)


Gauging station of combined Calumet and Grand Calumet Rivers (32.0 CFS)
MWRDGC Calumet S.T.P. (290.0 CFS)


Little Calumet River (Info is not available as to what enters this in Indiana)


Gauging station at Illinois/Indiana Border(7.5 CFS)


Thorn Creek


Gauging station (0.3 CFS)
Thorn Creek Basin sanitary District S.T.P. (15.0 CFS)


North Creek


East Chicago Heights S.T.P. (0.04 CFS)
Gauging station (1.4 CFS)


Gauging station at junction of North Creek, Thorn Creek (20.5 CFS)


Gauging station after junction of Thorn Creek and Little Calumet (29.0 CFS)


Gauging station after junction of Little Calumet and Calumet (350.0 CFS)
---

North Shore Sanitary Canal (NSSC)


Gauging station at freshwater inlet, Lake Michigan (0.14 CFS)
MWRDGC Northside Chicago S.T.P. (367.0 CFS)


East Fork, North Branch Chicago River (or Skokie River)


Gauging station (0.70 CFS)
NSSD Clavey S.T.P. (15.2 CFS)
Gauging station (15.9 CFS)


Gauging station just before junction with NSSC and East Fork, Chicago River (15.3 CFS)


West Fork, North Branch Chicago River


Deerfield S.T.P. (3.6 CFS)
Gauging station at junction with North Branch, Chicago River (2.0 CFS)


Gauging station after junction of Chicago River branches, before NSSC (17.0 CFS)
Gauging station just before drop into main North Branch with NSSC (17.2 CFS)
Gauging station after NSSC junction (385.0 CFS)
Gauging station at freshwater inlet, Lake Michigan (16.0 CFS)
Gauging station after freshwater enters main channel (400.0 CFS)
MWRDGC Stickney S.T.P. (Worlds Largest) (1007.0 CFS)
Gauging station at junction with Ship and Sanitary Canal (1405.0 CFS)
MWRDGC Lemont S.T.P. (1.40 CFS)
Lemont S.T.P. (1.40 CFS)
Uno-Ven Company-Lemont (0.30 CFS)


Long Run Creek


Derby Meadows Utility (0.76 CFS)
Chickasaw Hills Utility (0.60 CFS)
Lockport Heights S.T.P. (0.09 CFS)
Bonnie Brae (0.15 CFS)
Lockport S.T.P. (1.90 CFS)


Gauging station at junction with Des Plaines River (1755.0 CFS) Continued on Des Plaines River
---

Gauging station at Illinois/Wisconsin Boarder (0.40 CFS)


Mill Creek


Lindenhurst S.T.P. (1.0 CFS)
Lake County Public Works, Grandwood Park S.T.P. (0.22 CFS)
Gauging station just before junction with Des Plaines River (0.80 CFS)


Gauging station (1.20 CFS)
NSSD Waukegan S.T.P. (18.50 CFS)
NSSD Gurnee S.T.P. (16.20 CFS)
Gauging station (37.00 CFS)
Foulds Inc (0.50 CFS)
Libertyville S.T.P. (3.40 CFS)
Mundelein S.T.P. (3.70 CFS)
Gauging station (44.70 CFS)
Lake County Public Works, NewCentury S.T.P. (1.70 CFS)
Gauging station (46.20 CFS)


Indian Creek


Lake County Public Works, Sylvan Lake S.T.P. (0.22 CFS)
Aptakisic Sand Corp. (2.80 CFS)
Lake County Public Works, Des Plaines S.T.P. (6.80 CFS)


Gauging station after Indian Creek junction (55.40 CFS)


Buffalo Creek


Buffalo Grove S.T.P. (0.94 CFS)
Kildeer-Bishops (0.04 CFS)
Gauging station at junction with Des Plaines River (0.50 CFS)


Gauging station after Buffalo Creek Junction (55.60 CFS)


Willow Creek


MWRDGC Kirie S.T.P. (40.90 CFS)
Touhy Mobile Home Park (0.11 CFS)
Gauging station just before junction with Des Plaines River (40.00 CFS)


Gauging station after junction with Willow Creek (95.50 CFS)
Gauging station just above Salt Creek (98.00 CFS)


Salt Creek


Gauging station (0.20 CFS)
MWRDGC Eagan S.T.P. (24.60 CFS)


Spring Brook


Roselle S.T.P. (1.80 CFS)
Du Page County Nordic S.T.P. (0.25 CFS)
Itasca S.T.P. (2.00 CFS)
Gauging station (1.50 CFS)


Bensenville S.T.P. (1.70 CFS)
Gauging station (30.00 CFS)
Wood Dale S.T.P. (0.45 CFS)
Addison North S.T.P. (2.60 CFS)
Addison South S.T.P. (3.30 CFS)
Gauging station (36.00 CFS)
Salt Creek Sanitary District S.T.P. (2.00 CFS)
Elmhurst S.T.P. (6.50 CFS)
Gauging station (43.50 CFS)
Gauging station (36.50 CFS)


Addison Creek


Addison S.T.P. (3.00 CFS)
Gauging station (2.80 CFS)


Gauging station (38.00 CFS)
Gauging station at last station before joining Des Plaines River (37.50 CFS)


Gauging station (139.00 CFS)
Reynolds Metals (1.00 CFS)
Gauging station (142.00 CFS)
Amoco Chemicals-Willow Springs (0.05 CFS)


Flag Creek


Hinsdale S.T.P. (10.90 CFS)
Gauging station at junction with Des Plaines River (9.00 CFS)


Gauging station (157.00 CFS)


Sawmill Creek


Argonne National Lab (1.30 CFS)
Argonne discharges include mercury and low level radioactive elements (See Argonne links below)
Gauging station at junction with Des Plaines River (1.30 CFS)


Gauging station (158.00 CFS)
Romeoville S.T.P. (1.50 CFS)
Gauging station (160.00 CFS)
Lewis University (0.08 CFS)
Gauging station after merger with Ship and Sanitary Canal (1925.00 CFS)
Gauging station (1928.00 CFS)


Hickory Creek


Frankfort South S.T.P. (0.42 CFS)
Frankfort North S.T.P. (0.51 CFS)
Aubury Hills S.T.P. (0.16 CFS)
Frankfort S.T.P. (0.90 CFS)
Mokena S.T.P. (0.64 CFS)
New Lennox S.T.P. (0.75 CFS)
Ingalls Park S.T.P. (0.18 CFS)
Joliet S.T.P. (17.00 CFS)
Gauging station at junction with Des Plaines River (22.00 CFS)


Gauging station (1952.00 CFS)
Olin Corporation (0.51 CFS)
Caterpillar Inc (0.43 CFS)
West Joliet S.T.P. (3.70 CFS)
Amoco Chemicals-Joliet (0.86 CFS)
People Gas Light and Coke (0.05 CFS)
Stephan Chemical-Elwood (0.60 CFS)


Jackson Creek


New Lennox S.T.P. (0.28 CFS)
Manhattan S.T.P. (0.20 CFS)
Elwood S.T.P. (0.11 CFS)
Gauging station at junction with Des Plaines River (0.50 CFS)


Gauging station (1962.00 CFS)
Unilever Vandenbergh-Joliet (0.30 CFS)
Gauging station (2050.00 CFS)
---

East Branch, Du Page River


Bloomingdale S.T.P. (2.0 CFS)
Glendale Heights S.T.P. (3.0 CFS)
Gauging station (4.0 CFS)
Gauging station (3.6 CFS)
Glenbard S.T.P. (10.0 CFS)
Downers Grove (via pipeline) S.T.P. (10.0 CFS)
Gauging station (23.6 CFS)
Gauging station (25.6 CFS)
Du Page County Woodridge S.T.P. (7.8 CFS)
Bolingbrook S.T.P. (1.6 CFS)
Bolingbrook Village S.T.P. (0.12 CFS)
Citizens Utility S.T.P. (1.7 CFS)
Gauging station (38.0 CFS)


West Branch, Du Page River


MWRDGC Hanover Park S.T.P. (9.50 CFS)
Bloomingdale S.T.P. (0.80 CFS)
Hanover Park #1 S.T.P. (0.50 CFS)
Bartlett S.T.P. (0.85 CFS)
Gauging station (9.50 CFS)
Hanover Park #2 S.T.P. (0.50 CFS)
Gauging station (9.0 CFS)
Carol Stream S.T.P. (3.30 CFS)
Gauging station (11.5 CFS)
West Chicago S.T.P. (3.20 CFS)
Warrenville S.T.P. (7.00 CFS)
Gauging station (20.00 CFS)
Gauging station just before junction with East Branch (23.00 CFS)


Gauging station at junction of East/West Branches, Du Page River(62.50 CFS)
Naperville/Springbrook S.T.P. (19.00 CFS)
Gauging station at Plainfield, IL (84.00 CFS)
Plainfield S.T.P. (0.56 CFS)


Lilly Cache Creek


Citizens Utility S.T.P. (1.50 CFS)
Gauging station at mouth with river (0.90 CFS)


Shorewood S.T.P. (0.55 CFS)
Gauging station, Shorewood, IL (87.00 CFS)
Minooka S.T.P. (0.27 CFS)
Gauging station at mouth of Des Plaines River (89.0 CFS)
---

We have no data or gauge reading for the Kankakee river in Indiana


Singleton Ditch (we have no data on discharges in Indiana)


Gauging station east of boarder at junction with West Creek (21.7 CFS)
Momence Quarry (2.50 CFS)
Gauging station just before junction with Kankakee (26.10 CFS)


Strongheart Products Inc. (0.09 CFS)
Gauging station at Momence (426.0 CFS)
Momence S.T.P. (0.84 CFS)
Sun River Terrace S.T.P. (0.03 CFS)
Gauging station (429.0 CFS)
Gauging station just before Iroquis River junction (432.0 CFS)


Iroquis River


Gauging station east of Illinois/Indiana boarder (14.0 CFS)
Watseka S.T.P. (0.77 CFS)
Gauging station (18.0 CFS)


Sugar Creek


Cissna Park S.T.P. on Pigeon Creek (0.04 CFS)
Gauging station at Iroquis Junction (4.7 CFS)


Gauging station (23.4 CFS)


Spring Creek


Gilman S.T.P. (0.11 CFS)
Gauging station at Iroquis Junction (0.40 CFS)


Gauging station (24.5 CFS)
Gauging station at junction with Kankakee (31.0 CFS)


Exline Slough


Manteno Mobile Home Park S.T.P. (0.02 CFS)
Gauging station at junction with Kankakee (0.20 CFS)


Gauging station at Kankakee (465 CFS)
A. O. Smith Corp (0.14 CFS)
Armstrong World Industries via unnamed creek (0.13 CFS)
Manteno Rock Quarry via unnamed creek (3.3 CFS)
City of Kankakee drawing from river (14.5 CFS)
Kankakee S.T.P. (8.5 CFS)
Bradley S.T.P. (1.0 CFS)
Bourbonnais S.T.P. (1.2 CFS)


Rock Creek


Peotone S.T.P. (0.26 CFS)
Manteno S.T.P. (0.56 CFS)
Gauging station at Iroquis Junction (1.8 CFS)


Gauging station (467 CFS)
Gauging station (470 CFS)


Horse Creek


Herscher S.T.P. (0.09 CFS)
Lehigh Quarry (4.50 CFS)
Gauging station at Kankakee Junction (4.3 CFS)


Gauging station (467 CFS)
Wilmington S.T.P. (0.35 CFS)
Gauging station (480 CFS)
Gauging station at junction with Des Plaines (484 CFS)
---

Gauging station just above Illinois/Wisconsin Boarder (73.0 CFS)


Nippersink Creek


North Branch Nippersink Creek


Hebron S.T.P. (0.10 CFS)
Gauging station (0.65 CFS)
Gauging station (3.90 CFS)
Genoa S.T.P. (0.11 CFS)
Richmond S.T.P. (0.12 CFS)
Gauging station (5.40 CFS)


Silver Creek (Flows into Wonder Lake, then Nippersink Creek)


Woodstock Die Cast Co.(0.12 CFS)
Woodstock S.T.P. (1.90 CFS)
Gauging station (2.10 CFS)


Gauging station as Nippersink enters river (24.0 CFS)


Sequoit Creek


Gauging station (0.60 CFS)
Antioch S.T.P. (0.90 CFS)
Gauging station at mouth with river (2.10 CFS)


Squaw Creek


Creeks feeding Round lake


Lake Villa S.T.P. (0.29 CFS)
Baxter Healthcare (0.36 CFS)


Gauging station at mouth with river (0.20 CFS)


Fox Lake Regional S.T.P. (6.0 CFS)
Gauging station (82.0 CFS)
Modine Manufacturing (0.12 CFS)
Morton Chemical (0.75 CFS)
Gauging station (83.0 CFS)
Gauging station (85.0 CFS)
McHenry Municipal S.T.P. (2.3 CFS)
Gauging station (93.0 CFS)
TC Industries (0.11 CFS)
Terra Cotta Realty S.T.P. (0.03 CFS)
Island Lake S.T.P. (0.48 CFS)
Gauging station (98.0 CFS)
Wauconda S.T.P. (0.65 CFS)
Gauging station (102.0 CFS)


Flint Creek


Lake Barrington Homeowners S.T.P. (0.35 CFS)
Lake Zurich S.T.P. (0.75 CFS)
Quaker Oats Company (0.16 CFS)
Barrington S.T.P. (2.7 CFS)
Gauging station at mouth with river (5.0 CFS)


Fox River Grove S.T.P. (0.65 CFS)
Gauging station (109.0 CFS)
Cary S.T.P. (1.50 CFS)
Gauging station (114.0 CFS)


Unnamed Creek (just south of Cary)


Gauging station (0.10 CFS)
Crystal Lake S.T.P. (2.30 CFS)
Gauging station (3.6 CFS)
Algonquin S.T.P. (0.60 CFS)
Gauging station at mouth with river (4.4 CFS)


Algonquin S.T.P. (1.40 CFS)
Gauging station (122.0 CFS)
Kimball Hill S.T.P. (0.10 CFS)
Gauging station (124.0 CFS)
Carpentersville S.T.P. (2.30 CFS)
Gauging station (126.0 CFS)
East Dundee S.T.P. (0.49 CFS)
Fox River WRD North S.T.P. (4.3 CFS)
Gauging station (133.0 CFS)
Fox River WRD South S.T.P. (16.2 CFS)
Fox River WRD West S.T.P. (0.47 CFS)
Gauging station (154.0 CFS)


Ferson Creek


Ferson Creek Utility Co. (0.05 CFS)
Gauging station at mouth with river (0.20 CFS)


Gauging station (158.0 CFS)
St Charles S.T.P. (5.0 CFS)
Geneva S.T.P. (2.20 CFS)
Gauging station (166.0 CFS)
Gauging station (168.0 CFS)
Batavia S.T.P. (1.80 CFS)
Gauging station (170.0 CFS)
Mooseheart S.T.P. (0.11 CFS)
Gauging station (174.0 CFS)
Dial Corporation-Montgomery (0.10 CFS)
Gauging station (176.0 CFS)
Aurora Sanitary District (29.0 CFS)
Valley Water Co. (0.22 CFS)
Gauging station (206.0 CFS)
Oswego S.T.P. (0.27 CFS)
Gauging station (210.0 CFS)
Yorkville Bristol S.T.P. (0.70 CFS)


Blackberry Creek


Gauging station (1.00 CFS)
Sugar Grove S.T.P. (0.44 CFS)
Gauging station at mouth with river (2.30 CFS)


Gauging station (217.0 CFS)


Big Rock Creek


Elburn S.T.P. (0.46 CFS)
Gauging station (0.80 CFS)
Plano S.T.P. (0.67 CFS)
Gauging station at mouth with river (2.10 CFS)


Little Rock Creek


Hinkley S.T.P. (0.10 CFS)
Gauging station (0.40 CFS)
Sandwich S.T.P. (0.56 CFS)
Gauging station at mouth with river (1.60 CFS)


Gauging station (228.0 CFS)
Newark S.T.P. (0.04 CFS)
Gauging station (235.0 CFS)


Somonauk Creek


Waterman S.T.P. (0.06 CFS)
Gauging station (0.10 CFS)
Somonauk S.T.P. (0.13 CFS)
Gauging station at mouth with river (0.50 CFS)


Sheridan S.T.P. (0.21 CFS)
Gauging station (243.0 CFS)


Indian Creek


Paw Paw S.T.P. (0.04 CFS)
Gauging station (0.10 CFS)
Shabbona S.T.P. (0.06 CFS)
Gauging station (0.26 CFS)
Gauging station (1.00 CFS)
Earlville S.T.P. (0.13 CFS)
Gauging station (1.50 CFS)
Gauging station at mouth with river (5.40 CFS)


Gauging station (260.0 CFS)
Gauging station at junction with Illinois River (265.0 CFS)
---

Gauging station at junction of Des Plaines and Kankakee Rivers (3130.0 CFS)
Akzo Chemicals Inc (0.04 CFS)
NorChem Inc (2.80 CFS)
Richhold Chemicals (0.03 CFS)
Quantium Chemicals - Morris (1.4 CFS)
Gauging station (3140.0 CFS)
Morris S.T.P. (1.5 CFS)
County Acres Mobile Home Park S.T.P. (0.03 CFS)
Gauging station (3165.0 CFS)
ETI Explosives - Seneca (1.0 CFS)
DuPont Seneca Works(1.1 CFS)
Seneca S.T.P. (0.15 CFS)
Gauging station (3180.0 CFS)
Gauging station (3185.0 CFS)
Borg Warner Chemical Inc (2.1 CFS)
American Hoechst Corp (1.8 CFS)
Marseilles S.T.P. (0.90 CFS)
General Electric Company (1.4 CFS)
Gauging station before Fox River junction (3185.0 CFS)
Ottawa S.T.P. (2.80 CFS)
Gauging station after Fox River junction (3575.0 CFS)
North Utica S.T.P. (0.13 CFS)
Gauging station after Vermilion River junction (3530.0 CFS)
LaSalle S.T.P. (1.3 CFS)
Peru S.T.P. (1.7 CFS)
American Nickeloid Co. (0.07 CFS)
Spring Valley S.T.P. (0.88 CFS)
Mobile Chemical Corp. (0.75 CFS)
New Jersey Zinc Co. (0.09 CFS)
DePue S.T.P. (0.29 CFS)
Granville S.T.P. (0.29 CFS)
Gauging station after DePue or at the big bend in the Illinois River (3500.0 CFS)
Hennepin S.T.P. (0.22 CFS)
Gauging station after Hennepin (3529.0 CFS)
B.F. Goodrich Co. (0.91 CFS)
W.R. Grace and Co. (0.20 CFS)
Gauging station after Sandy Creek junction (34.0 CFS)
Lacon S.T.P. (0.24 CFS)
Gauging station (3343.0 CFS)
Toluca S.T.P. via Crow Creek (0.07 CFS)
Gauging station (3279.0 CFS)
Chillicothe S.T.P. (0.64 CFS)
Pinewood Mobile Home Park (0.02 CFS)
Caterpillar Tractor Co. (1.2 CFS)
Peoria Water Co. (0.12 CFS)
Grandview Mobile Home Park (0.03 CFS)
Germantown Hills S.T.P. (0.05 CFS)
Gauging station at north end of Peoria/just north of Ten Mile Creek Junction (3000.0 CFS)
---

South Fork, Vermilion River


Fairbury S.T.P. (0.50 CFS)
Forest S.T.P. (0.18 CFS)
Gauging station at junction before junction with North Fork Vermilion River (0.70 CFS)


North Fork, Vermilion River


Gauging station after junction with Kelly Creek (0.00 CFS/Seasonal Stream)
Gauging station after junction with Five Mile Creek (0.90 CFS)
Gauging station after junction with Felky Slough/Just before joining South Fork Vermilion River (1.50 CFS)


Gauging station of combined North and South Forks, Vermilion River plus Hickory Creek (3.4 CFS)
Gauging station just before Pontiac IL water intake (3.7 CFS)
Pontiac IL water intake withdraws minimum 2.5 CFS from river for drinking purposes behind 7 foot dam.
Pontiac Gauge (#0554500) after Pontiac IL water intake (1.2 CFS)
Pontiac S.T.P. (2.10 CFS)
Gauging station after Pontiac S.T.P. (3.30 CFS)
Gauging station after Deer Creek junction (3.70 CFS)
Gauging station after Ida Creek junction (4.70 CFS)


Short Point Creek


Flanagan S.T.P. (0.07 CFS)


Gauging station after Short Point Creek junction (5.20 CFS)
Gauging station after Long Point Creek and Mud Creek junction (6.10 CFS)
Gauging station just before Streator IL drinking water draw (6.40 CFS)
Streator IL water intake withdraws minimum 3.0 CFS for drinking water purposes behind 30 foot dam.
Gauging station just after Streator IL drinking water draw (3.40 CFS)
Streator S.T.P. (2.10 CFS)
Gauging station after Egg Bag Creek junction (5.70 CFS)
Gauging station after Wolf and Otter Creeks junction (6.20 CFS)
Lenore Gauge (#05555500) station (6.60 CFS)


Bailey Creek


Tonica S.T.P. (0.05 CFS)


Gauging station after Bailey Creek junction (7.50 CFS)
Oglesby S.T.P. (0.38 CFS)
Gauging station just before junction with Illinois River (8.10 CFS)
---