Boating information:
Private whitewater canoes and kayaks
Rental inflatable kayaks and rafts
Other Information
Street Parking available
2 hour drive from Chicago
Operated by the South Bend Park District
Current Operating Information:
Directions from Chicago:
take the Chicago Skyway to the Indiana Toll Road (I-80)
get off at the first South Bend exit (which should be U.S. 31)
go south to U.S. 20
take U.S. 20 east into South Bend
follow signs for "East Race" when you get to downtown South Bend.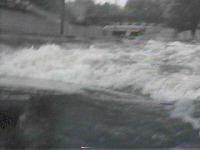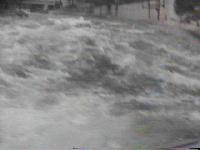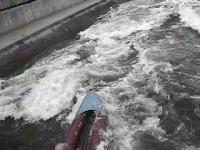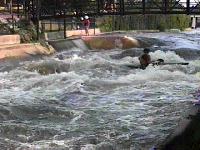 (Four slightly different views of the same spot)
South Bend Indiana's East Race Artificial Whitewater Course draws its water from the St. Joseph River. This 1500+ foot long artificial whitewater course is operated by the South Bend Parks and Recreation Department. For more info, you can contact the South Bend Parks and Recreation Department at (219) 235-9401 or check out their web site.
This is a fun place to visit. Bring your own boat, or rent a funyak (inflatable kayak). If you'd like to be more sociable, you can get up to 6 people in the larger rafts. If you rent your vessel from the park district, they also will supply PFD's, helmets and paddles. If you choose to rent watercraft from the Park District, make sure you stay to the right near the end of the waterway (you'll see a sign that says "Keep Right"). If the guards have to throw you a rescue bag to pull you to the take out point they tend to aim for the head.