Boating information:
Private canoes sailboats, and rowboats allowed
(Must be less than 16 feet long)
Motors not permitted
Fish in this lake include:
There is no official stocking or
sampling program for this lake,
however there are fish in the lake.
Other information: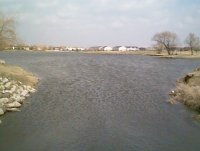 (Photo taken of lake from over the dam, lake is long and about 100 yards wide)
This lake is located on McCoy Road, west of Illinois 59, north of Illinois 34 (Ogden Ave. / Oswego Rd.), just west of Fox Valley Mall.
This lake was created by placing a small dam on Waubonsie (Waubansee) Creek.
No actual ramps, just launch from the grass.