Boating information:
Private canoes sailboats, and rowboats allowed
(Must be less than 16 feet long and hand launchable)
Motors not permitted
Fish in this lake include:
There is no official stocking or
sampling program for this lake,
however there are fish in the lake.
Other information: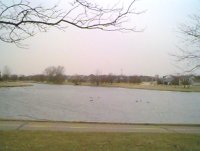 Located on Kautz Road, west of Illinois 59, south of McCoy Drive (5th Ave.), north of Illinois 34 (Ogden Ave. / Oswego Rd.).
No actual ramps, just launch from the grass.
Sources divided on the name. Most maps show it as Waubonsie Lake on Waubansee Creek. The USGS says "Waubonsie Creek", saying it was "named for Potawatomi Indian Chief Waubonsie". The USGS also lists "Wabausia Creek" and "Waubansee Creek" as variants.