Boating information:
Fish in this lake include:
Pink Salmon
Atlantic Salmon
Brook Trout
Rainbow Smelt
Other information:
Power plant warm water discharge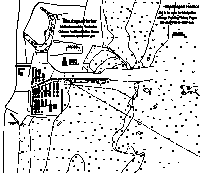 Get detailed map, (38k) (including depths).

Lake Michigan, Waukegan Harbor is located on Sea Horse Drive, south of the Illinois Beach State Park.

The Chart here is posted with permission from the NOAA. This chart is from NOAA-14904. This chart should be used for information only and not used for navigation.