Boating information:
Fish in this lake include:
Other information: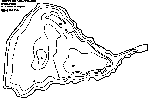 Get detailed map, (31k) (including depths).

West Lagoon is located between Butterfield Road (on the north) and Warrenville Road (on the south), Herrick Road (on the west) and Naperville Road (on the east). The entrance to the preserve is on Butterfield Road. Youth groups may camp at this Preserves campground.