Boating information:
Fish in this lake include:
There is no official stocking or
sampling program for this lake,
however there are fish in the lake.
Fish we know exist based on fishing there are:
Other information: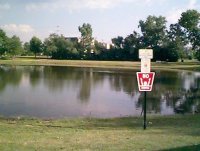 Located just east of Adams Street (which is located between Route 83 and Madison Street) and north of Plainfield Road in Willowbrook,
Nice little park with a covered picnic structure, children's park and fishing lake. A nice place to take the entire family where everyone can have fun.