Boating information:
Private boats permitted. (10 hp limit for Gas motors)
No rental boats available at this time.
(They are seeking a company to do rentals however)
Fish in this lake include:
Other information:
Photos: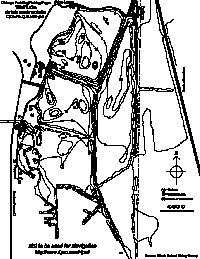 Get detailed map, (42k) (including depths).

William W. Powers Conservation Area/Wolf Lake is located just east of Avenue O/Burnham Avenue, between 120th and 134th streets on Chicago's Southeast side. The lake straddles the Illinois and Indiana Border. The lake is divided by several dikes keeping the wave height down to a level easy to handle by any small boat. The lake is so close to Lake Michigan, that the prevailing winds are usually off the big lake.

While the lake looks man made, it's actually a very old lake that has been deepened for fishing.

For more information, you can contact the Park at 1-773-646-3270.

Be careful when bringing small children to the lake. Two boys (ages 6 and 10) were playing in the lake and fell into a dropoff and drowned on June 19,1998. There are two crosses on shore near where they drowned.