The NBA's Offensive Troubles -- Illusion or Reality
Dateline: 11/29/96

You'd think that with rising ticket prices and rising salaries, the NBA would be putting out a better product. Multimillion dollar players aren't even coming close to making half of their shots, a standard for a paltry million dollar player only ten years ago.

Off-season free agents like Dikembe Mutombo, Don MacLean, Allan Houston, Robert Pack, and Brent Price were all viewed as young players with "potential" and received contracts worth as much as $10 million per season. In reality, none of these players is really very young and most are at an age where their best seasons could very well be behind them. Even if they were young, none of these players shot 50% from the field and all were prone to turning the ball over. Ten years ago, these guys would have been role players. Now they're getting paid so much that their teams cannot afford to sit them down.

Such is the state of offense in the NBA. The brightest stars -- Jordan, Barkley, Malone, and most of the other Dream Teamers -- still shine, but there has been a recent glorification of spectacular mediocrity that has turned Nick Van Exel, Sam Cassell, Jason Kidd, Jerry Stackhouse, Glenn Robinson, Damon Stoudamire -- to name a few -- into media heroes. These guys like to shoot three pointers at the buzzer, make passes through double teams, and score a lot of points, but they don't do any of these particularly well. Last year these "Third Little Pigs" -- players who make their houses by laying bricks -- shot only 42% and committed turnovers at a rate twice that of Michael Jordan. Yet you can see each of them idolized in TV commercials, on billboards, and in popular magazines.

If it were just advertisers mistaking mediocrity for talent, all would be fine. But the league itself has been overpromoting young players who have yet to prove themselves. Teams are playing young guns because fans pay to see them even if they're not best ready to handle the job. That, plus expansion, has apparently caused shooting percentages to go down and turnovers to go up leaguewise.
But is this a short term blip or a long term problem?
Oddly, it may be both.
Scoring has been falling for about ten years, but the pace of the NBA has been falling nearly constantly since the 1970's: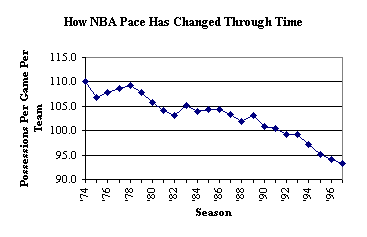 No one is quite sure why the game has been slowing down, but slowing the game is a common characteristic of playoff games and there is a competitive advantage for underdogs to slow the game. This long term trend shows no sign of reversing and since the average possession lasts 15 seconds, there is still plenty of room to get slower before the 24 second clock becomes an issue.
On the other hand, this season's disastrous shooting and careless ball-handling may just be a blip. A chart of the league's scoring efficiency over the past 20 years shows a couple seasons where the offense fell off suddenly, only to rebound the following season: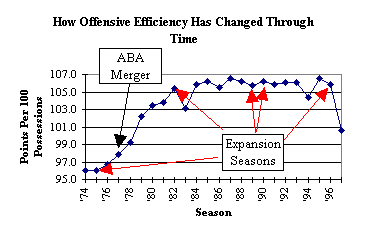 Notice the substantial decline in the 1983 season, the second year of the expansion Dallas Mavericks. This is like the decline this year, the second season of the two Canadian expansion teams. The league recovered from the '83 decline and maintained a constant offensive efficiency throughout the '80's, its period of ever increasing popularity. There was no noticeable decline after the introduction of four expansion teams in the late '80's. Yes, people like Dr. J were pointing out that fundamentals were lacking in the new players, but there wasn't a lot of evidence for it. Then Michael Jordan left and the league declined in 1994. To compensate, the league brought the three-point line in the following season. Actually, the league didn't do this because Jordan left -- he's not that important. The reported reason was to prevent the brutality in the paint that helped the Knicks get to the NBA Championship.
Now we are looking at the biggest decline in offensive efficiency in history, even with the short three-point line. All the youth in the league is certainly a problem, but how long can the effect of their immaturity last? We will probably know more in a season or so. In the meantime, we should get used to the clanking of the rims.