10. Half Dome (07/27/96)

Hikers (4): Peter, Russ, Steve, Taylor
Distance: 17 miles
Rating: 5 difficulty, 10 beauty
Park info: Yosemite National Park

Write-up by Peter and Russ
Peter leads off ...
The mighty Half Dome -- we had looked forward to this one for a long time.
We hit the road for Yosemite on Saturday morning. The plan was to get there as quickly as possible, do a quick hike on Saturday afternoon, hit the sack, and then get up bright and early to hike Half Dome on Sunday. This meant we didn't have time to stop for lunch at the legendary House of Beef in Oakdale. Sometimes you have to make some sacrifices in order to achieve your goals, but was this too high a price to pay?
We arrived in Yosemite and checked into the Housekeeping Village early on Saturday afternoon, then strolled over to the Yosemite Falls. This being a nice summer weekend, there were hundreds of people there. Esteban did his little mountain goat routine and started scrambling over rocks and pretty soon was out of sight. Russ also soon disappeared out of view, leaving Taylor and me to take a nap on a big rock under the bridge at the bottom of the falls. Very relaxing!
We had dinner in the Yosemite Village, and then it was bedtime. Unfortunately, thousands of other campers did not share our "early to bed, early to rise" philosophy and it was not easy to get to sleep. Boom boxes, screaming kids, barking dogs, you name it. So this is what it sounded like when the Barbarians were beating down the gates of Rome!
We had made sure we locked away all the food, but one INCHer who shall remain nameless (Taylor) was sleeping with one eye open, on the lookout for bears. Grrrrrrrrrr! . I think the closest an animal came to us that night was a squirrel scurrying about outside the cabin.
Daybreak on Sunday ... we were greeted by a neighbor hurling his guts out. Too much partying the night before! We hit the showers and were soon on our way to the Happy Isles parking lot where we would catch a bus to the trailhead.


Rusty, Peter, and Esteban before the hike
We met up with a group of guys who had climbed Half Dome before. Once they learned about my fear of heights, they were only too pleased to inform us of the terror that awaited us. Things were not looking good for Pedro.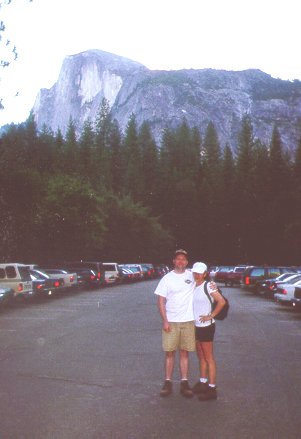 Peter and Taylor with the mighty Half Dome in the background
The magnitude of this hike warranted a new addition to our repertoire: the Hike Cheer. We stood in a circle, stacked our right hands on top of one another, and shouted, "1, 2, 3, ... HIKE!", and we were off!
The first part of the trail was covered with ash from the big landslide which had occurred a couple of weeks earlier, and some of the trails were closed. Fortunately, the John Muir Trail to Half Dome was open. Onward!
The first mile was a decent-grade climb up to Vernal Falls. Many of the hordes who had started out with us decided to only go this far. Time for a quick rest to catch our breath before hitting the switchbacks that would take us up the next three miles to Nevada Falls. We appreciated the fact that it was still early in the morning and the weather was cool. Esteban had gone up ahead, and Rusty was also distancing himself from the Honeymoon Couple.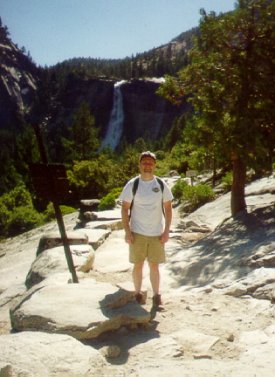 Peter on the way up to Nevada Falls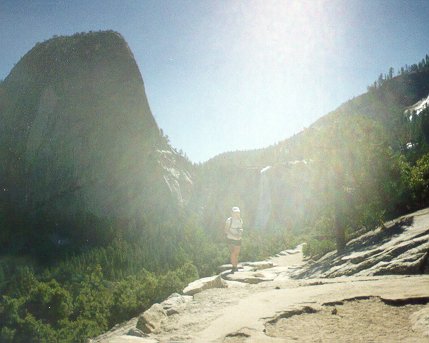 Taylor at the same spot (Liberty Cap in the background)
We caught up with Canteen Boy at Nevada Falls. We were about 6000 feet up at this point. What a great view! The water in the falls was ice cold and it felt good to splash it on the back of our necks. We sat there for a while and soaked it all in and enjoyed the crisp mountain air. Those Snapples tasted good!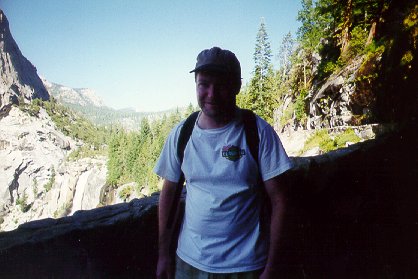 Standing on the ledge just before Nevada Falls
The next mile was somewhat rocky, and not too easy on the ankles. The crowds had thinned noticeably at this point, making us nervous that a bear would be waiting around the next rock at any point. We had received plenty of warnings that this was prime bear country and to keep our eyes open.
After passing through this section, we came out into an open field. The flat, soft surface was a welcome relief for our tired legs. We could not see Half Dome at this point, but we knew it was waiting for us, so we pressed on.
After a mile and a half, we arrived into a heavily wooded uphill area that would lead us up to the Dome. The altitude was starting to make its presence felt. All conversation among the hikers had been replaced by the sound of heavy breathing. Just as we were about to stop and catch our breath, Taylor saw a bear off to the side. Grrrrrr! Better to keep moving!
Huff, puff, huff, puff ... after another mile, we collapsed on a log and started gulping down large quantities of Gatorade. We could see a sign up ahead: 2 miles to go. We figured Esteban was already at the top, so that inspired us to pick it up.
After a mile-long grinding climb, Half Dome appeared in full view. We could see some hikers climbing up the metal cables to the top. I started to get a queasy feeling in the pit of his stomach. The best was yet to come ... a short climb to the next level revealed an area that was open on three sides. Suddenly Pedro saw how high up he actually was -- PANIC ATTACK!
We will spare you the gory details. Suffice it to say, there was blood, sweat, and tears. Not a pretty sight! I was so frozen with fear, I could not even eat my lunch and ended up giving it to Canteen Boy, who snarfed it down without even a shred of human compassion. Just kidding ... Rusty did actually try to help calm me down by talking football, but it was of little help. I refused to go any further and began walking down. Despite my insistence for Taylor to press on, she also decided to go back down, leaving Rusty to go on alone.
Russ, take it away ....
For those with the courage to continue on, there were still many dangers to be faced. You must climb up the narrow steps cut into the granite knowing at any time you can slip and fall to your doom. The altitude was making it hard to breathe and rest was needed every 3 steps. Once you get to the top of the granite hill, you are overwhelmed by the sight of Half Dome looming in the horizon. You notice what looks like ants crawling up Half Dome and and then realize those are people! Then it dawns on you that YOU must make that same climb to conquer Half Dome.
It is another 20 minutes of walking to get to the base of Half Dome. You look up and see the people climbing up -- 1000 feet of rock to be climbed with only 2 metal cables and wooden boards to help you! You rest a while to build up the courage to make the climb. Once started you can't turn back.
The wooden boards go all the way up to the top of the giant rock, like a the rungs on a ladder. Metal poles have been dug into the rock along the side of the "ladder" and cables have been strung along through the poles for you to hold onto. In between the boards you have to pull yourself up using only your arms because your feet are useless on the slippery rock. If you let go of the cable it is death for you and anyone unlucky enough to be caught with you as you tumble down to the bottom. Even for those not afraid of heights, the climb up is terrifying.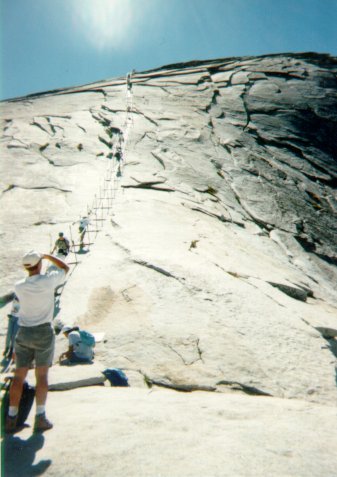 The cables to the top!
You pull yourself up ten feet, then rest. Then go another ten feet and rest. And on and on. It seems to last forever. After hiking 6 miles, the climb up is an nightmare. Everyone is struggling to get to the top and hoping that it will happen soon. Just when you think that you can't go on anymore, you finally reach the top. And I for one kissed the rock, thankful that I have finally reached the goal. Half Dome had been conquered.
Esteban had been at the top for over a hour thinking no one in the group would be able to follow him. He was wrong!
Now that you have reached the top, you realize how tired you really are. You sit down and bask in the fact that you really made it to the top. You know that eventually you have to do back down, but that can wait. I took time to look around and admire the view from the top of Half Dome -- a wonderous view of the entire Yosemite Valley. I also checked out the marmots that inhabit the top. Too bad the other guys missed out on seeing them!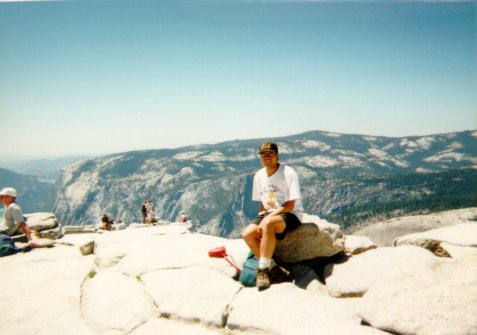 Rusty on top of Half Dome
After taking a bunch of pictures to prove to everyone that I had indeed made to the top, I settled down for a well-deserved nap, while Esteban headed down back towards the car. I got up about an hour later and began the long journey back.
Back to Peter ....
On the way down, Taylor and I stopped for a long time at the Nevada Falls. We took off our shoes and let our tootsies dangle in the cold water. Aaaaaaahhh! Very refreshing. The afternoon sun was nice and warm and we just lazed on top of the smooth rocks for a long time. Eventually, we gathered up our stuff and made our way back down to the Vernal Falls. We waited there for a short while and Esteban showed up with his tales of scaling the Dome. He told us he'd seen Rusty going up as he was on the way down, so we figured Canteen Boy wouldn't be coming back anytime soon, and headed back down to the trailhead to catch the shuttle bus to the car.
After about an hour in the parking lot (nice French Fries in the local concession stand, by the way), Rusty the Conqueror showed up, looking bloodied, battered, and bruised. Canteen Boy had been through the battle and had won!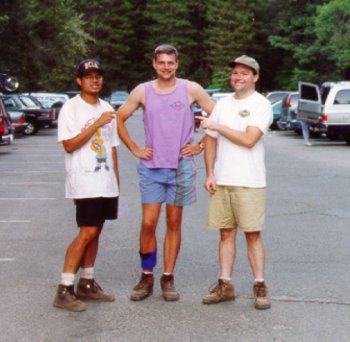 Rusty, Esteban, and Peter after the hike
It was starting to get dark, so we packed up and hit the road. Everyone was starving, so Esteban starting zooming down the twisty mountain roads to get us to some food. Taylor was drifting in and out of sleep and woke up at one point as we were about to come up on a tow truck parked on the side of the road. She thought we were going to ram into it at high speed and die in a horrible fireball, and let out the blood-curdling Scream of Death (almost causing Esteban to actually ram into the truck)! Fortunately, we escaped the clutches of the Grim Reaper, and continued on our journey. No chance of anyone drifting off to sleep after that little eye-opener!
We were too hungry to wait until we got to the House of Beef, so we had to settle for a quick stop at a Taco Bell along the way. Probably just as well -- they wouldn't have been too pleased to see our sweaty, smelly bodies in The House. Rusty and I vowed to return one day and dine in style in Oaktown's finest establishment.
Truly a great weekend (even for those who did not make it all the way to the top). We look forward to returning and having everyone make it all the way up next time.
Milestones:
Steve's 10th leaf







Pages maintained by Steve Walstra, Peter Saviz, and Russell Gee.
©2022 Intrepid Northern California Hikers