100. Murietta Falls (12/19/98)

Hikers (11): Beth, Cap'n Dave, Eugene, Jamie, Jane M, Mary, Nanda, Peter, Russ, Steve, Taylor
Distance: 12 miles
Rating: 5 difficulty, 8 beauty
Park info: Ohlone Regional Wilderness south of Livermore

Write-up by Peter
After two and half years of blood, sweat, and tears, we had finally arrived at the century mark!
It was a cold, windy day in mid-December, but that did not deter the Intrepid Northern California Hikers. In addition to the four founders, seven other hardy souls showed up for the big event. We had chosen Murietta Falls, the scene of our first-ever Level 5 hike as a worthy place to celebrate our 100th.
1, 2, 3, ... INCH!
We did our famous cheer, and then we were off!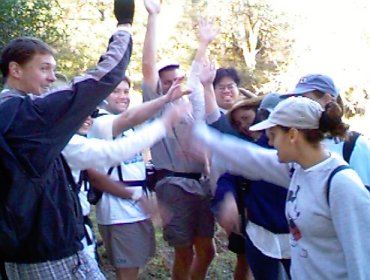 Big INCH cheer to start the hike!
For myself, this was the sixth trip to the falls (including the Ohlone Wilderness Trail hike), but it was still a challenge. The chilly weather did help to make the trek easier, but no matter how cold it is, you're soaking wet with sweat and your heart's pounding like a little bunny rabbit after the first mile and half of this hike. Whew!
After that, it gets a little easier (but not much!). I knew Cap'n Dave, Esteban, and Rusty would be blazing trail, so I did not even attempt to keep up. I stayed with the middle pack for the most part. Mary was going pretty slowly, so I kept stopping to let her catch up. This is mountain lion country and it's not a good idea to be walking alone.
We made it to Williams Gulch in good time. This is my favorite spot on the whole trail. Unfortunately, there had not been much rain that fall and the gulch was pretty dry, but the spot was still beautiful nonetheless. The front-runners had long gone, and the rest of the pack waited for a little while, but it was pretty chilly so they decided to keep moving. I waited back for Mary. It sure is quiet when you're alone in the woods ...
A fair amount of time passed and she hadn't showed up yet, so I began to get a little concerned (not to mention cold). I waited a little longer ... still no sign. I decided to go back and look for her. Just as I started across the gulch, I saw her coming down the other side. On with the hike!
I have to say that at this point I was a little cheesed off at the rest of the gang for taking off. I harkened back to the old days when the front-runners would stop and wait for the rest of the pack to catch up and make sure everyone was OK before continuing on. It used to be a kinder, gentler INCH and I wished it were still that way. I used my seething rage as fuel to propel me up through the Big Burn to the top of the Wauhab Ridge in record time (at least for me!). Only a couple more miles to the falls.
When I finally arrived at the top of the falls, some poor bastard (I think it was Rusty) had the misfortune to ask what had taken me so long. Needless to say, I let him have a piece of my mind!
After my little hissy fit, I went off by myself and ate lunch alone. This was certainly not the way I had pictured the 100th hike was going to be! But food has a way of healing all wounds (especially for the INCH), so after a few minutes I forgot what I was mad about and we were all friends again.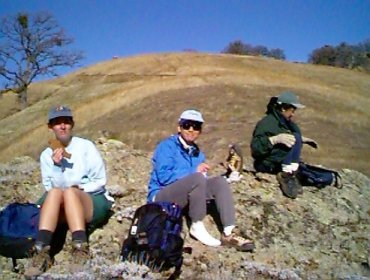 Jamie, Eugene, and Jane at the top overlooking the falls
The hike back was much more cheerful -- mostly downhill (except for the Death Climb out of the Gulch), and we knew we had a big celebration waiting for us at the end. Plus, I was walking with The Man and that's always enjoyable!
We all made it back to the car in one piece and bundled up pretty fast. The sun was going down and it was getting even colder, so it would have to be a quick celebration. Bring on the champagne and cookies!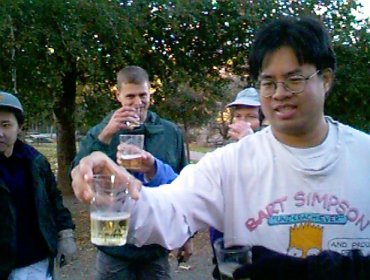 100 great hikes - cheers!!!
Milestones:
Jane M's 20th leaf







Pages maintained by Steve Walstra, Peter Saviz, and Russell Gee.
©2022 Intrepid Northern California Hikers