12. Eagle Peak (08/10/96)

Hikers (5): Matt, Peter, Russ, Steve, Taylor
Distance: 10 miles
Rating: 3 difficulty, 7 beauty
Park info: Las Trampas Regional Wilderness near San Ramon

Write-up by Peter
Another hot weekend -- what better way to spend it than sweating and eating dust?
After last week's Blue Ridge Trail disaster, we decided to try something a little closer to home. We had heard Mt. Diablo offered a good hike (rated a 4 in the book), so that seemed like a good choice. Back to the East Bay once again!
We stopped at a Safeway in Clayton to pick up food. They had some nice fresh sourdough rolls, and they made a mean sandwich! After getting the food, we headed out towards Mt. Diablo.
The roads were not clearly marked on the map, and we took a wrong turn and ended up driving way out into the middle of nowhere. We finally stopped at some sort of a ranch to ask for directions. A huge rottweiler came out and began sniffing around me. Nice doggie, nice doggie! The people inside were preparing for a wedding and seemed to have never heard of Mt. Diablo, so we gave up and just headed back.
After driving around aimlessly for a while, we finally found the turnoff. We drove up to the park entrance only to find the whole park was closed because of fire danger. Jeeeeeez! Esteban was advocating we go ahead and hike anyway, but cooler heads prevailed and we decided to go look for another hike.
Hiking bible in hand, we drove back down the highway towards home, exited in Danville, and headed for Las Trampas State Park. The hike we were going to was only rated a 3, but it was the best we could do on short notice. Little did we know this was going to be The Mother Of All 3's!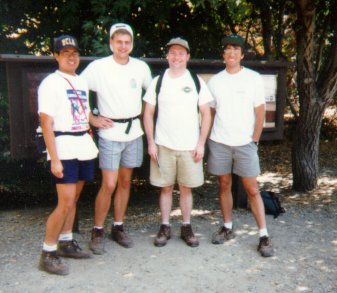 Rusty, Esteban, Peter, and Matt before the hike
By the time we go to the trailhead, it was already pretty late and we were hungry, so we sat at the picnic tables and devoured our lunch.
Hit the road, Jack!
The trail started out in a nice, shady wooded glen, but that ended abruptly and we found ourselves walking uphill along wide fire roads under the blazing sun. As usual, Esteban and Rusty were up ahead, with Matt, Taylor, and myself dragging behind. There was no-one else hiking in the entire park. Our only companions were the flies buzzing around the horse droppings.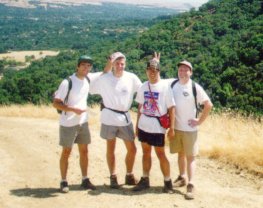 Matt, Esteban, Rusty, and Peter heading up the trail
The trail wound it's way slowly up to the top of the first peak. This was followed by a steep descent into a valley (which was blanketed with thistles - ouch!) and an even steeper descent up some big rocks to Eagle Peak. The trail was not named Rocky Ridge for nothing! As we scrambled up on all fours, we were praying we wouldn't have to come back down the same path.
At the top of Eagle Peak, we rested for a while and admired the view. It was a hazy summer day so the visibility was not that great, but we were able to see as far as Mt. Diablo.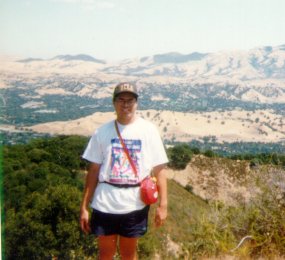 Rusty at Eagle Peak
The trail seemed to lead off into some thick brush, so we started slogging through it. After a little ways, the trail was getting harder and harder to follow, then seemed to go along a pretty steep ridge which was mostly overgrown. I, being afraid of heights, decided to go back and find an alternate route (hopefully not down the big rocks). Matt and Taylor followed, but Russ and Esteban were way up ahead.
After reaching the top of Eagle Peak again, I saw another trail leading down the backside of the hill. This one was much more clearly marked, but the angle at which the trail began made it easy to miss on the first pass (as we had done).
The descent was fairly smooth, and then the trail flattened out and led through some tall grass. Visions of lions in the African bush came to mind. After a while, we stopped to rest and have a drink. We could hear Rusty and Esteban's voices coming up from behind us, so we waited for them to catch up. They had also taken the wrong trail off Eagle Peak and had ended up stuck further down in the overgrown brush. Esteban had also torn the sole off one of his hiking boots, so the rest of our hike would be accompanied by a soothing (and yet annoying) flapping sound as he walked along.
Our keen sense of direction told us we were about halfway through the hike at this point. Wrong! We still had a long way to go. Every time it seemed we should be making the final turn into the home stretch, another killer hill would appear up ahead. It was turning into another grinding Murietta-like hike. The big difference was that it was a few degrees cooler and we had enough water this time.
At one point, I took a wrong turn in a downhill section and ended up on a steep grade, with no way to go but down ... the speed at which I zoomed down the hill (not by choice) put Carl Lewis to shame! By some miracle, no ankles were twisted and no bones were broken on the plummet. Whew! It was more of a relief for the other hikers knowing they would not have to carry my sweaty body all the way back to the car (knowing these guys, they probably would have left me for the vultures).
We slogged on ... up one hill and down the next. It seemed like it would never end. Tempers were running a little short as some hikers (Taylor and I) were starting to get irritable. Finally, we heard the sound of boom boxes and car radios from the valley below, letting us know that the torture was about to end.
This was definitely on the tough end of the scale for a Level 3 rating. The consensus was that it was at least a 4, especially on a hot day. All in all, despite the grumbling and moaning, we were happy that we had found a good trail which more than made up for not being able to hike Mt. Diablo.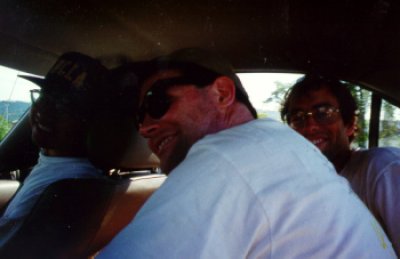 A bunch of sweaty guys going home after the hike!
Milestones:
Taylor's 10th leaf







Pages maintained by Steve Walstra, Peter Saviz, and Russell Gee.
©2022 Intrepid Northern California Hikers