20. Ewoldsen Trail (12/07/96)

Hikers (6): Ben, Giri, Melik, Peter, Russ, Sara
Distance: 5 miles
Rating: 3 difficulty, 10 beauty
Park info: Julia Pfeiffer Burns State Park Big Sur

Write-up by Peter
Time to stretch our boundaries and go south -- Big Sur was waiting! We also had two rookies: Ben and Giri finally joined us for a hike.
We stopped to pick up lunch at a cutesy little artsy-fartsy sandwich shop in Carmel. Dainty little avocado and cucumbers on whole wheat. I don't think so! Time to go to Lucky's for a turkey sub, with a chocolate doughnut and large coffee to boot!
At this time, Melik decided to inform Sara that Rusty and Esteban had named her "Evil Sara". Nice move! Just the positive note we needed to kick off the hike.
Onward ...
We had wanted to hike Cone Peak in the Ventana Wilderness, but when we arrived at Big Sur State Park, the ranger told us the trails were closed due to the recent forest fires. She suggested we check out Julia Pfieffer State Park about 10 miles down the coast. Did we have a choice?
The drive down the PCH was beautiful, as always. The weather was gorgeous, and the ocean stretched out under our feet as far as the eye could see. Since it was late in the year, the added bonus was that there was not a lot of traffic on the road, which made it a enjoyable drive.
We arrived, and checked out the map to find the longest trail. It looked like the best we could do would be about a 5-miler. Not very impressive, but we figured we could knock it off quickly, then go walk down by the ocean.
Rusty charged off, with Sara following close behind. Melik and myself were walking at a decent pace, with the rookies bringing up the rear. The trail started off along a nice babbling brook, then climbed up fairly quickly through a series of switchbacks. Along one of the switchbacks, I found Sara sitting on a rock, looking pretty green. The combination of missing breakfast and trying to keep up with Canteen Boy had gotten the better of her. Don't be messin' with The Man!
The rest of the pack had caught up by now, so I picked up the pace. After a little while, he found Rusty sitting on a tree stump near the top. Seeing as it was almost time to eat, we decided not to wait for the others and go all the way to the top. Lunch takes priority!
Up at the top, we found a nice spot for lunch overlooking a mist-filled valley. Above the mist, it was nice and sunny -- perfect picnic weather. A young couple down below were also taking advantage of the sunshine and had decided to go topless. We moved along so as to give them some privacy (much to the consternation of those who followed us).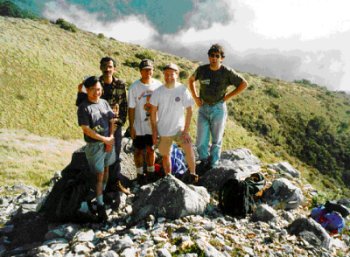 Ben, Giri, Russ, Peter, and Melik above the mist
As we were eating, we could hear the waves crashing on the cliffs down below, and the occasional sound of a passing car on the PCH, but it was all happening below the cover of the mist. It was almost like being in an airplane. We took an extra long time for lunch, and hung around to take some pictures afterwards.


What the heck is Melik doing?
After lunch, Rusty and Sara disappeared again, leaving the four of us behind. Hmmmmmmmmm! The trail down was not well-marked, and somehow we hadn't seen where the other two had gone, so figuring there was no where else to go but straight down, we hit the road.
The descent was a little dangerous -- a steep trail coming to an abrupt stop with a sharp left turn along the edge of the bluffs overlooking the ocean. We practically had to run down this section. I was in the lead, and at one point I heard a yell from behind. I called back to make sure everyone was OK, but no reply. Figuring one of the people had gone over the edge, I backtracked to see what had happened. Still no news ..... finally around a curve, there were the boneheads. They had stopped to take some more photos. Gee, thanks for answering me, guys!
The rest of the trip down was fairly quick. Sara stumbled and turned her ankle and had to take it slow. This was not her day! Giri and Ben fell behind, but finally made it out of the woods and we all met back at the car.
The consensus was that we needed to hike some more, so we decided to walk down the PCH for a while. Sara and Russ disappeared yet again, and Ben and Giri decided to hang back and relax in the cove overlooking the ocean and a nice waterfall. Melik and I started down the PCH to find the happy couple.
After about a mile, Melik had had enough and decided to go back and join the lazybones at the cove. I walked down a little further, then found a nice vista point overlooking the ocean, and stopped to take a nice nap on a bench in the warm afternoon sun. A woman who had stopped to take some pictures saw me and got back into her car and headed out pronto! Must have been my white legs!
A little later, Rusty and Sara showed up. I waved at them, but they just ignored me and kept walking. They thought I was a wandering vagrant! Finally, after I called out to them, they figured out what was going on and came over. Do I look that bad???
On the way back to the cove, as we were walking through a construction site, Sara stepped in a big pile of mud and sank in up to her ankles. Definitely not her day!
We hooked up with the rest of the gang a little later, and spent some time exploring around the cove. There were some beautiful views of the swirling waters crashing down on the rocks below, but as usual, my fear of heights prevented me from looking directly over the edge. The sun was starting to set, so we began the trip back.
We stopped for dinner at Chevy's in Gilroy. Giri and Ben discovered the Melon Margaritas and pretty soon Melik was telling dirty jokes. Sara was not amused. It was also Canteen Boy's birthday, so the whole staff came over to sing Happy Birthday and present Senor Rusty with a big sombrero, which he proudly carries in his car to this day. Aye Caramba!
Milestones:
Ben's 1st leaf
Giri's 1st leaf







Pages maintained by Steve Walstra, Peter Saviz, and Russell Gee.
©2022 Intrepid Northern California Hikers