247. Vista Point (01/19/02)

Hikers (8): Christina B, Eugene, Jennifer Cu, Peter, Rick, Russ, Taylor, Yi-Hung
Distance: 8 miles
Rating: 3 difficulty, 8 beauty
Park info: Rancho San Antonio Open Space Preserve in Cupertino

Write-up by Peter -- Pictures by Russ
We all met up at the trailhead ... as usual, the parking lots were full and we had to circle around for a long time. Esteban even gave up and went home. Black leaf? I was feeling good (I knew that I would), so I let it slide.
It was good to see Christina had made it back for a second week in a row, despite having suffered on the previous hike. Good sign for a newcomer!
1, 2, 3, ... INCH!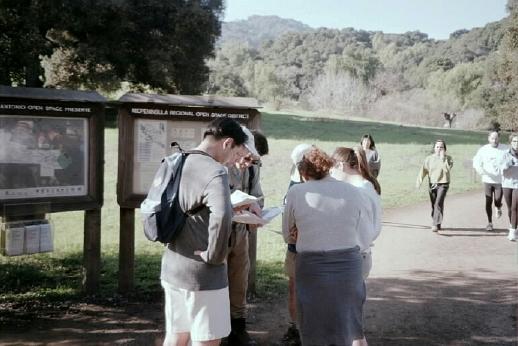 Hmmm .... we can't be lost already!!??
The way up was largely uneventful, except that it seemed a lot shorter and easier than I remembered. Taylor was the first one up to the top, followed by myself, then Eugene, Rusty (with his mighty staff), Rick, Yi-Hung, and Christina.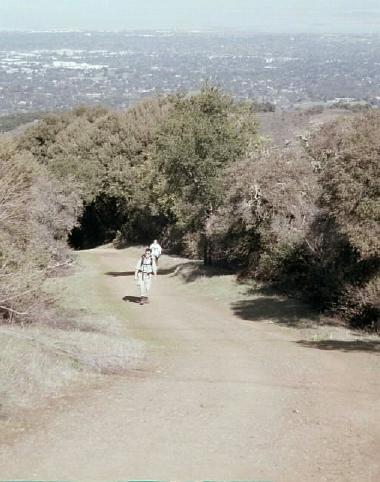 Rick heading up to Vista Point
We set on the bench for a while, enjoying the view of Silicon Valley on a nice clear winter's day. In fact, we could see all the way from downtown San Jose up to San Francisco. Vista Point truly deserved its name today!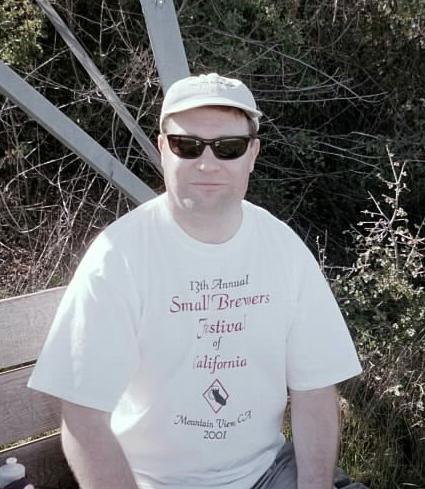 Peter chillin' at Vista Point
There were only two items of note on the way back down. First, Eugene read the map incorrectly, so we missed the turnoff for the scenic Wildcat Canyon route and had to go back down the boring, muddy PG&E Trail all the way to the end. Second, I ignored the warning sign that the trail going along the water tank was closed, and I led us all on a big useless loop. I guess one good screw-up deserves another.
All in all, it was a morning well-spent, and now the best way to follow up -- an afternoon of NFL playoffs!
P.S. #1: A major item of note slipped everyone's mind -- it was The Man's 200th hike! He becomes the first INCHer to pass the double forest milestone. Congratulations Rusty!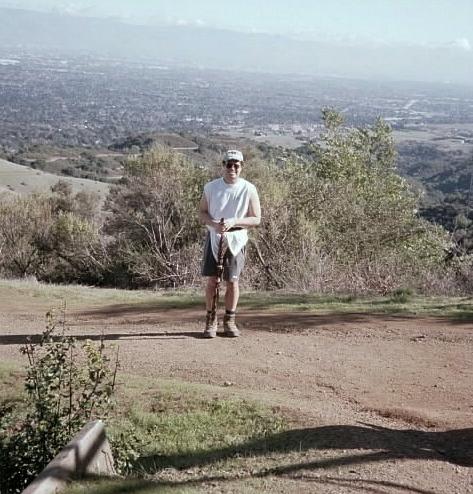 The Man on his 200th hike!
P.S. #2: We later found out that Weikai and Miwako had also showed up but bailed out because they couldn't find parking. Boooooooooo!
P.S. #3: A newbie, Jennifer C., also showed up but wasn't able to locate us and did the hike alone. Good job! We need more people like her (and fewer weaklings like Esteban and Weikai) on the hike!
Milestones:
Jennifer Cu's 1st leaf
Russ's 2nd forest
Taylor's 120th leaf







Pages maintained by Steve Walstra, Peter Saviz, and Russell Gee.
©2022 Intrepid Northern California Hikers