303. Murietta Falls (02/01/03)

Hikers (17): Avnish, Bunny, Cynthia, Eugene, Glen, Janice, Linda, Manoj, Mohan, Padraig, Peter, Priyanka, Rakesh, Russ, Sergei, Steve, Tim
Distance: 12 miles
Rating: 5 difficulty, 8 beauty
Park info: Ohlone Regional Wilderness south of Livermore

Write-up by Peter -- Pictures by Bunny
It was a dreary February morning at Del Valle as we met up for the hike. It was a record turnout for Murietta, including 7 newbies. Welcome, one and all! I just hoped they knew what they were getting into.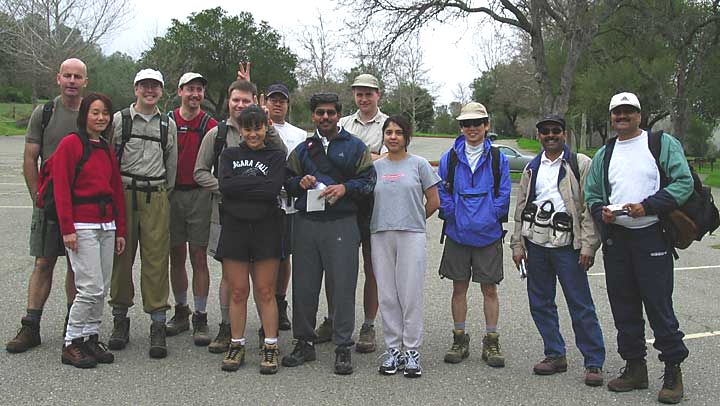 Best to get the pictures before the hike rather than after!
After introductions all around, together with an explanation of what to expect on the hike, we geared up and hit the road.
1, 2, 3, ... INCH!
The good thing about doing this hike in February is that the weather is cool. I definitely appreciated that as we struggled up the long uphill to the first gate. I could see that the newbies were starting to fall behind, but they seemed to be in good spirits. That's a good sign. I'm sure many a newbie has turned back two miles into this hike.
Two of our newbies, Bunny and Glen, were in training for a trip later in the year to hike the Inca Trail to Machu Picchu. Maybe there'll be an INCH hike there someday! It also turns out Bunny is an avid nature photographer, as can be seen from the great photos in her online album.
Back to the hike ....... we slogged our way up to the top of the Rocky Ridge, and finally things flattened out for a while. Steve and Rusty were up ahead with the Sergei, Linda, and Tim. I was hanging with the pack in the middle to make sure no-one took a wrong turn, and the newbies were bringing up the rear. Just as I had suspected, Janice and Linda missed the turnoff heading down to the gulch. Padraig volunteered to go running after them and bring them back while I waited at the turnoff for the others. By the time he rounded them up and came back, Bunny and Glen had caught up to us. We left an arrow for the others and headed down into the gulch.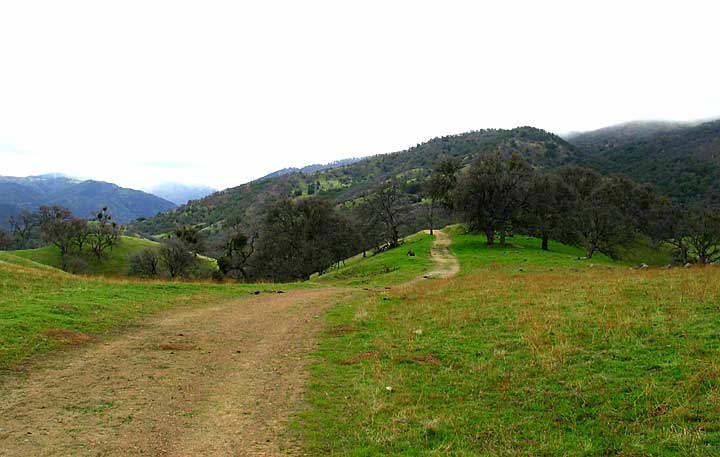 The only flat part of the whole hike, along the top of Rocky Ridge
As is my custom, I rested down at the bottom of the gulch for a while. Everyone always seems to be in a hurry to get going again, so I usually end up sitting there alone. This time was no different. I sat there enjoying the sound of trickling water in the creek as I rested my sore ankles and ate a tasty fat blueberry bagel.
After a nice rest, I loaded up and started up the switchbacks leading up the Wauhab Ridge. This part seemed a lot easier than usual. My calves are usually burning on this section, but I was having no problems at all this time. I caught up with the middle pack at the next gate. They were starting to drag a little, and I rested with them and chatted for a while before pressing on.
I continued to make good time over the next couple of miles. I caught up with Sergei and Cynthia about halfway up the Big Burn. They were also starting to run out of gas. The Big Burn has no mercy (that's why I always rest at the gulch). I left them to die and kept on going. Heh, heh, heh!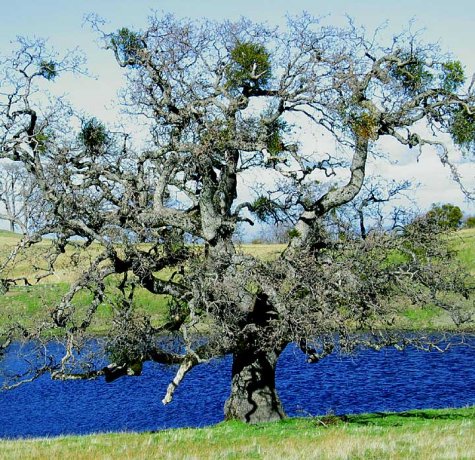 When you see this tree near Johnny's Pond, the hard part is over!
When I got to the Falls, the front pack had already been there a while and were most of the way through lunch. I threw off my backpack and joined them. Cynthia and Sergei showed up a little later and joined the party. Oh yeah, the falls .... not much to report, just a small trickle of water cascading down the rocks. It had been a dry winter up to this point.
Half an hour went by, but there was no sign of any of the others. We were starting to get pretty cold, so we packed up and headed out, figuring the others must have turned back. Back at Johnny's Pond, we met up with Janice and Padraig, who had taken a wrong turn and had been heading towards Rose Peak, and also Bunny and Glen who had been on the right trail but had stopped a few times to take photos. We pointed them towards the falls and kept going. A little further up the trail we also bumped into Rakesh, Avnish, and the rest of the newbies. I was glad to see that they had all kept going. Good job -- that's the INCH spirit!
The hike back was pretty routine. As always, the trek back out of the gulch was a grind, but the rest of the trail was downhill. My major concern was to avoid skidding and messing up my knees as we made our way down a couple of the steep sections. I did exchange a couple of "You Da Man's" with Rusty along the way.
We finally made it back to the car and pulled out the beer and snacks. A great end to a great hike, and I'm happy to report everybody made it back before we ran out of beer.
Milestones:
Avnish's 1st leaf
Bunny's 1st leaf
Glen's 1st leaf
Manoj's 1st leaf
Mohan's 1st leaf
Priyanka's 1st leaf
Rakesh's 1st leaf







Pages maintained by Steve Walstra, Peter Saviz, and Russell Gee.
©2022 Intrepid Northern California Hikers