312. Steve's Superhike (04/05/03)

Hikers (7): David, Matthew, Nanda, Peter, Russ, Sergei, Steve
Distance: 22 miles
Rating: 5 difficulty, 8 beauty

Write-up by Steve -- Pictures by Russ
Despite the potential for rain (see picture below), seven intrepid hikers showed up for this 22 mile hike. Last time we did this hike (almost four years prior), only two people attempted it. This time around the veterans were back, so they could share their intimate knowledge of the lay of the land.
We decided to leave a car at the half-way point with some party foods and the like (and as possible transportation for the weak and weary). This delayed the start of the hike somewhat, but eventually we set off into Los Trancos.
1, 2, 3. . .INCH!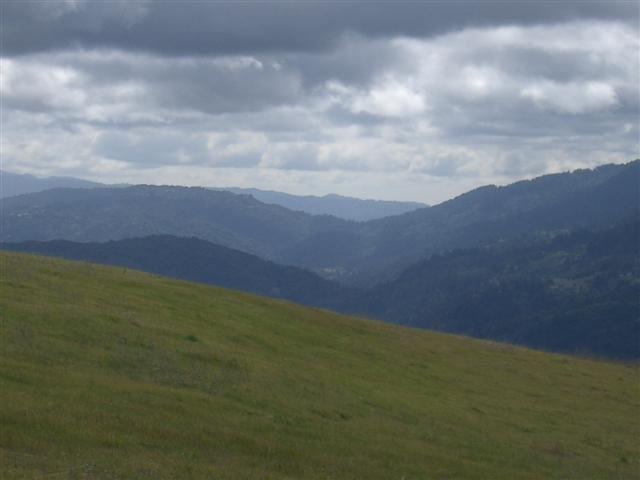 "The hills are alive. . ."
One of those aforementioned veterans, and your humble author, assured everyone that the hard part of the hike was getting to the top of Table Mountain in the first part of the hike. So when we finally trudged up this section of Stevens Creek County Park, we broke for lunch and were happy that the uphill was over. Peter was declaring that the hike should be a level 3.
Of course, I was completely wrong, and the actual hard climbing occurred after Table Mountain, all the way up to Skyline Boulevard where we had left the second car. Fortunately, before anyone could get too irate, we opened the trunk and pulled out some beers. Everyone was happy again (except maybe Nanda)!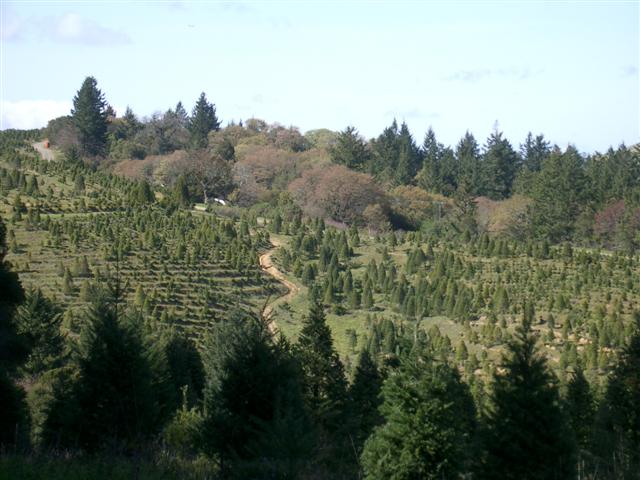 "It's beginning to look a lot like Christmas. . ."



The next section of the hike took us into Long Ridge Open Space Preserve, where we walked through part of a Christmas Tree farm. We managed to get broken in to two groups, with my front-running group taking a wrong turn and going up, up, up a ridge and then back down behind where we started, while the back-running group took a different wrong turn and proceeded down into the heart of the Christmas tree farm. Magically, we managed to meet up at about the same location as we were both heading back to our wrong turns. Now it was an INCH hike! This was karma in action, as we had short-cut Los Trancos a little in the beginning.

We stopped to rest and collect everyone at a nature center in Skyline OSP. While we were lounging around (and sheltering ourselves from the wind), a woman walked up and opened up the nature center. It was rather suspicious to open at around 3pm--someone other than us was slacking!

By now, Peter was conceding that maybe the hike was a four. Five miles later at the end, after getting mightily wind-blown and climbing up and down Russian Ridge and Coal Creek, he was back to a five. Good thing, too, because Nanda would have gone crazy if the hike were rated any lower.

This second time was definitely much easier than the first, probably because it was two months earlier in the year (i.e. not hot). Next scheduled Superhike: 2007!

P.S. The first time we hiked this route was Russ's 100th hike, and this was his 250th.

Milestones:
Peter's 210th leaf
Russ's 250th leaf







Pages maintained by Steve Walstra, Peter Saviz, and Russell Gee.
©2022 Intrepid Northern California Hikers