332. Alviso Slough (07/26/03)

Hikers (27): Barbara, Brenda, Cody, David, Debra B, Dotty, Eugene, Gwynneth, Hoy, Jane M, Jinglan, Kendall, Lloyd, Mary C, Michael, Michael C, Paula, Peter, Roger, Roselle, Russ, Stan, Steve, Sue, Sue B, Taylor, Winnie
Distance: 8 miles
Rating: 1 difficulty, 8 beauty
Park info: South Bay marshlands near Alviso

Write-up by Steve -- Pictures by Russ and Steve
The first Bay Area level-1 hike in five months had a record-setting 27 person turnout, breaking the previous record by two heads. If there is anything we've learned about big turnouts, it is that they take proportionally longer to start. This was no different.
I rode my bike to Alviso, and greatly overestimated how long it would take to get there. But I wasn't lonely for long, as David, Winnie, Paula, and Sue G showed up, each with stories that Lafayette Street was closed. This meant the directions to the hike were no good. D'oh! Fortunately, 25 people managed to find it easily enough. Unfortunately, #26 (Russ) was running late. The crowd was getting restless.
Once Russ showed up, we were ready to go. . .except that he was on the phone with Hoy (#27), who was hopelessly lost! Oh no! Guess that makes it an official INCH hike. Before an impatient Roger could orchestrate a leveraged buyout of INCH and oust the management (which, incidentally, could be done with pocket change), I decided we better start the hike. It was no small effort for everyone to get into a circle for the cheer, but we managed. With 10 new people (who had no idea what we were doing), it was a surprisingly resonant cheer.
1, 2, 3 . . . INCH!
And so we were off. I hiked just long enough to get the chain going in the right direction around the levees, and then turned back to wait for Hoy. A few minutes later we did our own two-person cheer and were off to catch the group.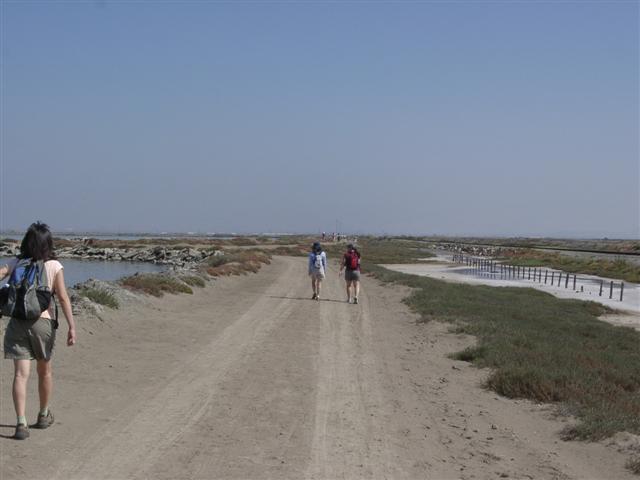 View from the back of the pack.
We first caught Mary C and Paula, which was surprising because it meant Jinglan was not at the tail end! Could Jinglan's recent increased attendance be paying off? The next group (a respectable distance away) was Jinglan, Sue B, and Barbara. Barbara was sporting a pair of binoculars and a bird-watching guide--perfect for this bird-filled hike. Not to be out done, Sue B was sporting a new engagement ring! Congrats! [Note: based on other INCH engaged members, Sue's wedding should be somewhere between 1 to 3 years (and counting) from now.]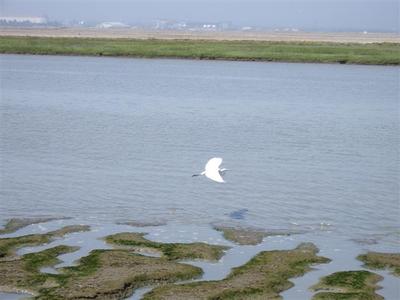 Is this what Barbara is looking for?
We passed Eugene, who was recalling his recent Mt. Fuji summit to Winnie. This was a fresh change from his typical topic of conversation (people's mothers and the Atkins diet). Down the trail we went, next encountering Brenda, Cody, and Lloyd. Cody and Lloyd would race ahead, then peter out. That's what you have to do to get some exercise on a level one hike!
The next block of people was Peter, Russ, and Sue G. At this point, Hoy was somehow traded for Sue G, and the conversation changed from vacations in China to gossip and stock. Of course, it was Sue with the gossip, and me with the stock. OK, maybe there was some gossip on both sides. Whatever the case, the pace was quick, and somewhere around the halfway point we noticed there was easily a half-mile gap between the front and the back. It was INCHers for as far as the eye could see.
By the time we got to the parking lot, some people were already packed and ready to leave. As more people trickled in, we worked out the details for how to get to Alviso's famous Vahl's restaurant (remember, we're an eating club!). During this time, Jane had to exercise her new motherly duties by shielding innocent Kendall from Peter's pornozoographical shirt. Since there were still a bunch of people left on the trail, I biked back out to relay the Vahl's info in case anyone else wanted to join us (this is where I discovered that Mary C and Paula had successfully passed Jinglan--the trend is still secure!).
When we got to Vahl's, it was closed for remodeling. Sacrilege! Winnie pointed out that I was 2 for 2 with regard to botched directions. Fortunately, right around the corner was another Alviso highlight, Maria Elena's, and it was open. Although the service staff were mere tots by comparison to Vahl's, it definitely had its own good vibe. By the time everyone made it (thanks to Sue for going back out an flagging the late-comers), we had 11 people. This surely sets the record for largest post-hike lunch, too.
Lunch was an opportunity for some of the new hikers (Debra B, Mary C, Paula) to meet some of the long-time hikers, which probably means they'll never be back. A fine Alviso hike was topped off with good conversation, good Mexican food, and a couple Margarita carafes. What's not to love about The Slough?
Milestones:
Brenda's 1st leaf
Cody's 1st leaf
Debra B's 1st leaf
Kendall's 1st leaf
Lloyd's 1st leaf
Mary C's 1st leaf
Paula's 1st leaf
Roger's 1st leaf
Roselle's 1st leaf
Stan's 1st leaf
Sue B's 10th leaf







Pages maintained by Steve Walstra, Peter Saviz, and Russell Gee.
©2022 Intrepid Northern California Hikers