352. Huddart Park Loop (11/01/03)

Hikers (36): Alan W, Becky, Blinky, Bobbie, Bunny, Cal, Candy, David, Eleanor, Eugene, Glen, Gwynneth, Janice, Jennifer, Jinglan, Judy, Kevin T, Kiran, Marie R, Marko, Mary Y, Nancy, Padraig, Pamela, Pauline, PC, Peter, Robert C, Russ, Sergei, Steve, Sue, Sue N, Tania, Taylor, Van
Distance: 7 miles
Rating: 2 difficulty, 8 beauty
Park info: Huddart County Park in Woodside

Write-up by Peter -- Pictures by Sue G
Earlier in the week, George had volunteered to host a BBQ for INCH following the hike. I don't know what the heck possessed him to do that, but I knew one thing: it was sure to guarantee a large turnout. In fact, it was our largest turnout ever -- 36 people showed up to hike, including a record 9 newbies. It's true that INCHers are motivated by food (and beer).
It was the first day of November and there was a chill in the air, but it did not dampen the enthusiasm of the INCH crowd. Everyone was still in a festive mood from Halloween the night before. In fact, some had not stopped partying yet.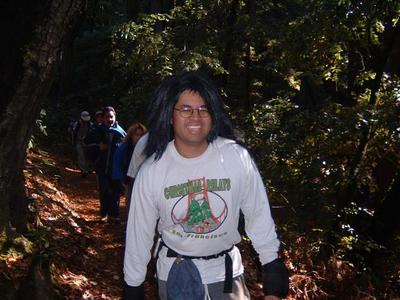 Rusty still thinks he's at the Castro
1, 2, 3 ... INCH!
Things turned more serious as soon as we hit the trail. It could have been the chilly weather motivating people to hike faster, or the rush to get back for the food, but either way, more than half the hikers disappeared before I could tell them which trail to take. Chaos at the outset! Fortunately, many of us had brought walkie-talkies, so I radioed Steve and Rusty to corral the front group and hold them up at the Toyon Group Camp.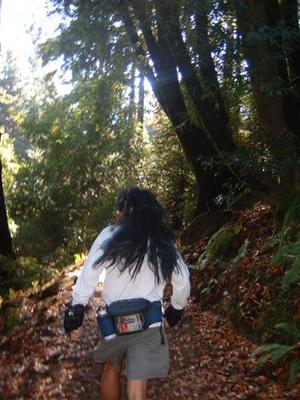 The yeti runs off into the woods
I brought up the rear (!) with the rest of the gang. We slogged our way up through the switchbacks towards the group camp, stopping every few yards to let a runner come down the hill (there was a Redwoods Trail race in the park at the same time). When we got to the camp, there was no sign of the others. Radio contact did not yield results, so we figured they must be far ahead of us. Damn those bastards for not waiting!
The group looked pretty tired, but I took no mercy on them. I told them if we didn't catch up to the others there would be no food left for us. That did the trick. We stormed up the hill on Richards Road. Van was practically running, Gwynneth was impaling anyone who would dare get in her way, and Nancy was wailing like a banshee as she trampled through the forest. There's nothing quite as scary, and yet beautiful, as a horde of angry women out for blood!
As we got to the top of the hill, I finally made radio contact with Rusty. It turned out the other group was behind us, and they were just starting to catch up to some of the stragglers in our group. All right! This would get everyone back together again. We could not possibly get separated again after this.
Well, that's not exactly how it turned out. We managed to stay together for the next mile until we reached the northwestern corner of the park. From here, the trail went along Skyline Blvd for about another mile to the famous bench in the shady grove. As we got to the bench, I noticed we were missing half the group, so we waited up, figuring the others would be there soon. Well, Cal showed up after a few minutes saying that he had not seen anyone else on trail. What the heck?? I had seen all the others just a few minutes earlier. How could they not have seen us?
After waiting for a good 15 minutes with no response to my radio calls, I figured the others had taken a wrong turn somewhere, so I'd have to go find them. The group at the bench was starting to get cold (and hungry), so rather than deal with an angry mob, I sent them packing towards the Ranger Station while I went back to find the others. Cal graciously decided to accompany me on the recon mission.
We traced out steps back and arrived at a fork which would take us a different way back to Richards Road. As we were studying the map, trying to figure out which way to go, Taylor's voice came in over the radio. It turns out we had guessed correctly, and they were less than half a mile away. Trying to describe the trail for them to take did not seem to be yielding good results and was only adding to the confusion, so I told them to stay put while Cal and I went back to get them.
We met up with the rest of the gang at the intersection of the Summit Springs and Crystal Springs trails. One of the unnamed INCHers (OK, it was Nancy) had led the group astray. They had all been so busy talking, none of them had seen the main group taking the Skyline Trail right in front of them. Not uncoincidentally, this group was made up entirely of women. You draw your own conclusions. "Less talk, more walk!"
Now that everyone was finally present and accounted for (remember, it's not an INCH hike unless someone gets lost), it was time to head back for food. Dobby's voice coming over the radio saying that the others were back at Park HQ and getting ready to eat provided all the motivation we needed. Run!
By diligent use of a shortcut along the Archery Road, we managed to get back in time for the feast. Normally, I am against taking shortcuts, but this was an emergency! Besides, I figured that Cal and I deserved a break for back-tracking to retrieve the others. The important thing was that there was plenty of beer left.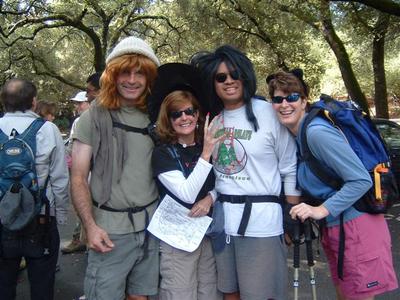 A good time was had by all at the BBQ (L to R: Padraig, Sue G, Rusty, Gwynneth)
Epilog: George didn't get a leaf, but he does the get the eternal love and respect of INCH by providing us with large amounts of free food! The BBQ was a huge success and a great way to say goodbye to the last days of fall as we head into the dreary months of miserable hiking through shiggy (yeah!).
Milestones:
Becky's 1st leaf
Bunny's 20th leaf
Candy's 1st leaf
David's 30th leaf
Eleanor's 1st leaf
Glen's 20th leaf
Marie R's 1st leaf
Pamela's 1st leaf
Pauline's 1st leaf
PC's 1st leaf
Robert C's 1st leaf
Sue N's 1st leaf







Pages maintained by Steve Walstra, Peter Saviz, and Russell Gee.
©2022 Intrepid Northern California Hikers