369. Fremont Older's Drunken Hike (01/24/04)

Hikers (15): Bruce, Cal, Elaine, George, Jinglan, Lars, Nathan, Ross, Russ, Steve, Steve P, Sue, Tania, Tim, Winnie
Distance: 9 miles
Rating: 3 difficulty, 7 beauty
Park info: Fremont Older Open Space Preserve in Cupertino

Write-up by Steve -- Pictures by Russ
I've been accused of planning this hike frequently, but the reality is that it had been almost eight long months since our last visit! Too long between visits to our friends at Picchetti.
1-2-3 INCH
We started almost on time and were only missing one person who had signed up: Nathan. Since we hadn't seen him in a long time, I figured he had flaked on this foggy day. Two stops later, someone informed me that they had actually seen Nathan driving up (and waved!?). Had I known this, I would have waited at the first stop, but by now I figured he'd never find us in the fog. . .However, we started leaving arrows just in case.
It was cool and foggy the entire trip, which made finding the one route over to Steven's Creek that much harder. But having been here so many times, we managed to make it to the creek without any wrong turns. Crossing the creek was another matter, as it was running higher than usual. Some people just trudged right through it rather than try to daintily jump from stone to stone. After that, it was up the ridge and on to the winery.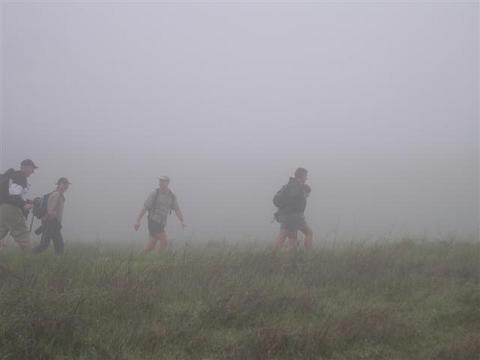 Things were already looking a little foggy at the start, and we hadn't even started drinking yet. . .

A few things have changed since our last visit. Picchetti got a "new" antique counter on the right side of the winery to match the one on the left, and a new person working the tasting counter. All this newness disoriented me, and suddenly I found myself signed up for their Wine Club. Well, at least this got us free sampling and a fat discount on the case of wine we bought (four bottles of which were consumed on the premises). This included Cal's bottle, which he bought immediately after his first sampling--they kindly let us have a retroactive discount on his bottle as well

During the tasting, Nathan walked in. Good job! As we were settling down to drink and share some food, Elaine and Sue whipped out the latest edition of the SVW fan club newsletter. They passed it around for people to read sections and, as in Lassen, it was a hit (making fun of me is universally beloved). This edition suggested I might find hike #369 to have a numerical significance. I'm sure I don't understand.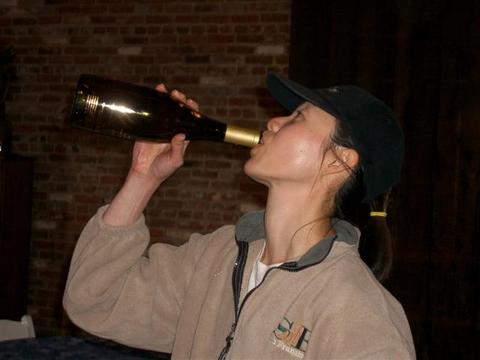 When we ran out of glasses, Elaine improvised.
The route back went pretty smoothly, except for the closed bathrooms near the picnic area. This may have had the beneficial side effect of motivating people up the tough switchbacks to the top of the reservoir (and back into Fremont Older). Ross, Tania, and I took a quick side trip up to Maise's Peak on the way back. It afforded a spectacular view of the fog, although not noticeably different from the fog at the bottom of the hill.
One fun sidenote: Winnie brought Lars on his first hike, and once we heard he was Swedish, we had to ask him about Ikea (sorry Lars!). He was kind enough to provide some trivia. For instance, all the names in the catalog really are legitimate names, mostly cities and mountains and such in Sweden. The only fake word he has seen was in the U.S. advertising, where they made up unböring. Hiking is fun and educational.
Milestones:
Lars's 1st leaf







Pages maintained by Steve Walstra, Peter Saviz, and Russell Gee.
©2022 Intrepid Northern California Hikers