376. Golden Canyon to Red Cathedral (02/15/04)

Hikers (14): Andy, Cal, Elaine, Eugene, Gwynneth, Hima, Kay, Kevin T, Rob P, Russ, Sue, Tania, Tim, Winnie
Distance: 3 miles
Rating: 2 difficulty, 9 beauty
Park info: Death Valley National Park near Baker, CA

Write-up by Sue -- Pictures by Sue G and Tim
It was the last day of our Death Valley trip and everyone was anxious to get moving! Cal and George had figured out an aggressive timeline that would allow us to see and hike all the places on the wish list. Cal had even used salt, pepper and sugar shakers at the dinner table to depict the various stops and back into an eight am (sharp) start time. The itinerary for the day included: hike Keane Mine 8-11, lunch at Furnace Wells, hike Zabriski Point 1-4:30 and then a quick side trip to Artist Palette at sunset. Plans flew out the window before the hikes even started! We left 30 minutes late from the hotel, stayed at Keane Mine 2 hours longer than planned and had to shorten the 2nd hike in half in order to have any chance of seeing Artist Palette at sunset! Russ called an audible and changed the second hike to Red Cathedral. As we raced to the trailhead, Russ almost forgot to give the INCH cheer as he took command and gave us orders to turn around, no matter what, at 3:30pm.
1, 2, 3 ... INCH!
Golden Canyon to Red Cathedral
We practically ran through a beautiful canyon on the way to Red Cathedral. It was really an awe inspiring place with beautiful light gold rock walls, many side trails waiting to be explored, and rocks to climb. If I ever return to Death Valley, I would like to spend a lot more time in this area. About a mile into the hike, the canyon walls narrowed and we scrambled over and between rocks to reach the base of the red cathedral.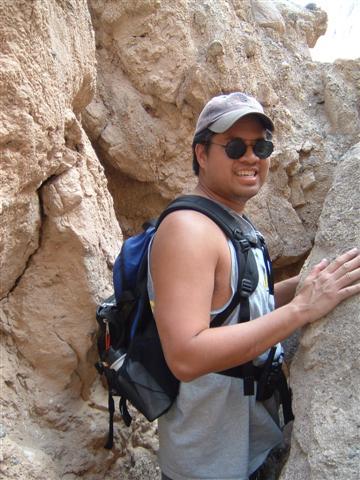 Tight Squeeze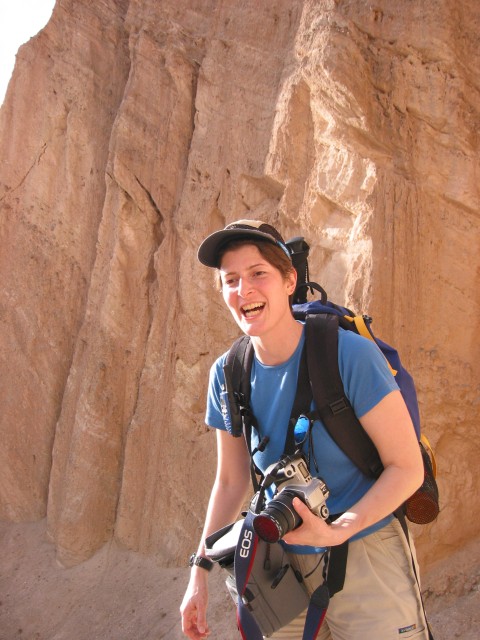 Gwynneth packs more camera equipment than water!
The rock color changed from gold to red as we climbed up a small hill and literally popped out above the golden rocks. The views were spectacular.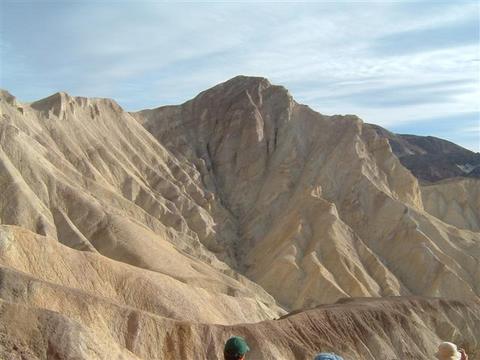 Wonder why it is named Golden Canyon?
Artist Palette
We wished we could stay and see more of Golden Canyon, but now we were on a mission to see the sunset at Artist Palette. We raced back to the cars and our caravan headed down the road a couple of miles to our next stop. As the sun began to set, we jumped out of our cars at the first parking lot after the Artist Palette sign. Hima was in the 3rd car and when she arrived she realized this wasn't the official Artist Palette and yelled "Wrong Spot! Wrong Spot!" to the group in the lead. We jumped back into our cars and dashed off to the next parking lot. Finally, we were at the official Artist Palette! The rocks were full of remarkable colors. Whew, we had made it.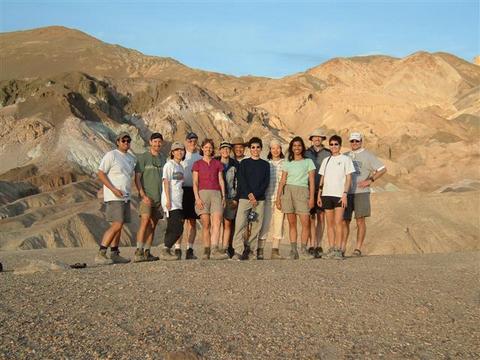 Right Spot! Artist Palette.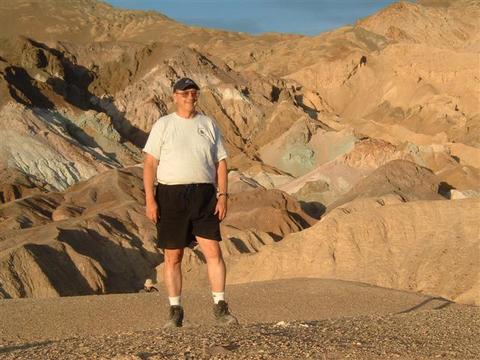 Cal takes in the view at sunset.
Badwater
Now our adrenaline was pumping. Someone suggested we might has well try to see Badwater too. It is the lowest spot in the US and we had at least 30 minutes of daylight left. Why not? We were in fast sight-seeing mode anyway so our caravan once again took off for our next scenic destination. Our car had satellite radio and we entertained ourselves with a lively "Name That Tune" competition. We were still humming when we reached Badwater, a salt flat, 282 feet below sea level.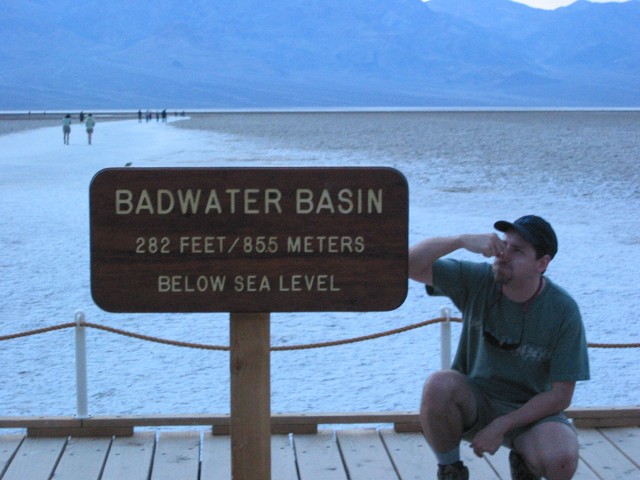 Low point of the U.S. and the trip!
We hiked for a couple minutes out along the salt flat to admire the patterns, but it became dark very quickly. We headed back to our cars and declared the trip a huge success!
Top ten list for the INCH trip to Death Valley:
Gwynneth, George, Steve, Cal and Bunny organizing, providing hike ideas, and giving area history.
Mother Nature: sand dunes, salt flats, and every shade of rock.
George and Steve providing ice cream, chips, sandwiches and the ever so cool Sponge Bob Square Pants slippers.
Hima's imaginary card game, and yelling "Wrong Spot" at the Artist Palette.
George's now infamous call "Turn left" at the dunes.
Elaine's request to learn and play Texas Hold'em, started the rapid decline to the game of "Trees" and liars dice.
Rob meeting us in Vegas wearing his wig from Nepal, and sharing stories of his most recent climbing adventures. Rob and Hima were both very adventurous when it came to climbing rocks and canyons.
Rob, Russ, Tim and Andy playing "Name that Tune" with the Satellite Radio and grooving to "The Age of Aquarius".
The friendship and caring. Be sure to ask anyone in Cal's Van about their rescue of an older woman stranded on the highway.
And since it is all about the leaves, the leaf milestone from the trip: Rob (10), Kevin (20), Sue (50), and Russ (290).



Pages maintained by Steve Walstra, Peter Saviz, and Russell Gee.
©2022 Intrepid Northern California Hikers