386. Mt. Sizer (04/10/04)

Hikers (19): Blinky, Bunny, Carissa, David, Elaine, Eugene, George, Glen, Hima, Nancy, Oliver, Padraig, Peter, Ross, Russ, Sparky, Steve, Steve P, Sue
Distance: 11 miles
Rating: 5 difficulty, 9 beauty
Park info: Henry Coe State Park east of Morgan Hill

Write-up by Peter -- Pictures by Russ
As I sit here, doing the writeup a week after the hike, I still haven't recovered from Big Henry's butt-kicking. Here are the sordid details:
The day started out on a bright note. It was a beautiful spring day, and nineteen people (!) showed up for the torture test at Mt. Sizer. George kicked off the festivities by presenting Steve with the first prestigious "INCH 300 Club" T-shirt in honor of having reached that number of hikes. Now, that's a shirt worth having!
1, 2, 3, ... INCH!
Steve P was training for a marathon in two weeks, so he told us he'd be running the trail. Right after doing the INCH cheer, he was off. The only thing worse than hiking Mt. Sizer has gotta be running it!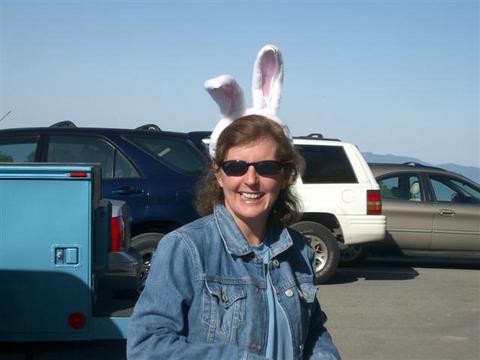 The Easter Bunny showed up for the hike
Among the hikers, the front group of Steve, Ross, Padraig, and George were soon out of sight. Even the middle group started to get spread out pretty quickly. By the time I arrived at Frog Lake, I was the only one there. I knew there were still 6 or 7 INCHers behind me, but I knew that The Man would be able to point them in the right direction, so I kept on going, up to the Middle Ridge and then down the long trail from Deer Horn to the creek.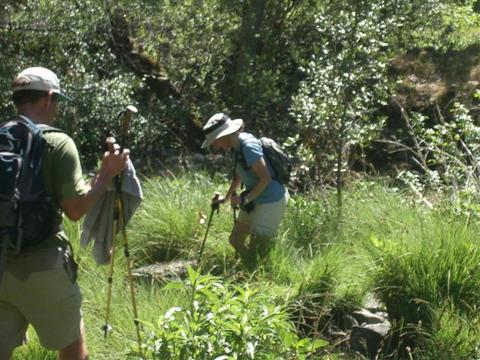 Crossing the creek is always fun
The water level in the creek was not that high, so it was pretty easy to step over some stones to cross it. In preparation for the big climb, I stashed some water bottles behind a tree and got my gear ready. As in previous years, my goal was to make it from the creek to the bench at the top in less minutes than my age, so this year my upper limit was 43 minutes. I had set myself an additional goal to try to make it with 5 minutes to spare, but given my recent knee problems I knew it was going to be tough.
Oliver and I started up the Shortcut Trail together. As always, the trail was a bitch right from the get-go. If you can survive the initial assault unscathed, you're in good shape. In no time at all, we were breathing hard, but we maintained our pace. Just keep going, don't stop, just keep going, slow down if you have to, but don't stop. We kept climbing, not saying a word to each other. We were at the 7-minute mark, less than 20 percent of the way up, and I was already ready to drop. Oliver was gasping for air as well. I hate this place!! Who thought of this dumb hike??
Around the 14-minute mark, we were slogging up the steepest portion of the trail when we saw Blinky. I grunted to her as we passed her and kept trudging up the incline. A couple of minutes later, Steve P came barreling down the hill. Talk about demoralizing! The guy had run to the top with only a single bottle of water and was now heading for home. He should have no problem in the marathon. We were about half an hour away from high noon, and the heat was taking its toll. I should have scheduled this hike for a 7 a.m. start!
About five minutes later I saw Dobby a little further up. He saw me and shouted out something about "Fat Bastard!" as he turned up the speed. I knew we had passed the halfway mark, so I wanted to pick up the pace, but I didn't want to burn out too soon. I decided to be conservative for a little longer, but I think I waited too long. By the time I began to speed up to catch Dobby, it was too late. He had the Bench in sight and was still going strong. Looking at my stopwatch I figured 43 minutes was no problem, but I wouldn't be able to make it in 38, so I slowed down and hung with Hima for the final few hundred yards to the Bench. Good job, Dobby!
I collpased on the Bench, gasping and wheezing. I made it in 39 minutes. Oliver made it a few seconds later, and passed out on the dirt at the foot of the Bench. A couple of minutes later, along came The Man, practically running -- he made it in 38. Sparky, who had started the hike earlier in the morning, and was waiting for us at the Bench, told us Ross had made it in 22 minutes, with Padraig making it only one minute behind!! Unbelievable!! Great job, guys! Steve had made it in 31, with George not too far behind. The four of them, together with Carissa, had headed over to the "real peak" of Mt. Sizer.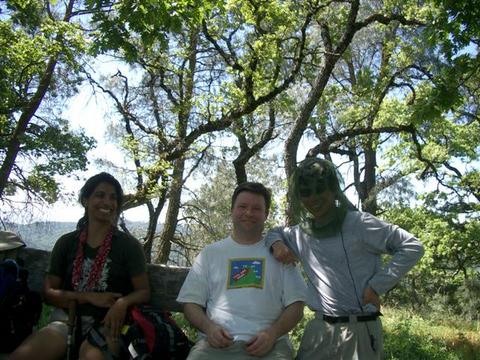 Resting at the World's Tallest Bench (nice hairnet!)
We waited at the Bench for a long time, just trying to get some feeling back in our legs and letting our heart rates subside. The others began drifting in one by one - Nancy, Blinky, Dave, Elaine (who had started later than the rest of us), Sue, Glen, and finally Bunny. Good job by all!
As we sat there collecting ourselves and enjoying the view of Douche Lake, I thought I heard a car engine. Nah, couldn't be. It was! A pickup truck came barreling up the Shortcut Trail! That's cheating!!! Turns out it was the owner of the private land on the backside of Mt. Sizer (including Douche Lake), along with his two sons. Now, that's the smart way to get around Coe.
We waited for the true Sizer hikers to get back before heading back down together. It turns out that Steve found the old log book at the top of Sizer and our old entries were still there. Memories ...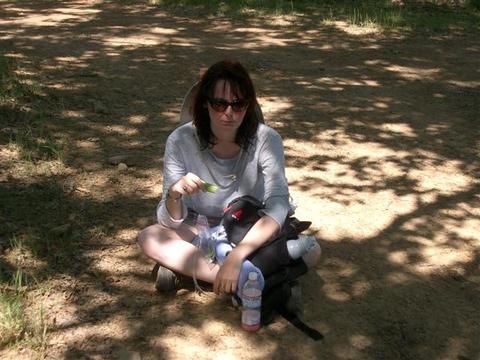 Can you feel the joy???
Walking back was a little slice of hell. My knees were actually OK, but my back was aching. The Man gave me his poles to help me going down to the creek. They did help, but I knew I was going to be in trouble later. When we made it back down and across the creek, I had to rest. I told the others to keep going and I sat on a rock to rest. This wasn't enough - I had to lie down. I just lay down in the middle of the trail, staring up at the sky. Any sign of vultures?
I knew I couldn't rest too long because my muscles would tighten up. I geared up and hit the trail again. I began slogging up the hill towards Deer Horn, trying hard not to think about the pain. A short time later, I came across Bunny and Glen and later Dave and Elaine sitting by the side of the trail. I kept my distance from Dave because he looked like he was going to stab me if he had a chance. My only consolation was that I wasn't the only one who was miserable!
The short-cutting Elaine caught up with me at Frog Lake, and we began the final couple of miles back to HQ. Elaine was setting a good pace, and I worked hard to keep up with her. As we got under the one-mile mark, she began to slow down a little and I caught my second wind, so I passed her up. I was actually feeling good at this point -- maybe I was just delirious -- so I decided to go the extra half mile to the monument to pay my respects to Henry Coe, the man that has caused so much suffering, misery, and joy in my life.
I wanted to stay at the monument longer, but then I remembered that Sparky had brought beer, and if I got there too late there would be none left. Time to go! Big Henry would understand.
The final half mile took forever. My back was about to cave in and I was dying to just stop and rest, but I knew I had to get this thing over with. Finally, mercifully, the trail ended and I found myself back in the parking lot. I collapsed on the hot asphalt and peeled off my shoes. It felt great to finally get the damn backpack off. Now it was time for beer ....... aaaaaaaaaahhhh!!! George's altimeter showed 4576 feet gain on the day. Is that all???
Epilog: For Rusty, Esty, and myself, this was our 10th trip to Mt. Sizer, and for me it was the worst. I couldn't get out of bed the next day. My back was stiff as a board. After a mighty struggle, I was able to walk a few steps. I felt like I had been run over by a steamroller. I took Monday and Tuesday off from work. I went in for a few hours on Wednesday, and struggled through Thursday and Friday with daily trips to the chiropractor. Here it is a week later, and I can still not stand up without pain. I don't think I'll be able to hike for a few more weeks. Big Henry kicked my ass! Will I be back? Of course.
Milestones:
Carissa's 10th leaf
Glen's 30th leaf







Pages maintained by Steve Walstra, Peter Saviz, and Russell Gee.
©2022 Intrepid Northern California Hikers