395. Skyline National Recreation Trail (05/29/04)

Hikers (9): Blinky, David, Janice, Nancy, Padraig, Sparky, Steve, Steve Hu, Tania
Distance: 29 miles
Rating: 5 difficulty, 8 beauty
Park info: East Bay Regional Parks near Oakland

Write-up by Tania -- Pictures by Janice and Steve
If I were a believer in signs, I would say that the beginning of our "enthusiastically extended" day was foreshadowed from the start. Just about everyone overshot the rather obscure carpool meeting location, and had to make a U-turn a half-mile down the road. Janice and Padraig ended up driving the length of the park itself and had to double-back the entire way. The meeting place was a trailhead at Anthony Chabot Park (where our hike would end), and we were to carpool from there to the beginning of the hike far, far away in the Berkeley hills…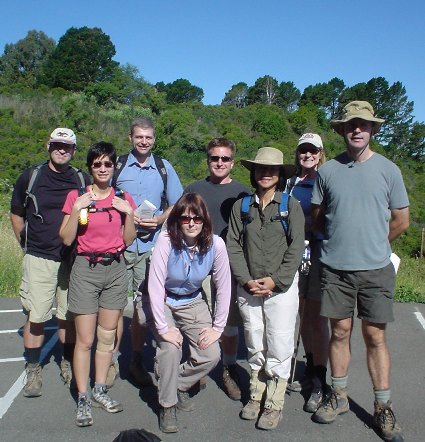 Big smiles at the start of the hike
We met up again at the Inspiration Point parking lot in Tilden Park, where the hike would commence. Steve distributed some stellar maps he had created for everyone. He included an "overview" map, which illustrated the length of the trail through all five parks we would be trudging through, as well as detailed park map for each section so we could keep track of our misery in bite-sized pieces.
1, 2, 3, … INCH!
But not so fast. Suddenly, just about everyone had to use the facilities! More muddling around, and queuing up outside the two outhouses on site, then finally we were off. No more than a half-mile into our journey, we went down the wrong trail. We were supposed to have crossed a road, but instead found ourselves heading toward a lovely little pond nestled in the woods. Thoughts of soaking in that pond would enter at least my mind later in the day…

The City from The Trail
After regaining the road, we had to backtrack along it a short distance before coming upon a clearing with some trail markers. The sun was already pretty serious at 9:30 a.m., and we had so many miles ahead of us. Before long, we started the first of what would end up a series of several "inclines" during the day. Separating out into a thin line, those of us out front did our best to leave arrows even though the trail was pretty well marked. We also kept in radio contact, so that helped in the regrouping efforts when necessary.
Eventually we exited Tilden and entered into a gray area of unknown territory and mapless frontier. Steve diligently obeyed the "hikers not allowed" sign where the trail diverged at one point, and led us instead down the other arm of the trail, through cow territory. Luckily it was feeding time for the cows, as the farmer up the hill from the trail was calling them to feed. So we didn't get to find out whether they were aggressive, hiker-eating cows (darn the luck).
We came upon some cattle gates, which consisted of suspicious-looking wiring that smacked of electric fencing. We gingerly picked our way past them, and eventually came upon a grassy knoll that overlooked the bucolic Highway 24. But not before the trail turned into a deer path which cut into the side of the knoll, creating an instant complainer out of me (I'm no great lover of steeper downhills and traverses). Standing atop the knoll, in the wind, sun and prickly grass, Sparky unleashed her intimate knowledge of the area and began to flesh out a plan for the direction we needed to go in order to regain the trail – or at least the park in which our intended trail lay. We had known Sparky was familiar with the area, just from the drive to the trailhead earlier in the morning, as we passed through Berkeley and she pointed out various old haunts from her wild heyday.
We figured out that the real trail crossed about half a mile down the road—indeed, we could see the sign for the exit. So the decision was made to descend the knoll. Joy! Steve indicated later that I could probably stand to benefit from some aversion therapy with regard to downhill steeps in order to more fully appreciate these impromptu adventures; I am forced to agree.
Shortly thereafter, we found ourselves clambering over a barbed-wire fence in order to switch our venue from grass and dirt to Highway 24. Our objective was now in sight, and a short jaunt along the highway (and actually taking an exit – by foot!) would put us on the overpass/bridge we were to have crossed in order to enter the next park. The highway was loud, fast, and jarring, and we wondered if we were going to get corralled by CHP (they will always be CHiPS to 80s-loving Easterners like me, no matter what kind of abbreviation they make for themselves!). But alas, a sign indicated that we (along with bicycles and motor scooters) were legal for that stretch.
In an attempt to identify with nature, the highway offered us a mysterious shrub growing off the shoulder with a CLOUD of honeybees swarming right next to it. Of course we had to walk right through them, and had they been yellow jackets or paper wasps, I might not be writing this account today! It was quite an otherworldly experience, and the bees were rather hospitable, doing their dance and collecting themselves before heading out to find pollen without paying us any mind.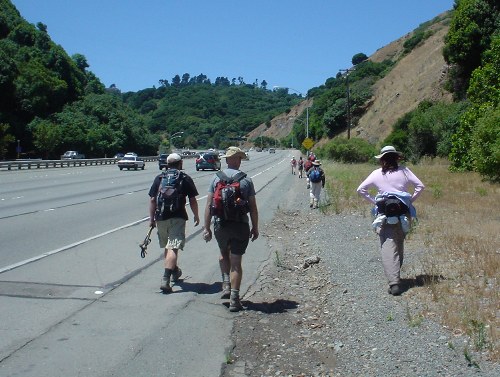 Everyone enjoyed hiking the paved section of the trail
After regaining the trail (the little National Skyline Trail symbol on the first trail marker we saw was such a welcome sight!), we eventually stopped for lunch on a small peak near Sibley Volcanic Park. It was rather a rudimentary plop down by the side of the road, but we were quite happy to rest our feet and enjoy some food and the view. We were apparently on residential property too, but we intrepidly downed our lunch despite offerings of re-directional assistance from some of the building contractors who were working on a house nearby.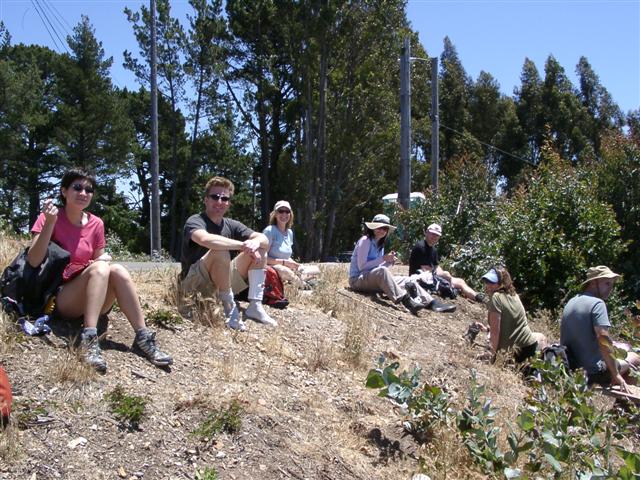 Lunch break
near
Round Top
The next few hours saw us through some lovely, dense redwood forest, which had cool breezes blowing through the stately stands, helping to assuage the muscle burning inclines. We passed many hikers and amblers, and at one point, a young woman reading trailside. Still in radio contact, the lead group would wait for everyone to catch up at less obvious junctions. We carried on up and down the gently rolling trail and eventually were dumped onto a crossroad between Redwood Regional Park and Anthony Chabot (the last park). We waited a while for David and Blinky, and attempted to hail them several times via radio, but the airwaves returned no response. We waited, waited…waited some more, until finally we could wait no longer. Leaving an arrow in the direction we were headed, we continued on.
Padraig continued to attempt radio contact with David and Blinky, but was met with silence every time. Steve Hu indicated that there had been some mention that they had considered turning back to the start of the last park or trying to catch a ride from someone; but since we could establish no verbal contact, we could only leave arrows on the ground in the off chance they were still behind us. At this point, we were feeling the effects of this superhike in our muscles, feet, bones, lungs…and already there were whisperings about the mileage Padraig's tried, tested, and true pedometer said we had done versus what Steve's Topo!-backed sketch had drawn out…hmm…
In one last punishing round, we found ourselves hiking the "home stretch" through Chabot Park in DIRECT AFTERNOON SUN. Bring it on, baby! We were in pain, but still possessed full intrepid spirit nonetheless. Steve rekindled our tough cookie flames before venturing into Chabot by engaging the remaining seven of us in another rousing INCH cheer. We pushed on through one last patch of cow territory, and Nancy suddenly had the urge to run. The woman was unstoppable. She and Sparky led the pack up front, and for a group that had hiked literally all day, we were pretty spry.
The last few miles were completed near the onset of dusk, and everyone finished in a strong showing, no one person or group that much farther ahead or behind than the next. We discovered a rested but starving David and Blinky, who had safely made it back to the car park by way of the nice book-toting young woman we all seen previously.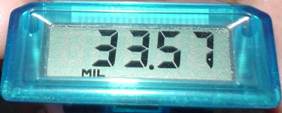 Padraig's pedometer indicates that the hike was longer than advertised. . .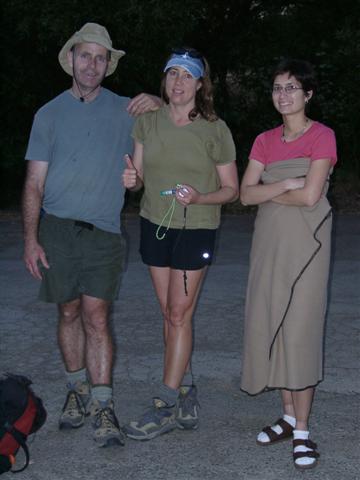 Padraig, Janice, and Tania are ready to hike back to the cars.
Quite honestly, I remember very little of the next 12 hours of my life afterward (only that Steve managed to commandeer my car into Emeryville), but that somehow, I managed to crawl into my apartment at some point. All the pain and sweat was a good precursor to Ohlone, for sure. Whether Ohlone will be as jam-packed with adventure as this hike was remains to be seen!






Pages maintained by Steve Walstra, Peter Saviz, and Russell Gee.
©2022 Intrepid Northern California Hikers