397. North Rim Loop (05/30/04)

Hikers (10): Cal, Carissa, Chester, Doug, Elaine, Eugene, George, Peter, Ross, Taylor
Distance: 15 miles
Rating: 5 difficulty, 10 beauty
Park info: Grand Canyon National Park in Arizona

Write-up by Elaine -- Pictures by Chester
The men were determined to get a real breakfast this morning. No more self-serve continental breakfast at the Kaibab Lodge. First thing on the agenda was to fuel up with a hearty breakfast at the Grand Canyon Lodge. George was mindful that Carissa, Chester and I couldn't eat that much that early in the morning, so he arranged for us to meet the group at the trailhead. Due to a miscommunication, Taylor didn't get the message. Had she known there would be a second car into the park, she would've stayed with the lightweights. Peter wanted to get to the Grand Canyon Lodge early to make dinner reservations for that night, and did for two tables at 8pm and 8:15pm (we can be such a big obnoxious group, we didn't want to stress out any waitperson). According to George, "Breakfast was superb. Choice of scrambled eggs, or scrambled eggs with cheese — yum! Fruit, yogurt, granola, sausage, bacon, and more". Most went back for seconds. Now that was a proper breakfast — for a nap!
We all gathered again at 8:30am at the Kaibab trail parking lot. The plan was to take the Ken Patrick trail, then the Old Bright Angel trail, and back up on the North Kaibab trail. We agreed to gather at the junction of the Ken Patrick and Old Bright Angel trails, and the junction of the Old Bright Angel and the North Kaibab trails. Cal headed one way for the trailhead and Ross another way. Whom to follow? Ross was right because had we followed him, we would have avoided the start of the mule trail. Anyway, where we did the INCH cheer was a ranger willing, able and ready to take our picture.
1, 2, 3 ... INCH!
This was by far the most difficult hike I've done, and I have no plans to match it, much less top it. We were off on the mule trail. Ah, la parfum au naturelle! This city girl does not appreciate this smell, but George claims that NYC subways smell worse. The trail was pretty with sunshine shimmering through the tall trees as the leaves sway in the breeze. Again, we couldn't have asked for better weather. The trail had flat sections and some gradual inclines. Cal had duly warned us there might not be well-defined trails on the Old Bright Angel and we would need to do some bushwhacking. He and Uncle George reminded us again that the Old Bright Angel would be an adventure, and gently advised that if anyone finds the trail too treacherous, just turn back and take this trail.
Soon we were gathered where the Old Bright Angel starts, and on the wooden sign was carved, "Old Bright Angel (unmaintained trial.)" Now we were amply warned! We took pictures with the sign. This might be the last picture with us as friends ... With Ross in the lead, we started the descent. This was fun — the trail is faint and the views are beautiful, if you dared take your eyes off the ground! There were a few switchbacks and, at one point, the trail faded on a slope. I felt a trickle of adrenaline but made it across without sliding into the canyon below.
Several minutes later, we heard Cal on the radio. He was trying to help Taylor cross the slope. George turned back to make sure they were okay. Carissa, Chester, Doug and I slowed down so we wouldn't be separated. We heard Peter, who was way ahead, on the radio asking if Taylor was okay, and if she decides to turn back, he would go back with her. No response. After several tense minutes, we heard that Taylor made it across, and she, Cal and George soon caught up with us. (The next day, Taylor graciously treated Cal and George to dinner at the Grand Canyon Lodge for getting her through. A well-deserved meal!)
We came upon a second tree that had fallen across the trail. It's time to do the limbo, I joked! Carissa crouched down and squeezed through while the rest of us clambered over. We kept going down and down, growing more confident as we traversed more trails that faded on slopes. Taylor had become so confident that she did ballet leaps across some of them. Around 11:30am, we heard Ross on the radio giving us directions when we get "down there." We couldn't be much further, was my hopeful thought.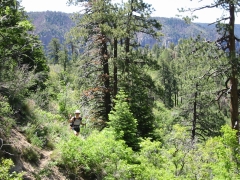 Making our way down through the brush
George radioed for clarification and he and Ross went back and forth several times. George asked Ross to mark the trail with stones or pebbles. Ross replied that it wasn't necessary and started to describe the landmarks again. George patiently asked again for Ross to pave the trail, build a wall and shelter ... We all got the joke and starting laughing, which helped as nerves were getting frayed.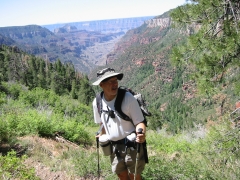 Hmmm .... where's the trail???
About an hour later, we heard Peter and Eugene had gotten "down there." Carissa, Chester, Cal, Taylor, George, Doug and I were still bushwhacking and wondering how much longer before we get "down there". After some time, we came to an opening and spotted a few cairns. The ground was rock that went for a quarter mile, then ended abruptly, and at a distance was the other side of the canyon. This must be it, I thought. We must be "down there". Carissa, Doug and I stopped and soon Cal and Taylor came by looking for some shade to take a break. George radioed that Chester had a nosebleed, so Carissa went back to find them.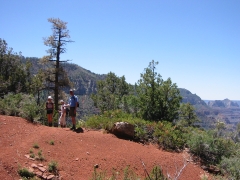 More confusion ... we would surely die here today
After a short break, we veered right, according to Ross' earlier directions, assuming we were where he had been, and started looking for cairns. Two male hikers came by, and we asked if they knew the way, but they too were trying to figure it out. The lost following the lost. Cal spotted a trail to the right on a steep slope and started climbing up. But when he got up there, the trail ended. A few of us climbed up another way and soon found the trail behind a tree and rock. Off we went on the uphill. Now the canyon wall was on the right, whereas it was on the left when we descended. We were hopeful that we would meet up with Ross, Peter and Eugene soon.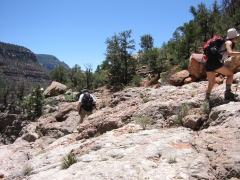 It's hard to find trail when all you see is rocks
After some time, we heard water and soon crossed the creek. We decided to take a short break since it was getting hot, we were tired and it was past lunchtime. George plunked his butt in the water and exclaimed, "Boy, this feels good!" When he got up, I said with mock surprise, "George, you can't see it, but your butt is wet!" He turned round and round, like a dog chasing its tail, yelping, "Where? Where?" We sure needed some comic relief!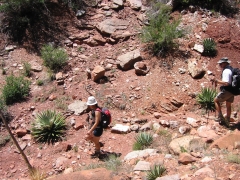 We wandered in the wilderness for days
We started again but first had to find the trail. Cal went up a short way and stopped, with Carissa, Chester, Taylor lined up behind him. I was next with Doug and George behind me. Suddenly, George exclaimed, "There's a duc and Elaine's blocking it!" Where? Where? I started looking for a duck. A duck in the canyon? But George meant duc, or in Ross-speak, cairn, stones stacked one upon another. How many cairns did Ross build?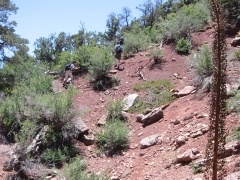 Scrambling up a hill
We kept finding cairns and climbing uphill. The creek turned into a beautiful gorge down to our right. "Take a picture of that," I asked Doug. "We're never coming this way again!" We expected another mile before we find Ross, Peter and Eugene and the bridge, but it felt longer. However long it was, we did find them ... finally. Ross was sitting on top of a boulder — a well-deserved rest after climbing around to find trails and building cairns. He must have hiked a few miles more than the rest of us and did a lot more work. From where he sat, he could direct us across the water.
United at last! The next task was to find the bridge. We saw a bridge, but how do you get over there? We were looking for a trail when, suddenly, someone shouted that Ross had gotten over to the other side. We all headed in that direction. We had to cross the creek again — George was helping everyone — then hiked a few steps on the North Kaibab trail to the Roaring Springs trail Junction where there was a wooden building a couple of picnic tables and water faucets. This was the break we'd been waiting for all day! We all took a break, filled our water bottles and camelbacks, and some of us went down to the water to soak our sore feet.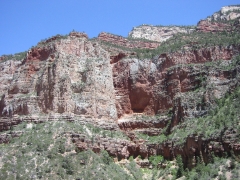 We have to go up there???
In twos and threes, we started to head back up. We estimated the elevation to be approximately 4,000 feet, and about 4.7 miles. Doug and I were the last to leave around 5pm. I estimated we should make it back by 7pm. The reality was a lot grimmer! About one third of the way up, I started feeling really weak and had to stop frequently to catch my breath. It was slow going so I urged Doug to go ahead. He wouldn't hear of it, which was a lifesaver because he ended up dragging me out of the canyon after 8pm, past sunset, in the cold — so much for our dinner reservations at the Grand Canyon Lodge.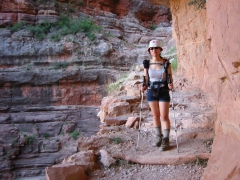 One of the ledges on the North Kaibab Trail (don't look down!!)
George had hiked down to meet us, take my pack, and escort us out. He made me feel better by sharing that he too experienced altitude sickness on the way up. Taylor had warmed up the car and was ready to go as soon as I slumped in. She gave me a hug and exclaimed, "She's ice cold!" at which Peter threw his jacket around me.
What an adventure! Not one I'm eager to repeat any time soon if at all. If not for such caring friends, I would've ended up another casualty in the Canyon, even without the heels.
Peter's note: Elaine was not the only one who was miserable after this hike. I was freezing cold and totally devoid of all energy coming out of the canyon. I collapsed in the parking lot, shaking like a leaf and feeling as sick as a dog. Finally, I mustered up enough strength to haul my carcass into the back seat of the car and pass out. Suffice it to say I skipped dinner that night -- now you know it had to be a killer hike!! Thanks, Cal. I'll get even for this!
For more cool pix from our trip, check out Chester and Carissa's album.
Milestones:
Chester's 10th leaf
Peter's 270th leaf







Pages maintained by Steve Walstra, Peter Saviz, and Russell Gee.
©2022 Intrepid Northern California Hikers