409. Table Mountain Loop (09/04/04)

Hikers (20): Barbara, Blinky, Bobbie, Bunny, Elaine, Glen, Gwynneth, Janice, Jinglan, Kevin T, Patrick, Peter, Roger G, Russ, Sean, Sparky, Sue, Taylor, Walter, Wennie
Distance: 8 miles
Rating: 2 difficulty, 8 beauty
Park info: Saratoga Gap Open Space Preserve in the Santa Cruz Mountains

Write-up by Peter -- Pictures by Roger G
It was a hot weekend, with temps in the 100's around the bay. I was planning to lead the group on a butt-kicker hike at Coe or Diablo, but thankfully The Man talked me out of it. He wanted to save it for next week at Ohlone.
1, 2, 3 ... INCH!
In order to make the hike at least a little challenging, I decided to save the uphill for the end. We headed out through Long Ridge OSP, taking flat easy trails that basically went parallel to Skyline for about 4 miles. There were a couple of sunny spots where we suffered a little, but all in all it was smooth sailing.
In a little over an hour, the trail led out of the woods and back across Skyline, where we all regrouped. Jeez -- the hike was half over in just over an hour. Maybe I had made it too easy.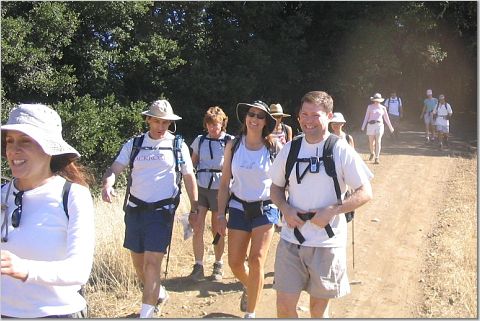 All smiles as we begin the hike ...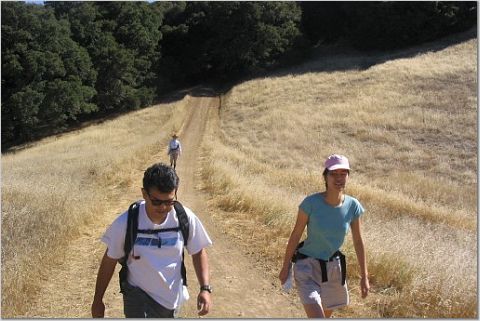 ... but soon the smiles were gone!
Once across Skyline, we began the two-mile descent down to Grizzly Flat. The trail was well-shaded, so we continued to make good time. Wennie was even starting to talk trash, telling me she'd kick my butt on the way back up. OK, we'll see about that.
Sparky found a nice lunch spot overlooking the creek, and suggested we take a break for lunch. It had been so easy so far, I didn't think these guys deserved a break, but I reluctantly agreed.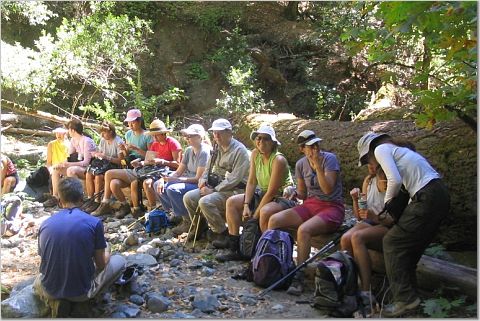 Lunch break -- make sure you all sit in a nice straight line!
After lunch, we began the climb up the Charcoal Road. This is basically a wide fire road that leads back up to Skyline. Kevin had told me there was a more difficult way up, so I was aiming to take that one instead. In addition, it was a hikers-only trail, which is always preferable in my book. The Chief chose to come with me. That's always a bad idea.
We found the turnoff for the unnamed hikers-only trail and branched off from the main road. The Chief put an arrow down to let the others know which way we had gone. I thought this may confuse them, but what the heck. It all ended up in the same place anyway.
As luck would have it, we took a wrong turn about 3/4 mile along the trail and before you know it we were back on the fire road again. Dang! I was thinking of turning back, but The Chief's back was hurting so we decided to play it safe and stay on the main road in case we needed to get help.
I figured the pack was ahead of me at this point, so after getting the green light from The Chief, I began to pick up the pace. I had to catch Wennie! Pretty soon, the fire road led out into the open and the relentless sun started to beat down on me. Now it was getting to be more like a real hike!
As I got to the last intersection before the road, I saw Sean coming up behind me. What the heck? It turned out I was ahead of the pack the whole time! We walked the last half-mile to the car and waited for the gang to drift in. Group by group, they began to come in. I'm happy to report The Chief made it up in one piece. Even Wennie finally made it (I just had to get that comment in)!!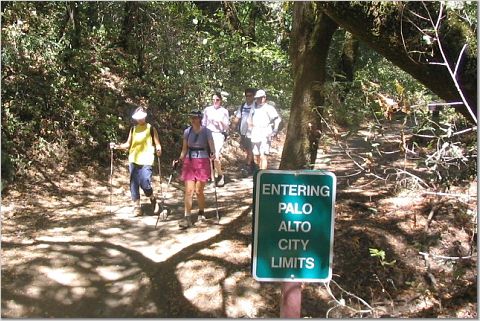 Thank God we made it out of Palo Alto alive!
Milestones:
Elaine's 50th leaf
Patrick's 20th leaf
Sue's 60th leaf







Pages maintained by Steve Walstra, Peter Saviz, and Russell Gee.
©2022 Intrepid Northern California Hikers