427. Mt. Sizer (01/01/05)

Hikers (4): Elaine, George, Peter, Ram P
Distance: 11 miles
Rating: 5 difficulty, 9 beauty
Park info: Henry Coe State Park east of Morgan Hill

Write-up by Elaine -- Pictures by George
A Hike of Firsts
First hike on the first day of the new year. A combination of rain (record-breaking storms hit the Bay Area with a forecast for more rain the day of the hike), hangovers from New Year's Eve, and the challenge of Henry Coe State Park (for eight months I chanted "No mo' Coe!") resulted in only four very hardcore (or very foolish) hikers. In retrospect, I should've listened to my own chant as the hike turned into an adventure.
First call. George's first call was from me, saying that I was lost. Peter's first call was from George, saying that Elaine was lost but we're on our way. Peter will be the first to point out that this is not the first time I got lost!
First Intel stop. This was George's first time at the Intel carpool site. George and I arrived there a little after 9:30am (my first time taking the Montague Expressway exit) to pick up Peter.
Ram's first INCH hike. Ram has the fortune (or misfortune) of being in Peter's department at work. Although Peter's email said, "This hike is definitely not recommended for first-time INCHers," Peter bullied Ram into coming. Come on this hike or you're fired! Man, they're tough at Intel.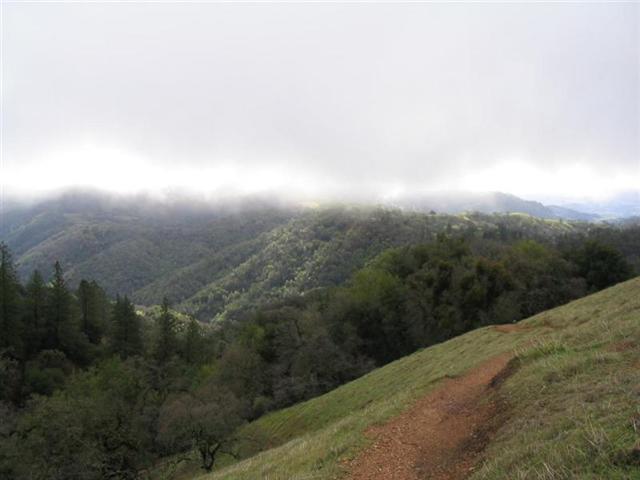 A misty New Year's Day at Coe ..... Henry is such a tease!
Peter's first hike with poles. Peter tried out his Christmas present — a handsome pair of hiking poles — and made record time up Mt. Sizer: 37 minutes. "Like I've always said, poles take the challenge out of hiking." Oooh, the prophet speaketh. "I now have even less respect for people who hike with poles," including himself, gainsaid Peter.
First almost kiss. When we got to the sign that pointed to Middle Ridge and Two Oaks Camp, George asked Ram to stand at a certain spot. "It's a trap," warned Peter. Ram was more trusting and obliged. "Elaine, you stand here next to Ram, and, Peter, you stand here next to Elaine." When we were all in place, George directed, "Now if you look up above Elaine, you will see lots of mistletoe ..." Aaaahh! Get me outta here! Rubbing in salt, Peter said, "No, Elaine really likes sweaty hugs. I'm not sweaty enough yet, but when we get to the top," his eyes glinting wickedly, "I'll give her a sweaty hug." I was filled with dread. When we got to the top, however, the Sadist was too cold to remember his threat. Thank God, as I did not need anymore torture on this hike. And no rain checks, Peter!
First creek crossing. Rain had filled the Little Fork of Coyote Creek. It was about six feet wide. George leaped over like a gazelle. Elaine stepped on some rocks and got slightly wet. Ram donned on plastic bags that George had given him but got wet because the bags ripped. Peterella wanted to change into his cobalt blue ballerina slippers, so we waited ...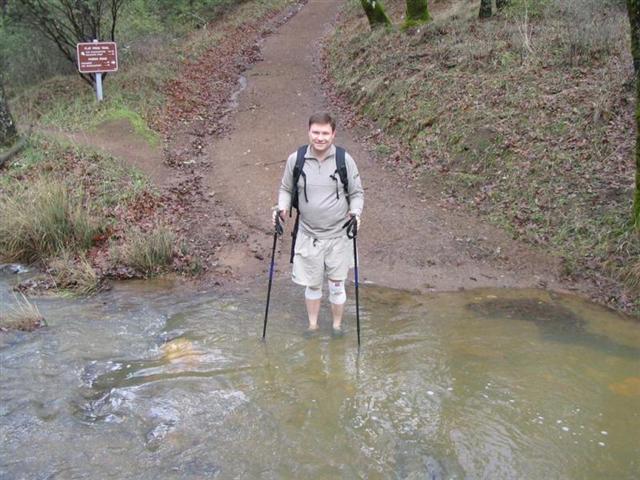 Little Fork Crossing: Come on in, the water's lovely!
First river crossing. As we walked toward the trail to Mt. Sizer, we heard rushing water. "The creek must be full," the Sado-Masochist said gleefully, trying to scare us. When we got to the Middle Fork of Coyote Creek, that ain't no creek — it's a river! The record-breaking rains from the past week had flooded the creek. "It's time to turn back," I thought. "Why did I come on this hike?"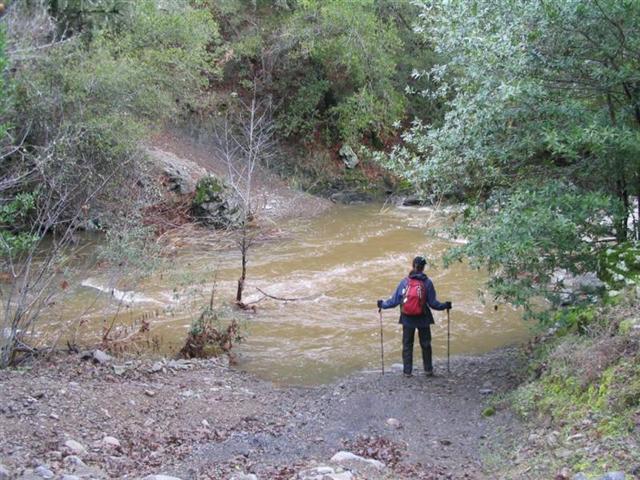 Elaine can't believe her eyes. This ain't no creek, this is a river!
The width of the river ranged from 25-30 feet with a strong current. Peter, who had been here at least 10 times and knew it like the back of his hand, planned to cross directly, where there were no rocks. George's plan was to cross where the trees were, so we could hold on to the branches. I was trying to remember Moses' trick to divide the waters. But after striking a rock with my pole three times and nothing miraculous happened, I decided to try George's plan.
I gingerly negotiated between a sharp rock and tree and got down to the water. Brrr! Using my poles, I felt my way in the water. I took hold of a tree branch and suddenly, dunk! I almost had my second baptism. Pastor George tried to save me, but if he had taken another step toward me, he might've been in the same predicament. Will this be the first fatality? Somehow, I managed to turn a few degrees despite the strong current rushing at me, and handed George my poles. Somehow, with both hands free, I had a few steady holds, and George guided me out of the water. Whew! Close call!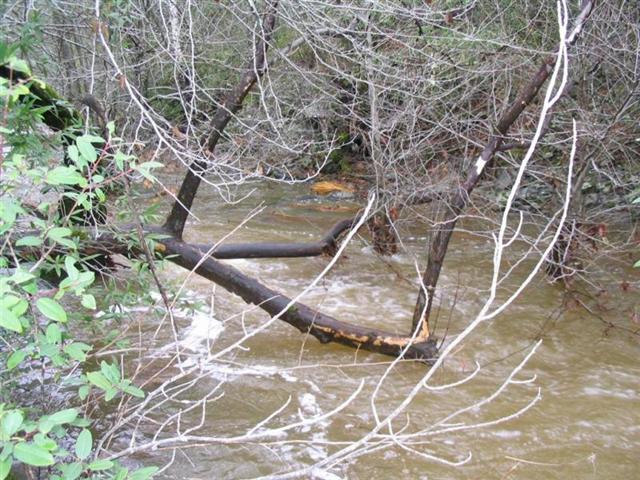 George's suggested route across the stream. It turned out that Elaine should have followed Peter -- she already had taken a bath at home.
Peter had crossed the stream and was watching the drama from the other side. He looked worried, so to assure him, I shouted, "Look, no blood." But I spoke too soon — blood was trickling from my left knee. The water was so cold that I didn't feel the cut. George, Ram and I prepared to follow in Peter's footsteps. Ram changed into his cobalt blue MC Hammer pants, George unzipped the legs of his pants, and I rolled up mine. Unlike George and me, Ram did not have poles and was barefoot. The strategy was for George to be nearest downstream, I upstream, and Ram in the middle. We struggled across. At the deepest point, the water was up to my waist, and I felt the current sweeping me away, but with the next step, I steadied myself and we were more than half way across. A few seconds later, we were safely on the other side. I had not packed my first aid kit in my new backpack, so Peter gave me a couple of band aids for my cut. Ram had so much fun in the cold and dangerous creek that he went back in so that George could take a picture of him! "If my parents see this, they'd say immediately, 'Come back on the next plane!'" Ram laughed, his eyes twinkling.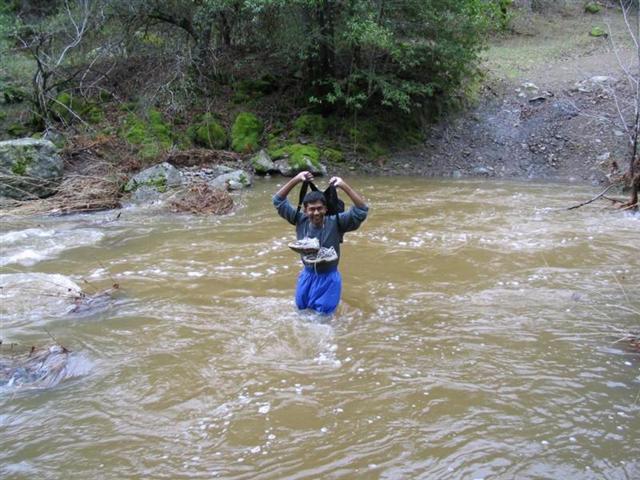 After crossing the creek, Ram went back in for pictures! Freezing water and bare feet. A true INCH psycho.
First summit. As soon as we had recovered from the river crossing, Peter was off conquering Mt. Sizer. As always, Peter timed himself. The goal is to make it to the top in the same number of minutes as one's age. Peter likes to hike Mt. Sizer on his birthday because he gets one more minute. I've never made it in the number of minutes as my age, and I don't intend to today. I brought up the rear, huffin' and puffin' and wondering how we were going to cross back to the other side. Because it was cold, I didn't have to stop except to put on my rain gear when a light drizzle started. Near the top, I caught up with George and Ram (or they slowed down), and we reached the tall bench together in 46 minutes. Peter was sitting on the tallest bench in the world, swinging his legs like a little boy. We stopped to eat, but it was cold and we hurried down in a few minutes. Ram was still chomping on his bagel when we left.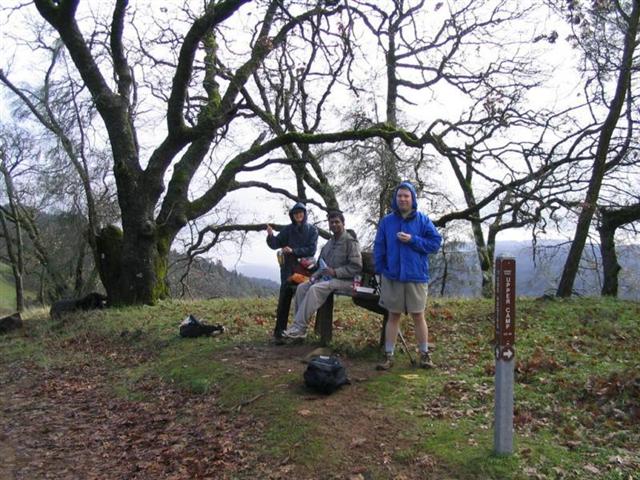 Tall bench, short cold lunch. Imagine, wanting to start hiking again just to get warm.
First video. George was the first to come down Mt. Sizer. His plan was to be the first to cross back, set up his camera, and take a video of the three of us crossing the river. When we all reached the bottom, he started off, remarking that the water was "warmer" and the current less strong than the first crossing. I rolled up my pants again, Peterella changed into his cobalt blue ballerina slippers, and Ram changed into his cobalt blue MC Hammer pants and took off his shoes. Ram was very excited! We forded across. When I reached the deepest point, I again felt the current washing me away. I held on, made the next step, and we were past the halfway point when Peter blurted out, "My nuts are freezing!" George caught all this on video, which ends with a big smile on Ram's face! During the rest of the trip, all Ram could say was how great the crossing was, the best part of the day.
Check out the video: low bandwidth YouTube version or 18 MB fat pipe version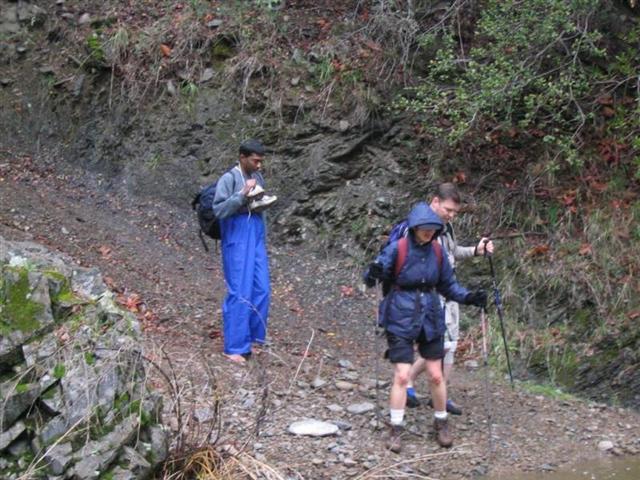 Preparing for the second crossing of the Middle Fork. Hike your packs and shorts up as high as you can. Note: A rare sighting of Elaine's legs!
First rainbow. Because of the rains, the manzanita bark, when wet, is even more eye-catching. George took a picture of one manzanita showing off its smooth rich brown bark. "Color, shmuller," grouched Peter and walked on. "You engineer," I sighed hopelessly. "You're color blind. You only see cobalt blue."
A few feet further, George exclaimed, "Look, a rainbow," pointing to the natural phenomenon far away to the east. Below a white cloud, the ephemeral colors danced in the gentle rays from the setting sun on the west. Above the cloud, the remainder of the arc shot up to the sky. "Wow! This makes it all worth it," I remarked in wonder.
"Hey, Peter, rainbow!" George called out. Peter turned back and looked to where George pointed. "Where?" he demanded. I mocked resignedly, "He's colorblind. He can't see it."
First dare. A few feet further, we spotted a yellow-orange slimy mold oozing clear goo. Peter dared George $5 to eat it. Cheap! Maybe George would've for $10!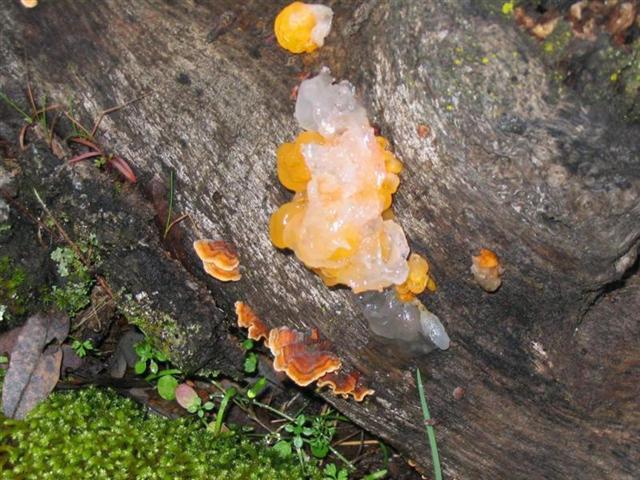 The mysterious orange goo
First wish. As always, Peter wanted to pay his respects to Henry Coe. It was my first time at the monument, on which is this wish: "May the gentle hills bring peace to those who are seeking." Thank you, Harry (as his friends called Coe), for the new year's wish. Peace on earth and good will to all.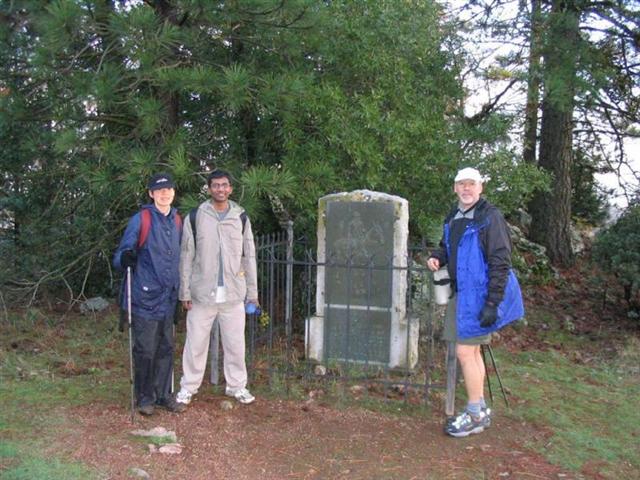 When you reach the Monument, you're almost done with the hike!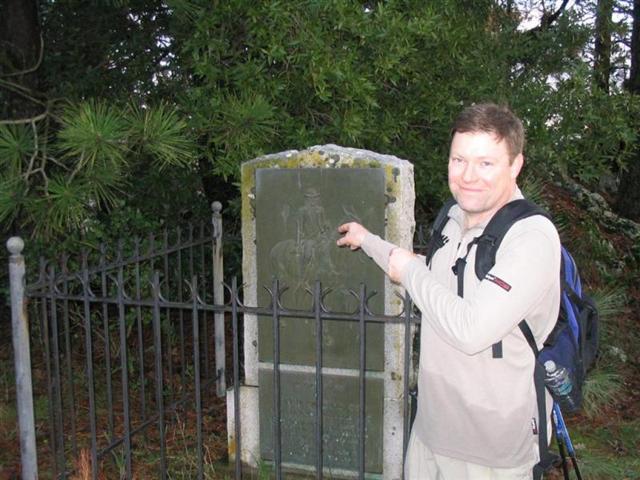 Big Henry really is The Man!
Ram's first leaf. Peter had promised Ram that he would get a leaf but didn't specify that it would be a virtual leaf. Ram was crushed. He wanted a real green leaf. George, always the peacemaker, gave him a real green sprig of mistletoe as a consolation.
A cut and some bruises are a small price to pay,
For a fun and dangerous adventure on New Year's Day.
But my resolution — No mo' Coe! — I will renew,
And give my years their due.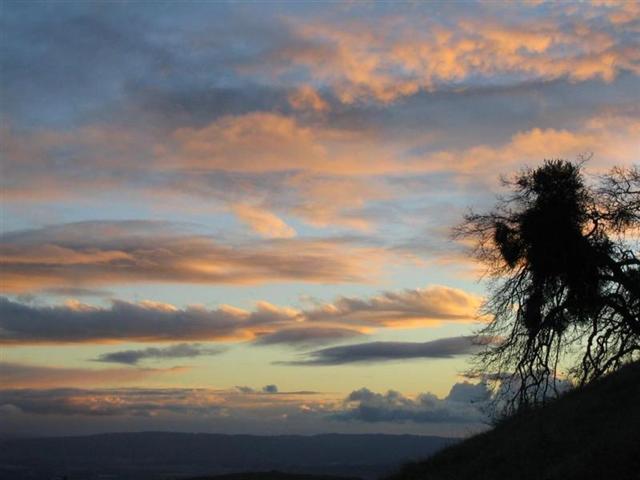 Beautiful winter sunset at Henry Coe
Click here to check out more of George's great photos.
Milestones:
Elaine's 60th leaf
Ram P's 1st leaf







Pages maintained by Steve Walstra, Peter Saviz, and Russell Gee.
©2022 Intrepid Northern California Hikers