466. Mt. St. Helena (09/11/05)

Hikers (15): Abhishek, Blinky, Carissa, Chester, George, Kathleen B, Nik, Oliver, Paul, Ramesh, Rudi, Sparky, Steve, Sue, Wayne E
Distance: 10 miles
Rating: 3 difficulty, 10 beauty
Park info: Robert Louis Stevenson State Park near Calistoga

Write-up by Steve -- Pictures by Steve
Peter had been talking about going to Mt. St. Helena for years, but it was always just a little too far away to motivate us to schedule it. When I found out that one of its peaks was the highest point in Napa County, that was enough incentive for me to schedule it. In a cruel twist of fate, Peter couldn't make it, and so it remains on his "to do list".
I had tried to schedule this hike earlier, but everyone who knew the area advised me to push it out because it gets crazy hot in Calistoga. I took this wise advice and pushed it all the way to mid-August. The weather was absolutely perfect--it was actually chilly in the shade at times.
1-2-3 INCH
Fifteen people made the long drive, and no one missed the parking lot, thanks to George actively waving people down. Sparky had the wise idea of going up a day early so as to split up the long drive, but had the unwise belief that it would still be hot. This motivated her to start the hike early which, in addition to being unnecessary, also led to us barely seeing her the entire day. If you are actively not hiking with INCH, should you still get a leaf? Hmmmmmm.
Mt. St. Helena has three peaks: North Peak, South Peak, and East Peak (which, just to confuse things, is between the other two). North Peak was our destination, and is the true "summit"--it is in Sonoma County. East Peak is the highest point in Napa County, and was my side goal. South Peak has no claim to fame, but at least it has a named trail going to it (unlike East Peak).
For some reason, I thought South Peak was the Napa high point, so when my GPS pointed out a peak, I assumed was South Peak. Since there was a geocache in the same location, I had a second reason to go up. As I turned off to find the cache and the summit, I saw Sparky going up the adjacent North Peak. I bagged the cache and took the requisite picture of myself at the highpoint.
As I finished up, Sparky's voice came over the walkie-talkie (which she had borrowed from the front-runners heading up to North Peak). She wanted to know where the Napa Highpoint was. I told her it was South Peak (wrong), and that I was there (also wrong). She said she had already done the North Peak and East Peak (where I actually was), so she'd do South on the way out.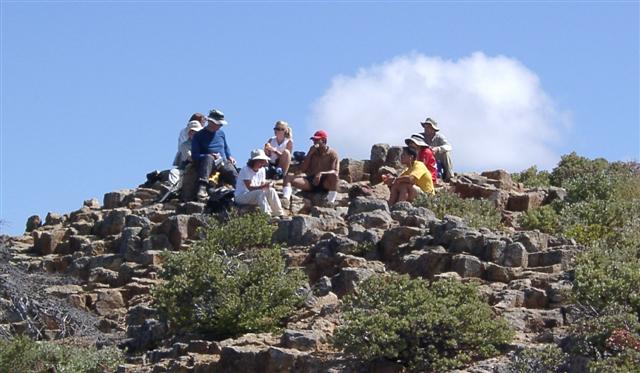 Chillin' at the summit
The summit was great, with lots of room among the rocks at the top. Beth was initiated into the joys of geocaching, as she found the second cache near the peak. But the true highlight happened as we were eating lunch. An Old Timer, the only other person we saw on the way up, came over and offered us four beers. He had been clearing trash in the vicinity and found four full bottles. He didn't have to ask twice: four of us grabbed them, promising to pack them out. I was well into my bottle when someone noticed the expiration date was like 2002. How can beer go bad, sitting on a mountain all day in 100 degree summers for a couple years? It still did the trick, and was nice and cold from the previous night. Any hike with a beer at the summit is a great hike.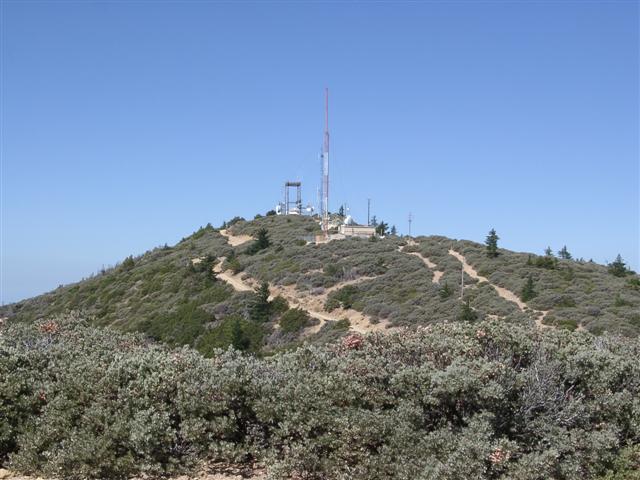 Mt. St. Helena North Peak from East Peak
The trip back went pretty quick, including a side trip to the real South Peak, where I thought the Napa HP was. I would later discover that my GPS was correct, and my memory was faulty. . .a fact not surprising to anyone.
Near the bottom, a few hardy souls took George's suggestion and made an additional short-but-steep side trip to see a mine shaft near the Robert Luis Stevenson Memorial (a.k.a. big granite book). After that, we were back in the cars on the way home.
We had originally talked about hitting some wineries, but most people were more interested in eating. A couple of the cars stopped at Hydro Bar and Grill in Calistoga, which was much better (and less froufrou) than the name implied. All-in-all, and with the help of a couple beers, it was a hike/trip worthy of a five hours of driving.
Milestones:
Highest point in Napa county
Abhishek's 1st leaf
Rudi's 10th leaf
Sparky's 40th leaf







Pages maintained by Steve Walstra, Peter Saviz, and Russell Gee.
©2022 Intrepid Northern California Hikers