469. Murietta's Secret (10/01/05)

Hikers (17): Bobbie, Clive, Edita, Eric B, George, John L, JP, Linda L, Marko, Paul, Peter, Ramesh, Ross, Sabine, Scott, Sparky, Steve
Distance: 15 miles
Rating: 5 difficulty, 9 beauty
Park info: Ohlone Regional Wilderness near Livermore

Write-up by Steve -- Pictures by Steve and JP
There is an unnamed peak in the vicinity of Murietta Falls that seemed like a fun hike. Surprisingly, sixteen people showed up for the level 5 hike to "nowhere". Most of the surprise came from the four extra people who hadn't signed up. As it was, four of us had an engagement at 6pm, and it was going to be tight to get back in time. Peter had already agreed to sweep the hike (in return for not scheduling it on Football Sunday), but we all needed to go to the top at the same time because the destination has no signage. I suggested no-signers Marko and Bobbie go directly to Murietta Falls (rather than our alternate goal). The other two no-signers were wildcards: John L and Linda L. It was hasher John's first hike and Linda's first level 5. I tried to dissuade any "not fast hikers" from going all the way, but no one was biting.
1-2-3 INCH
The goal for this hike was essentially Marker #32 on the Ohlone Trail. We spread out pretty quickly from the start, with Marko, fresh from Mt. Shasta, proving he wasn't a slacker by hiking toward the front all the way to the Murietta turn-off. It was there that I suggested he wait for Bobbie, and set off after #32, where Ross was already arriving.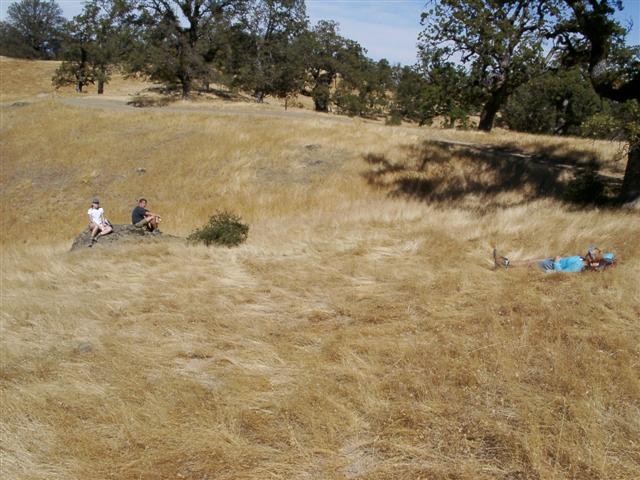 The front-runners kick back near #32
It took about two hours to get to marker #32 for the first four (the same four who needed to get back, incidentally), but about three hours until everyone showed up, including Marko and Bobbie (so much for my advice). The only missing people were Sparky, who was reportedly pooped, and John L, who was reportedly far behind. We guessed they'd head for Murietta, and so hiked a little beyond the marker. . .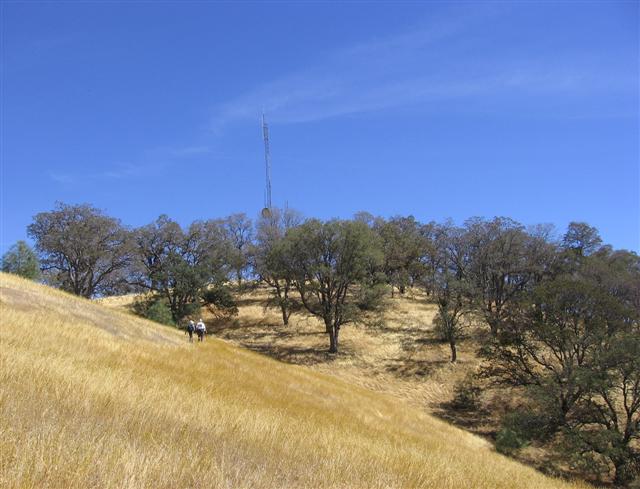 Approaching a milestone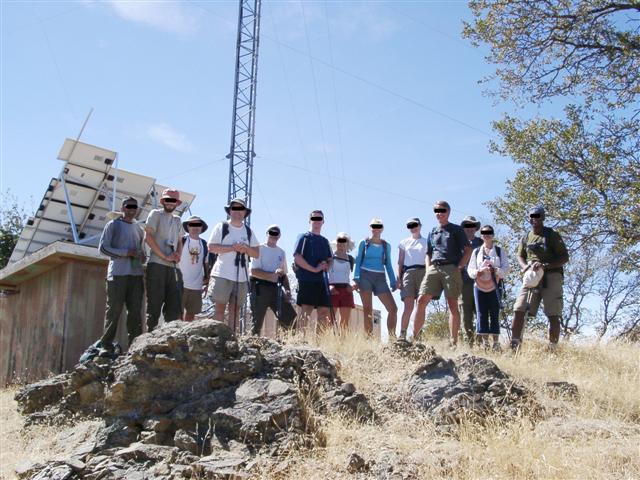 Some other hikers, who we do not know, with odd sunglasses.
On the way back, we all made sure to wade through some "tar grass", such that everything was sticking to our legs. Fun! As we neared #32 on the return, Sparky appeared. Close behind was Eric, who had been a no-show at the trailhead--he had gone to the wrong Del Valle park in Livermore (and even hiked there). Last but not least, we passed John L--and so 100% of the people made it. Good job!
Murietta's Secret is discovered, but where's Aconcagua?
The weather was awesome--quite cool for Murietta. Everyone had plenty of energy left, and so most took a the slight detour to Murietta Falls via the never-hiked-by-INCH Greenside trail. This proved to be a great route, and totally worth the additional climb out of Murietta. Ross and I went down to the bottom of the falls, just to confirm they were, indeed, bone dry. After checking a nearby geocache, I decided to take the "quicker" route up the north slope drainage. This provided about 100 yards of slow, steep, gooey-weed-filled fun.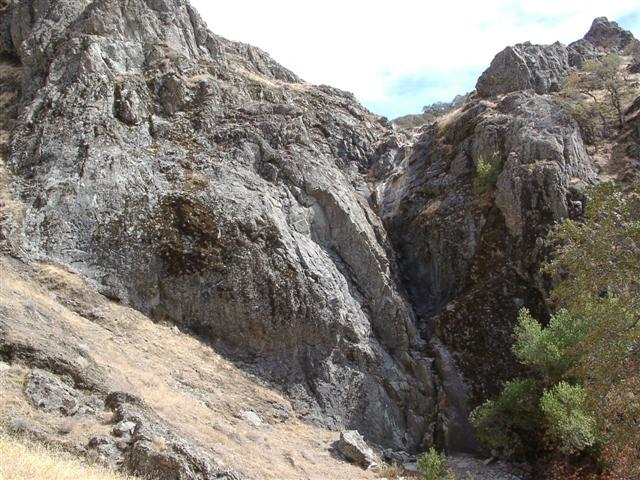 Murietta Falls is bone dry
The hike back felt faster than usual, probably because it was so nice outside. Ran into Sparky, Linda, Marko, and Bobbie near Schlieper Rock, then Scott and Paul around the top of Williams Gulch. The next group was George, Clive, and Ramesh near the start of the Rocky Ridge Trail (another alternate long-cut which a few people took). Despite my lovingly traced two-color map, George told me that Edita and Sabine had taken the wrong route out of Murietta, and proceeded a good distance downhill (where Ross gallantly saved them). Thus, it turned out that we were actually at the front. Not too much later, Ross caught up, and then was off again. We stopped at the "run-away camp" (a.k.a. Stromer spring) to wash up, and ran into Linda when we re-joined the normal route.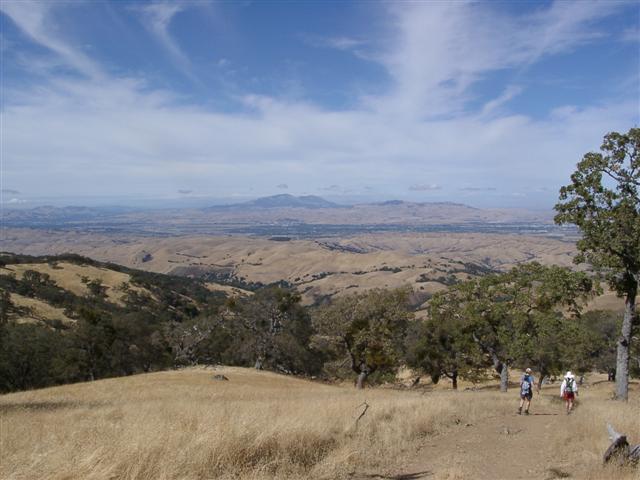 Mt. Diablo on the way back
When we got to the parking lot, half the people were already back--they had skipped the Rocky Ridge Trail. As I was happily chatting away and angling for a post-hike beer, the group informed me that Ross, Sabine, and Edita had long-ago sped off. I checked my watch and it was approaching 4pm! I was in a pickle--I needed to leave, but I wanted a beer. The only solution seemed to be to drink it really fast and then drive. . .no, that's not a good idea! So I forewent the beer and bid everyone adieu : life is full of tough choices.
The parking-lot partying undoubtedly continued long into the night. Peter confirmed that everyone survived, and so we all discovered Murietta's Secret. The Ghost was easy on us for a change--he'll get us next visit for sure!
Altitude Addendum: Sparky, who bypassed Murietta on the way back, had 4756 ft of elevation gain; George, who took the Murietta route (along the top of the falls) got just under 5k ft.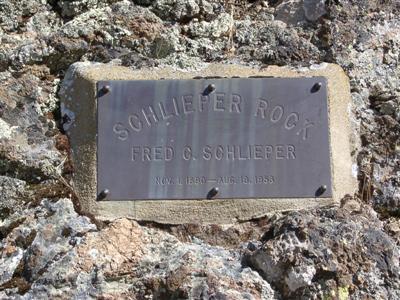 If you thought the trails were well-marked, take a gander at the rocks.
Milestones:
Highest point in Alameda county
Ross's 80th leaf







Pages maintained by Steve Walstra, Peter Saviz, and Russell Gee.
©2022 Intrepid Northern California Hikers