522. Los Trancos Trail (08/26/06)

Hikers (18): Carissa, David, Edita, Frank, George, Harvey, Hima, Janice, Jeff, Julia, Matthew, Padraig, Paul, Rudi, Sabine, Sparky, Steve, Sue
Distance: 15 miles
Rating: 3 difficulty, 8 beauty
Park info: Foothills Park near Palo Alto

Write-up by Steve -- Pictures by George and Janice
I had previously failed to find the famed South-East Passage into Palo Alto's precious Foothills Park via Arastradero. It's not hard to find if you realize that the Arastradero map is tilted at an angle, but that wasn't the biggest problem: Palo Alto wanted to keep the park to itself, declaring "Foothills Park is open to Palo Alto residents and their guests only. Proof of residency is required." The nerve!
Recently, someone negotiated to open a "Bay to Foothills" trail that goes from Arastradero to Los Trancos OSP through Foothill. Reconnaissance from Sabine and Rudi confirmed that the trail was open (and signed), contrary to the website. Apparently Palo Alto figured the two mile hike required to get to the edge of the park was enough to deter the unwashed. This is probably true, but INCH is an especially unwashed group. The park still prohibits horses and bikes.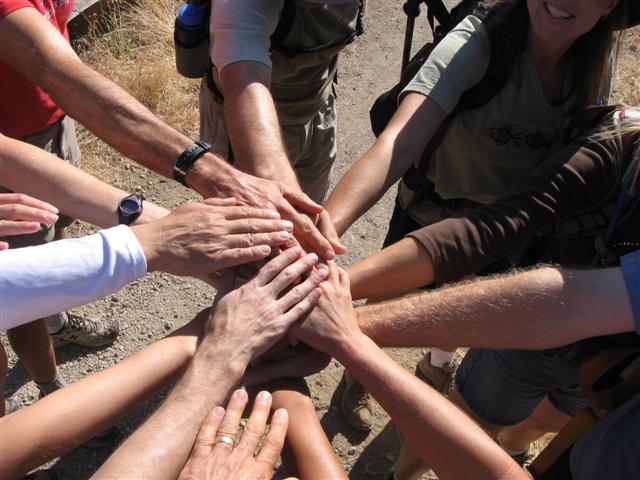 Psyching up for the Foothills surge
1-2-3 INCH!
We took care of Arastradero in short order. We made it a little more challenging by going over a side hill rather than straight down the creek trail. Edita, who knew the park, immediately protested that the route was just "extra elevation", as if that were a bad thing.
Soon we breached Foothills Park at Gate D. The Anticipation! After imagining the Willy-Wonkan delights that Palo Alto was keeping to itself, I could hardly wait to enter. Wanting to remain inconspicuous among the well-heeled, I donned a tie.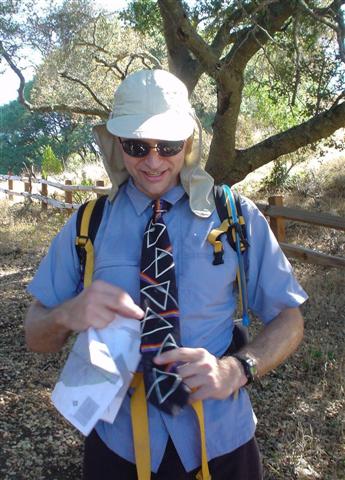 I'll fit right in! INCH who?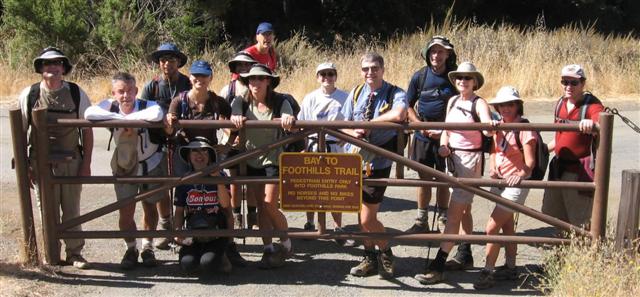 The grass really is greener on the other side of the fence
After a short hike down a road, we passed a large interpretive center and crossed a grassy field to pick up the 7.5 mile Los Trancos Loop. The sign said the route would take 5 hours. This is probably accurate when taking the trail via sedan chair. The trail climbed up and over a ridge, and then went down to Los Trancos Creek on the other side. Contrary to popular belief, Palo Alto residents cannot walk on water, necessitating 21 bridges along the way. All-in-all, a well designed and nicely shaded trail. We never saw the junction for whatever trail continues into Los Trancos OSP.
There was one nice spot along the trail for lunch. When I was there, it was being occupied by two women, but it looks like INCH scared them off.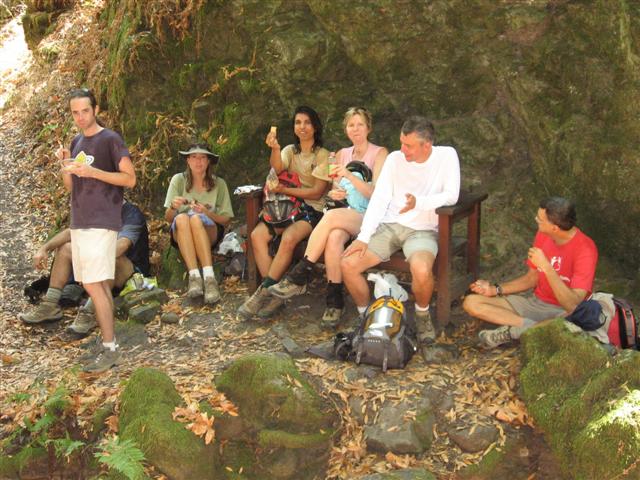 Lunch along Los Trancos Trail
With less than a mile left on the Los Trancos Loop, we ran into Julia and Frank. We had started fifteen minutes late, and it seems they showed up about seventeen minutes late. I had left a map for them, but they didn't see it, so they had already bumbled around the north part of Foothills trying to find the right route. Like good INCHers, they decided to continue the loop in the reverse direction, and we traded maps (my photocopied map with the route highlighted in exchange for their official map). Somehow, getting the "real" Foothills map was a minor highlight.
I tried to keep everyone at the Toyon trail/bridge with the hopes of improving our odds of not getting lost on next few tricky sections. After waiting a long time, however, a traitorous group led by Sabine and George peeled off. Bastards! Once everyone else got together, the second group hiked out. Less than thirty minutes later, half the second group had taken the wrong route despite seeing the arrow I left. Minutes later, front-runners Hima and Matthew missed the next unsigned turn. We called them back, and soon spied the lost group walking across the grass along Boronda Lake.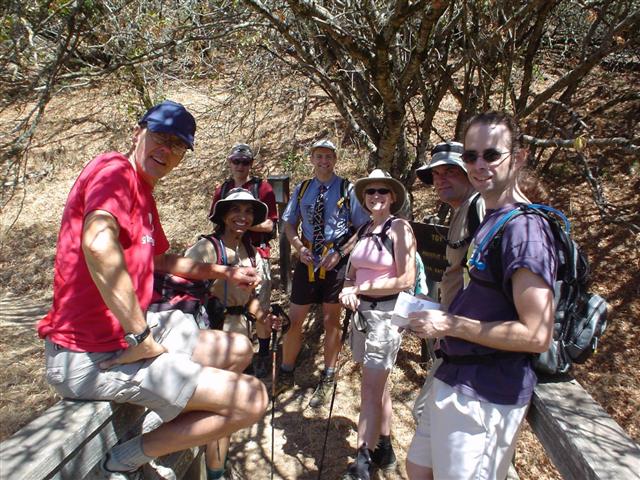 INCH takes the bridge
Reassembled, we headed up to the heady 950 ft Vista Hill. This is an odd spot, with inlaid compass art and little pipes to espy remote peaks. It looked expensive. But the highlight (at least for Harvey) was a well-lacquered bench near the summit.
We lost David for a bit, but once we found him, the second group set off to find the way back into Arastradero. All in all, Foothills is a nice park, but a little disappointing. Where were the streams of chocolate sauce and the post-hike spa? Still, we have to take our hats off to Palo Alto for taking care of the park, and it's great knowing that most people still can't get in, even though we can. Now I know how the other half feels--it's great!
Milestones:
Jeff's 20th leaf







Pages maintained by Steve Walstra, Peter Saviz, and Russell Gee.
©2022 Intrepid Northern California Hikers