534. Willson & Vasquez Peaks (10/14/06)

Hikers (11): David, Diane, George, Janice, Jeff, Mikael, Nani, Paul, Ramesh, Rudi, Steve
Distance: 14 miles
Rating: 4 difficulty, 8 beauty
Park info: Henry Coe State Park east of Morgan Hill

Write-up by Steve -- Pictures by George and Mikael
1, 2, 3. . .INCH!
What can we say about Willson Peak that hasn't been said before? Not much. As usual, it began with a big climb up Steer Ridge. . .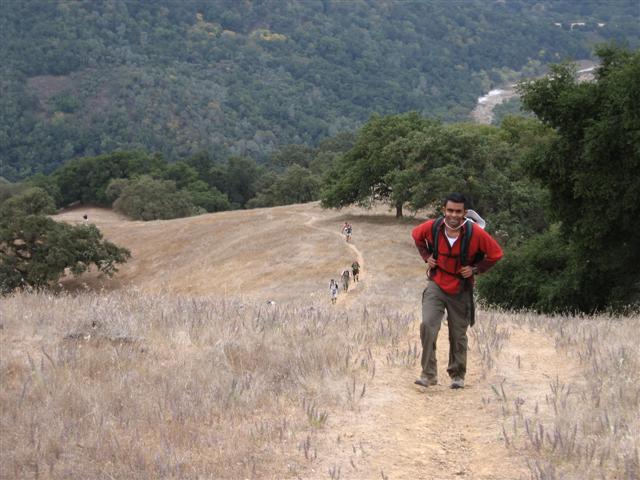 Ramesh loves the steep trails
We had spread out getting to the peak, so some of us finished lunch #1 by the time the last person arrived.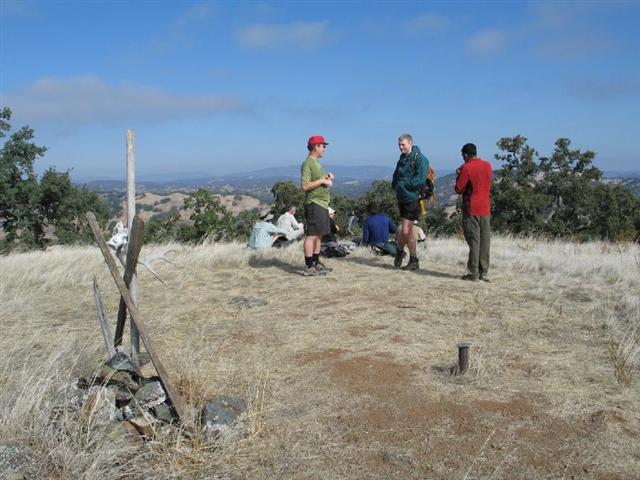 Chillin' with the Willson Peak skull
We took Serpentine Trail and Grizzly Gulch Road down to Rodeo Pond. Here, they have installed another one of Coe's luxury handicap-accessible restrooms in the State's least accessible park.
From the pond, it is a half mile or so to Drift Fence Trail, or what used to be Drift Fence Trail. Drift Fence Trail is not only closed, but has been unmarked and abandoned for several years (if only I had written up our last visit, where we discovered this same fact). Luckily, just like last time, the beginning of the trail is still sort of clear if one is looking for it, and the namesake fence still exists farther down the trail. People ended up on both sides of the fence, but everyone made it safely (and more calmly than last time) down this "cross country" segment. Intrepid!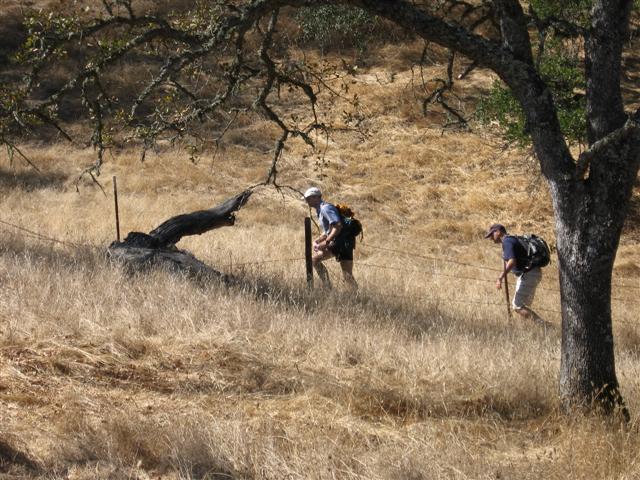 Drifters


After regaining the main trail (Vasquez Road), it is a short hop up and over Vasquez Peak and onward to lunch stop #2 at Rock Springs. We ran into a few tarantulas along the way--they were returning from the prior week's TarantulaFest up at the Coe HQ. As usual, half the group thought we were enjoying lunch on Vasquez Peak (rather than Rock Springs Peak) due to Vasquez's unremarkable summit.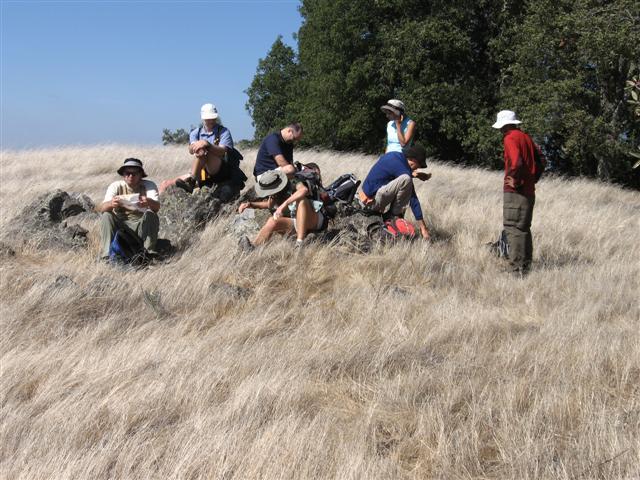 We found the Rocks, but where's the Spring?
The hike notice listed Phegley Ridge as the return route, which both Janice and George pointed out. The lovingly-highlighted maps, however, didn't extend that far south, so had Lyman Willson Ridge trail as the return route. The Map trumps all, so that's the route we took. This brought us to the famous Willson Camp trailer park, where we regrouped. Ramesh and Rudi took time to check out the rickety-looking cabin. The area has been improved quite a bit, with a water fountain and restroom appearing since our last visit. Next thing you know, there will be parents pushing strollers out there.
Since we used to take this route in the "old days," I knew the Bowl Trail started behind the shack. Some people were skeptical, but an actual sign (also new) was pretty convincing.
From there, it was an easy hike back down to Hunting Hollow Road, followed by an even easier flat hike along the creek to the cars. (Nani noted that this flat part has been done as a hike elsewhere).
George had a strong desire to utilize the picnic tables in the middle of the Hunting Hollow parking lot (under a ramada), and so proposed a pot-luck. Everyone was well prepared--we had three camping stoves and tons of delicious food (carnivores and vegetarians were both covered). The "eating club" spirit lives on.
Milestones:
David's 80th leaf
George's 130th leaf
Nani's 10th leaf







Pages maintained by Steve Walstra, Peter Saviz, and Russell Gee.
©2022 Intrepid Northern California Hikers