539. Mt. Tamalpais (11/18/06)

Hikers (11): Eugene, George, Harvey, Janice, Julie, Linda L, Padraig, Paul, Peter, Ramesh, Steve
Distance: 10 miles
Rating: 3 difficulty, 10 beauty
Park info: Marin Municipal Water District near Mill Valley

Write-up by Steve -- Pictures by George, Janice and Steve
Just as we were about to walk to the Dipsea trailhead, Tim R drove up. A few minutes later, we were off.
1-2-3 INCH
When we made it to the top of the stairs, I waited for the stragglers to make sure no one would get lost. This was a long wait. First there was Tim, then Julie, and. . .it was taking so long that I asked Julie to wait for Eugene and reminded her to take the "Sun Trail". Eugene had done this hike before, so there wasn't too much to worry about.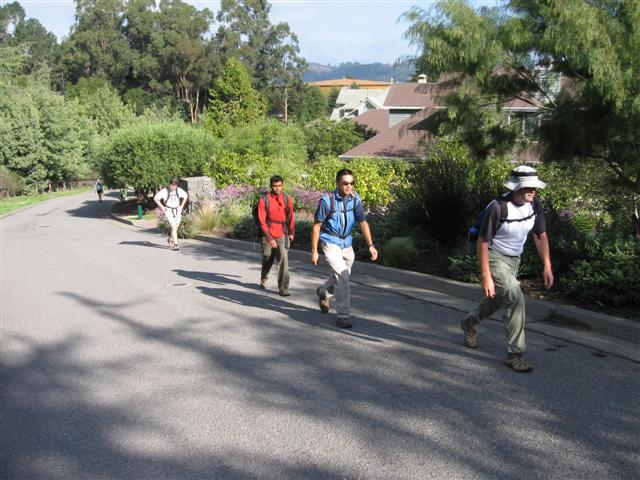 One of the more remote sections of the Dipsea Trail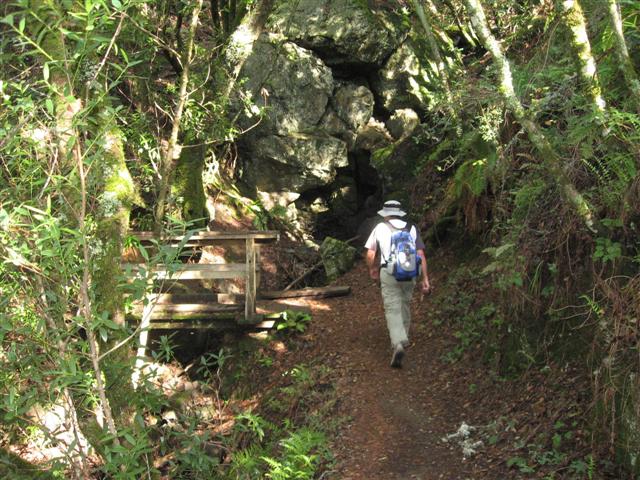 Paul is back in his ol' stomping ground
Eventually caught up with everyone at The Mountain Home near the entrance to the Marin Municipal Water District. Several people missed the Panorama Trail gate and walked down the road a little (just like last time). There was some new construction going on nearby which was diverting one of the trails. It wasn't a trail we were taking (it was our return path, actually), but a misleading sign said "Take this trail". Whatever the case, since we had everyone except Eugene, Julie, and Tim within eyesight (and since the right route was clear by the map), it didn't seem like we'd lose anyone.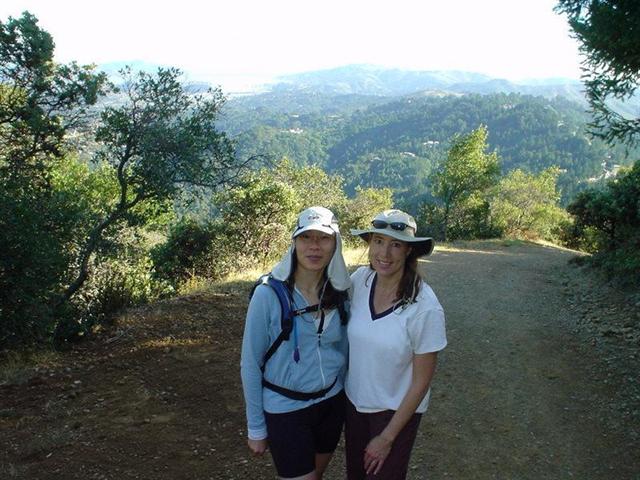 Chillin' on Gravity Car Road
When we got to the double-bowknot area, some of us took the unsigned Vic Haun Trail to Temelpa Trail (the "official" route), while others took the fireroad down to the start of Temelpa. Apparently the second route is harder, because it was a long time until anyone from that route showed up at the summit. After a very long wait, many people started getting antsy to leave (as always). We were still missing Tim, Eugene, and Julie, so Padraig called Eugene to find out where they were. He and Julie weren't too close, and Tim was unaccounted for (but assumed to be ahead of them). We "decided" to leave--actually, people were already leaving. I'm sure Eugene and Julie never went to the peak, the slackers!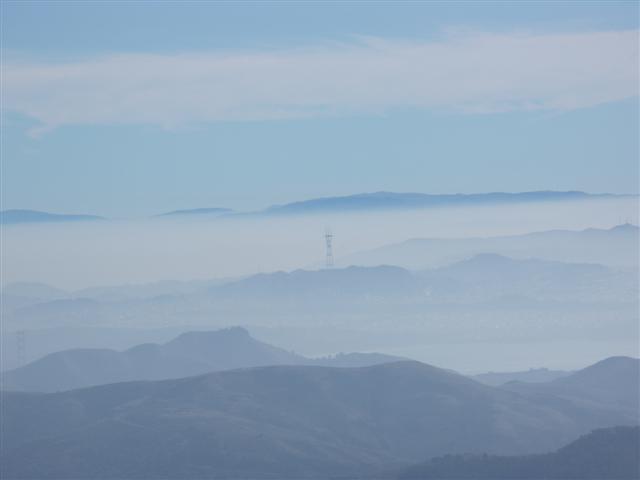 A foggy Sutro Tower from Mt. Tam
As promised in the hike notice, we stopped at the Mountain Home Inn on the way back. We didn't quite fit in with the well dressed crowd, but were eventually able to acquire enough territory for us all to sit down and enjoy some Mt. Tam Pale Ale (except for Padraig, who had pink lemonade with a cherry). Even after two rounds, we were still missing three people. Happily, two beers made the concern for lost hikers just roll away.
The route back was nice, cutting through the big redwoods of Muir Woods, and picking up the Dipsea trail on the other end. What we didn't know was that the section of the Dipsea trail between Muir Woods and our morning turn-off point (Sun Trail) had experienced a major landslide and was closed. In fact, it wasn't even "signed" as closed coming out of Muir Woods (but it was on the other side, as we would see after the fact). No worries, however--we were able to get around it, even though some of us took ill-advised routes.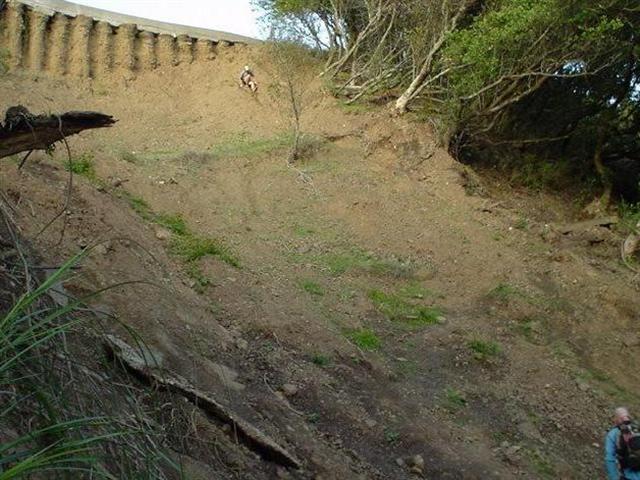 It seemed reasonable at the start. . .
Everyone made it back to the cars at the end, except Tim, who we never found (but didn't see his car, either). Turned out that he had taken that wrong turn past Mountain Inn, then started feeling sick so turned back. And to add insult to injury, no leaf!
Check out more pictures from Janice and George.
Milestones:
Highest point in Marin county







Pages maintained by Steve Walstra, Peter Saviz, and Russell Gee.
©2022 Intrepid Northern California Hikers