55. Wildcat Peak (02/28/98)

Hikers (15): Benny, Beth, Christine, Eric, Eugene, Frank, Heidi, Jamie, Julia, Ken X, Peter, Russ, Steve, Taylor, Wei-Kai
Distance: 11 miles
Rating: 2 difficulty, 8 beauty
Park info: Wildcat/Tilden Regional Parks in the Berkeley hills

Write-up by Peter
After weeks of miserable weather, we finally had a beautiful day and it brought the hikers out of the woodwork. 13 people showed up at Intel, and 2 more were scheduled to meet us at the trailhead. A new INCH attendance record (the old record, set at Hike #40 was 11)!
The group included 5 newbies, so after handshakes and introductions all around, we set off. Right off the bat, Esteban and his friends Benny and Heidi got separated from the rest of us, but we figured we'd meet up with them when we stopped for supplies.
We waited for a while at the Lucky's off the San Pablo exit in Berkeley, but there was no sign of Esteban's crew. We thought they might have gone to the trailhead, so we moved on.
At the trailhead, there was no still sign of Esteban's crew, or of Julia and Frank, who were supposed to meet us there. We waited for about half an hour and checked both entrances, but still no sign. We were in danger of losing the INCH attendance record! Just as we were about to give up and head out, Esteban finally showed up. The Great Explorer had tried to improvise off the map and had gotten lost.
1, 2, 3 ... INCH!
The first part of the trail was mighty familiar (we had attempted it a couple of weeks earlier, only to be beaten back by El Nino). It was a lot easier this time around!
As we began heading up the hill, the shiggy was getting thicker and deeper, but it was still a piece of cake compared to our last visit. Esteban and Eric were way off in front. Rusty took a side trip to see if Julia and Frank had showed up at the other entrance. Gallant Russ! Eugene, Benny, Heidi, Jamie, Weikai and I made up the middle pack as we headed up towards the San Pablo Ridge. As I looked back, I could see Taylor, Muffy, Christine, and Ken walking along slowly.
It was a crystal clear day, and we had a great view of the Bay all the way across to the Golden Gate Bridge. As we approached the steep climb up to the top of the ridge, Rusty caught up with me. He had found no sign of Julia and Frank. As I stopped to put down some arrows for the stragglers, The Man took charge and led the middle pack up the hill.
From the top, I could see the slowpokes down at the bottom, debating whether or not to attempt the climb. I'm happy to report they did not disappoint me. I walked along the ridge slowly, giving them a chance to catch up. As I walked along, I was accompanied by an older gentleman who was a member of the Sierra Club and told me a bunch of interesting facts about the flora and fauna of the area. At a fork in road, I decided to stop for the others to catch up and bid him farewell as he continued on his hike.
I waited for a long time. The last group was really dragging their feet. Finally, they arrived. Taylor, Ken, and Barbie seemed to be fine, but Christine did not want to go on any further. Seeing as I did not want this to turn into a disaster, I recommended that they take the shortcut back to the car. Taylor decided to continue on with me, and Muffy and Ken also wanted to keep going, but Christine had had enough (she had done OK for a newbie) so they decided to accompany her back. Just before we got separated, I initiated Christine and Ken with the INCH Full Moon salute. Something for them to think about as they walk back!
Well, it turned out that they had already completed the toughest part of the trail by far. The rest of it was gravy. We just walked along flat paved road for about 2 miles until we arrived at the turnoff for Wildcat Peak. A quick 200 yards uphill, and we found ourselves at the top, with a nice semicircular stone bench to sit on and enjoy the view while having our lunch.
Benny and Heidi were still there, but none of the others were around. I figured Esteban, Egg, and Rusty were long gone, but I had expected to find Jamie, Weikai, and Eugene still sitting at the top. Benny and Heidi had not seen them either, so I guessed they must have taken a wrong turn and missed the trail to the peak. My Sierra Club buddy had also made it to the top and sat there with us as we finished our lunch.
It was a nice, warm day, and I could feel myself getting sunburned as I sat there. It sure made a change from all the rain-soaked weekends! I wanted to sit there longer, but I could tell Taylor was itching to go, so we began the walk back.
As we headed down the trail to Wildcat Canyon, Mr. Sierra Club continued to point out interesting wildflowers along the path. INCH is educational!
It did not take very long to get down the the flat road at the bottom of the canyon. From here, our friend took off, and the four of us walked along at a slower pace. As we approached the final half mile, I gave Benny and Heidi a little boost by also showing them the INCH Full Moon salute. They picked up the pace after that!
Back at the car, everyone had already arrived. The front 3 had been back for along time, and as I had surmised, the others had missed the peak and taken a shorter trail back. No matter -- leaves for everyone! I did my remaining INCH Full Moon initiation for Jamie before we hit the road for the drive home.
The next day, Julia told me that she and Frank had actually shown up and done the hike (here are the pictures to prove it), so we gave them their leaves as well.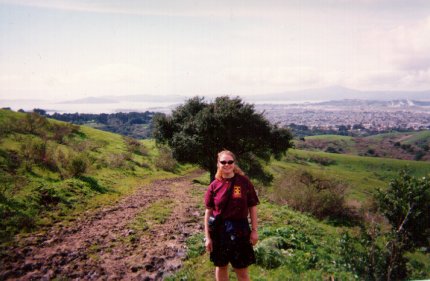 Julia on the trail (nice shades!)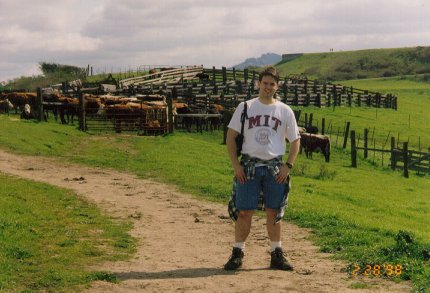 Frank with the cows (don't stand downwind!)
Milestones:
Benny's 1st leaf
Christine's 1st leaf
Eugene's 20th leaf
Heidi's 1st leaf
Jamie's 1st leaf
Ken X's 1st leaf







Pages maintained by Steve Walstra, Peter Saviz, and Russell Gee.
©2022 Intrepid Northern California Hikers