558. Sign Hill (03/31/07)

Hikers (20): Carissa, Carla D, David, Edita, Eugene, George, Greta, Janice, Nik, Padraig, Paul, Ross, Rudi, Sarah, Scott, Stacy, Steve, Tom, Walter, Wennie
Distance: 6 miles
Rating: 3 difficulty, 8 beauty
Park info: San Bruno Mountain State & County Park near South San Francisco

Write-up by Steve -- Pictures by George and Steve
This hike had it all: 60 ft. concrete letters, steep trails, great views, wild flowers, tequila shots, unmarked trails, and parking tickets.
George had put this hike in my head long ago, pointing out that the hill with the famous "South San Francisco, The Industrial City" sign on the side was not part of San Bruno Mountain, but rather an adjacent hill.
I got up early for the hike to grab a parking spot in downtown South San Fran. Wasn't sure how easy that would be, but George had mentioned the address of a free lot that wasn't too far from the TH. Found it, parked, and hiked up some streets to the trailhead.

On the way to the trailhead
Arrived way too early, but it wasn't long until Carissa drove up, also very early. Eventually everyone was there except Nik, and with a late start, it was time to go.
1, 2, 3. . .INCH!
I had already scouted ahead to find the correct trail (cleverly named "Letter Trail" or something similar), and soon we were underneath, then next to, and finally over the enormous sign. Up close, it looked like the grounds needed a mowing, but the letters were still pretty clear.
. . .INDUSTRIAL CITY-M-C-A!
Once we were up and over Sign Hill, we reached a road where the plan was to cut through a side street. As George had warned earlier, this street had been replaced by a construction site for some new housing. Damn you, Google Earth. No problem though, we just went down the road a bit and turned back up the sidewalk along Hillside Blvd, crossed a convenient bridge, and were soon on San Bruno Mountain property. Around this time, Nik showed up--he was late, but took the straighter route over Sign Hill and caught up. Good job (except for the late part).
An unnamed trail climbs fairly steeply up a spine toward the main ridge of San Bruno mountain. It flattened out a bit in the middle to allow us to catch our breath before ending in another steep uphill segment. While we didn't have a proper map, I had scouted out the trails via Google Earth and a topographical map, both of which showed the old jeep road where we were hiking, and it was still in fine shape and apparently used pretty often.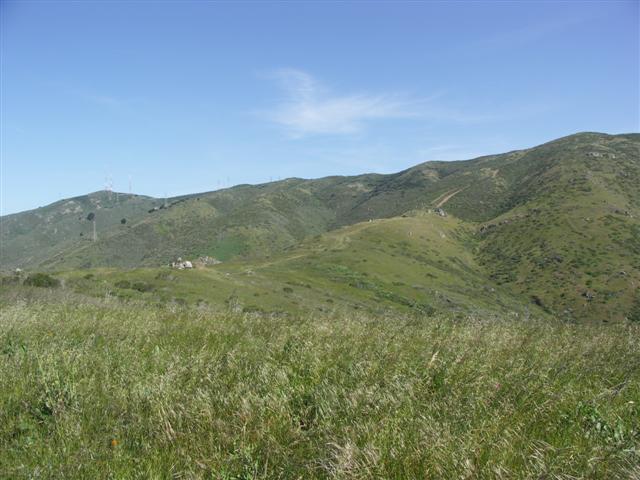 Just a little more uphill to San Bruno
The wildflowers were just starting to come out, and there were many nice areas of California poppies along the way. The weather was warming up but not too hot yet, and the ridgeline was not windy at all (for a change). We made our way along the trail (now featuring trail signs) and took a turn up to the top parking lot. Along the way, we passed a big group of people listening intently to an old man talking about the many rare and fabulous things on San Bruno Mountain (and how it has been successfully protected from the malevolent developer types).
We hiked through the upper parking lot to get to the true summit, which was a bit of a scramble along a fence line until reaching one of the many towers up there. Most of the people made it, although a few missed the turn entirely. This wasn't unexpected since there were no maps (not that San Mateo's POS map is all that helpful when you come from the East).
I suggested we have lunch at some benches below the summit, but wasn't sure where they were. Some people continued through the parking lot to get to the benches, while the rest of us went back to pick up the one trail I knew would work. Both worked, and we all met in the middle, including those who had missed the summit entirely.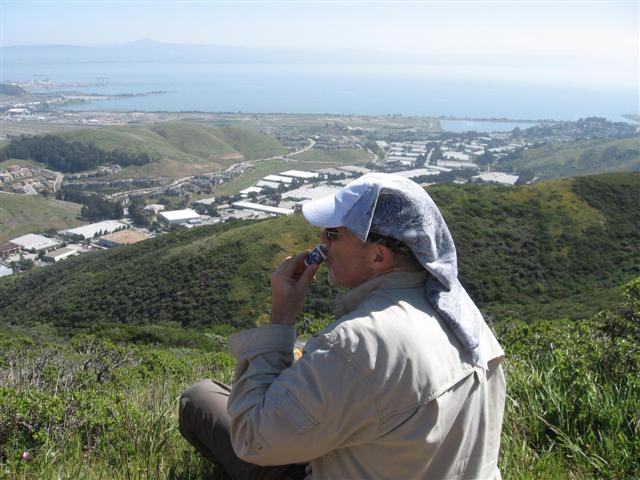 George partakes of the sacred Hike #151 tradition
During the lunch break, we celebrated George's 151th hike in the time-honored tradition of INCH. The only hitch was that Russ, keeper of the 151-proof rum, was out of town (or some similar excuse). This forced us to make due with tequila, which was a great taste improvement, but only 80 proof. Close enough. First George, then myself, and finally an enthusiastic Eugene enjoyed a shot. I would have loved to share more (and thus lighten the load), but then no one would have a reason to do 151 hikes, right? Thus we corked the bottle and set off. A saddened Carla D asked: "What do I get for two hikes?"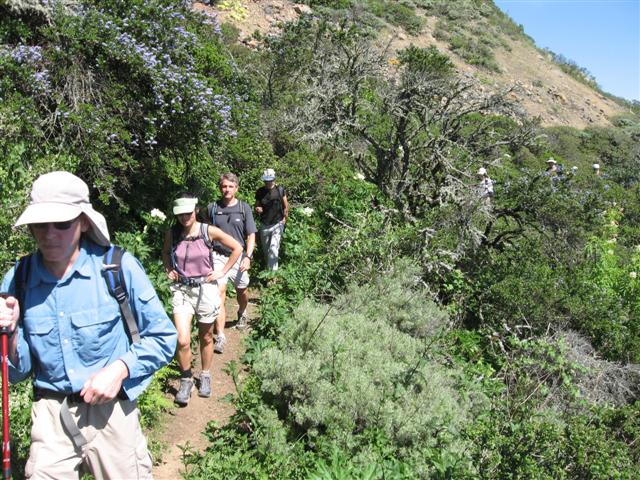 Lunch is over--time to return home.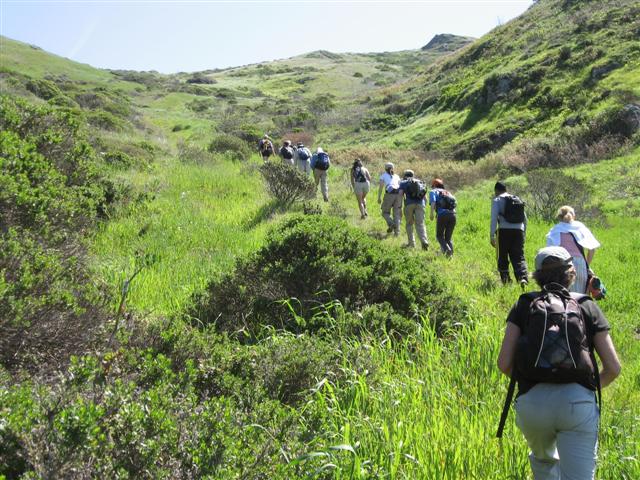 Gratuitous uphill--it's on the map!
To make the hike more "worthy", I had planned to take another unmarked trail down, and then back up to a junction along our approach route. I knew the trail started underneath the power lines, and lo-and-behold, there it was. This one was less trodden than our uphill route, but it was fairly visible the whole way down. I had marked (on my GPS) where I thought we needed to catch the trail back up. Rudi noticed a use trail a few hundred feet before that, so we gave it a try. Good call--it was the right one, and soon we were huffing up a steep trail. Wennie looked very unhappy upon seeing the uphill, which demonstrated the upside of having no maps: there is no option but to follow the hike leader. Must remember this for future hikes!
Once we reached the top (and intersected the trail we took up), it was easy going--down we went, over the bridge again, and up to Sign Hill. Most of us took the Iris Trail back, but by the time everyone was back to the trailhead, four different routes had been taken, including the infrequently used "gutter-next-to-the-fence" route by Scott and Wennie.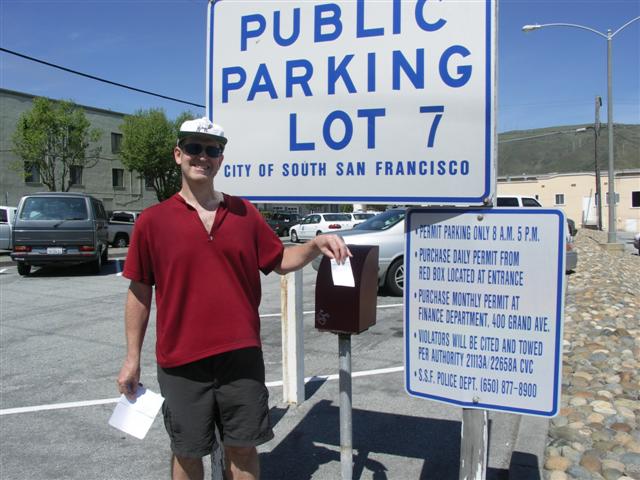 Free parking? David uncovers George's $20 lie!
George and Rudi hitched a ride with Carrisa back to the CalTrain station. Everyone else returned to their locally parked cars. David and I walked a bit farther to our cars in town. Much to our dismay, we both had $20 tickets waiting. Apparently the "Industry" in "Industrial City" is screwing the visitors, and George's free lots were not so free after all. This was pretty obvious once we re-checked the sign coming in. David resolved to accept his fate, musing that it was OK since (1) he had earned it by parking illegally elsewhere many times without being ticketed and (2) I got one too (schadenfreude).
George's pictures. Janice's pictures.
Milestones:
Carissa's 90th leaf
George's 151st leaf (and shot)
Steve's 430th leaf







Pages maintained by Steve Walstra, Peter Saviz, and Russell Gee.
©2022 Intrepid Northern California Hikers